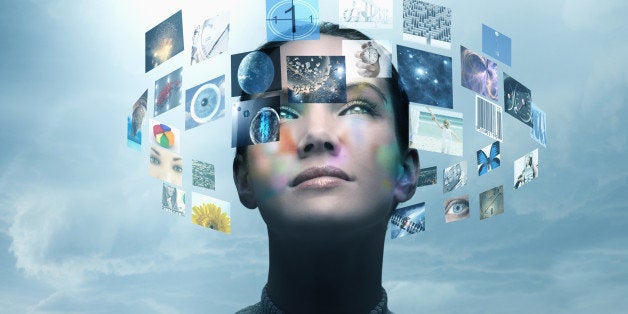 While we spend a majority of our day living and interacting in the physical world, in the past few years, the field of augmented reality (AR) has made it possible to embrace our surroundings with enhanced information on mobile phones, wearable technology and other digital devices. Recent technology advances have allowed us to enrich our perceived reality with data-driven insight and additional digital lifestyle habits. As we face the new calendar year with improved exercise routines and diets, here are five innovative young startups to watch in the headlines, with New Year's resolutions of disrupting the way we experience reality.
1. Sayduck: "Test trial furniture, no assembly required."
Sayduck is a Finland based startup that allows home decorating enthusiasts to envision furniture and home products in front of their eyes in visual form. After placing a physical marker, such as a "pen" or "business card" on the floor, home furnishings selected on Sayduck's app comes to life from that particular marker through the platform's camera view. While initially focused on furniture, the company is seeking to also move into the fashion space, to allow customers to virtually picture how clothing and accessories would go in an outfit prior to a purchase. Sayduck's rivals in this arena includes German company Metaio (with clients such as IKEA), catalog company ViewAR (which includes blueprints for architects), and smaller startups such as Augment.
ResolutionTube is a Seattle startup with the goal of taking away the dark days of the 1-800 customer service helpline in hopes of heightening the customer experience. Imagine hiring a technician to fix your air conditioner and he runs into a problem he can't solve. This process would lead to a whole lot of phone calls, trial and error, and wasted time on hold. With ResolutionTube's platform, technicians can point their smartphone at a broken device, connect with an expert and show them the problem directly. The company's augmented reality app allows experts to draw on the screen and pull out diagrams, showing the technician exactly what to do. ResolutionTube's next vision is to connect customers directly to technicians, allowing them to get instant help and maybe even fix the problem themselves. Through this technique, customers can point their phone at a broken device, access an expert and fix the problem with the help of a 3D AR walkthrough. If you can already imagine how cool it would feel to be able to fix any problem around the house, ResolutionTube's prototype Google Glass app will allow people to fix complex hardware problems just by looking at them.
3. Waygo: "Menu translations, instantly."
If you are planning to visit China within the next calendar year, Waygo might be worthwhile to have on your mobile device. Waygo is a translation iOS app using optical character recognition to read menus written in Chinese letters. Although the interface can still use a bit more work, the app's translation tool is spot on in its intended use. To use the app, users can point their phone's camera at the Chinese text on their menus and, voila, a translation of that entre appears in English. Waygo's utility doesn't end there; it can also be applied to any written text (i.e. Chinese signs and novels). Readers are also presented with pronunciation keys so that words that are translated can be communicated and shared online with others. While Waygo's platform is only currently available in the Chinese language, it wouldn't be a surprise to see its capabilities expanded soon, as well as more AR translation apps hitting the market this year. For romance languages, see Word Lens, which has apps on both smart phones and Google Glass.
4. Layar: "Helping magazine publishers learn how to innovate."
With the decline of the print publishing industry in recent years, the large Dutch based startup Layar is working hard to help enhance the way we experience printed content. The company uses augmented reality by adding layers of digital information, including videos, photos and sounds on top of physical objects around us. Receiving over $17 million in funding since 2010, Layar is positioning itself as a leader in the field of interactive print, securing partnerships magazine publishers across the world.
Besides its print based customer base, Layar also claims to provide the underlying pre-installed AR software on 75 percent of smartphone handsets shipped around the world through strategic deals with handset manufacturers. Layar's next expansions include developing additional features allowing users to gamify their interactions with physical print.
5. Innovega: "The world's smartest contact lens."
The eyewear startup Innovega made first made headlines in early 2013 with a prototype the iOptik lenses, a pair of recently patented, enhanced contact lens allowing users to see near and far with supernatural focusing abilities. Using rings that manipulate the routing of light inside the retina, iOptik contact lens users can see anything from the fine details of the creases to the fingers to birds hovering over the sky. This pair of special contact lens works alongside a pair of special fitted glasses with minuscule projects that allow data to be transmitted into the eyeglass lenses, allowing anything that runs on a smartphone to be projected on the eyewear. The platform has a virtual screen allowing any type of media to be run, including immersive movies that mimic IMAX performances and a multi-tasking dashboard that incorporates more than five screens. After a well-received product demo at this year's Consumer Electronic Showcase (CES) in Las Vegas, the startup's next phases include working with the defense industry on special projects as well as successfully launching the device on consumer markets.
Please share your thoughts in the comments below.