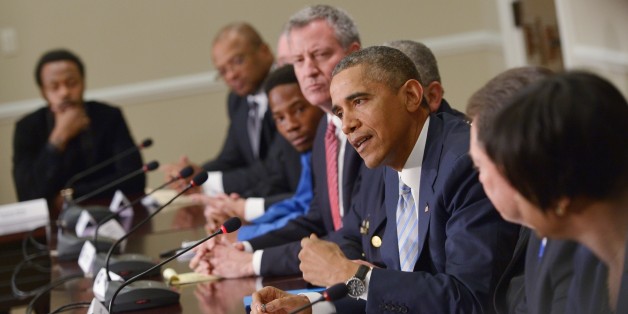 Demonstrators in Ferguson and various major cities nationwide have been peacefully protesting the failure of the St. Louis County grand jury to indict police officer Darren Wilson for the killing of 18-year-old Michael Brown Jr. They carry signs that say, "Black Lives Matter," "Claim Power," "No Justice, No Peace," and "Shut It Down." They have also engaged in four-and-a-half-minute "die-ins" (a minute for each hour that Brown's body lay in the street after he was killed) at the entrances of malls, major street intersections, and highway-access ramps.
Regrettably, a majority (or at least a substantial number) of white adults either don't understand or are opposed to such demonstrations. "Why are they doing this?" they ask. "This doesn't help their cause."
Years ago the author James Baldwin was being interview on television by David Susskind, the interviewer on a popular, syndicated late-night TV show. Susskind asked Baldwin, "Jimmy, what is it that you and your people want?" Baldwin leaned in close to Susskind and replied, "David, whatever you and white people want I want."
White racism, a product of the doctrine of white supremacy and the legacy of slavery, remains a pernicious social disease afflicting white police officers operating in black communities nationwide. Race relations in America remain mired in ongoing, 24/7 hypocrisy.
As Michael Eric Dyson recently wrote in The New York Times:
Black and white people rarely view race in the same way or agree about how to resolve racial conflicts, and black people have furious moral debates among ourselves out of white earshot.

These colliding worlds of racial perception are why many Americans view the world so differently....
As I wrote in my last blog post, after years of cumulative abuses by police in Ferguson and African-American communities nationwide, the "cup of endurance" has run over among most African Americans, especially parents of young black men killed by police. Continuing demonstrations in Ferguson and the words on the signs carried by demonstrators reflect this impatience. What is more powerful than a placard that reads, "Black Lives Matter"?
In that same blog post I wrote:
The historic domestic and international accomplishments of the equally historic presidency of Barack Obama risk being overshadow and diminished by a perceived failure of his administration to substantively address the ticking time bomb of distrust between the police and young black men in our country today. So here's what I propose: The president and the attorney general should immediately convene a meeting at the White House of young black men and their representatives and the chiefs of police of most major urban communities to address this crisis head-on.
Yesterday the president did just that and actually went even further, including leaders of various civil-rights organizations and young people from Ferguson in a meeting at the White House. All persons of good will seeking to address this critical issue of how police serve African-American communities should support and applaud the president's initiative.
Similarly, I applaud my colleagues at the University of San Francisco for initiating a "teach-in" on the topic of Ferguson and the nationwide protests. Colleges and universities are the preeminent marketplace of ideas. Indeed, teach-ins addressing U.S. policy in Vietnam played a historic role in developing a domestic consensus to end the war. Hopefully other colleges and universities will follow the leadership of the University of San Francisco on shedding light and understanding on the issues raised by Ferguson and their potential role in enabling our country to be the very best that it can be.
Yes, as Victor Hugo put it, "more powerful than the march of mighty armies is an idea whose time has come."