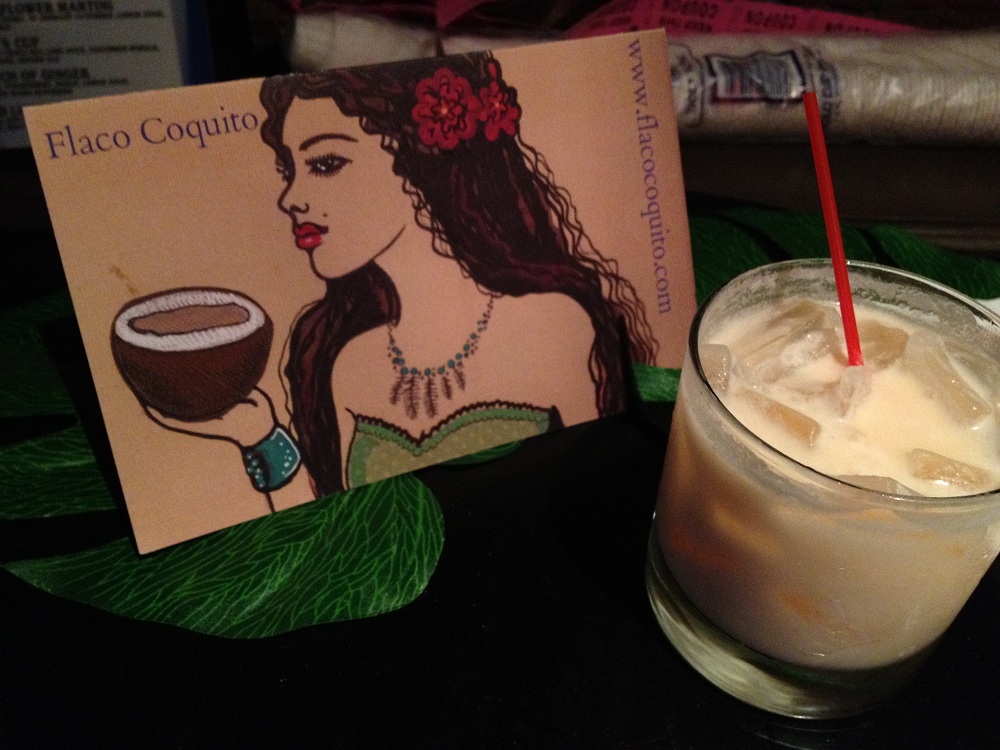 About two weeks ago a dear friend of mine invited me to an impromptu coquito tasting in midtown Manhattan at Red 58 Lounge. I was very relieved by the invitation because it was a sweltering Friday and I had no after work happy hour plans. I was also very intrigued because really, who does coquito tastings in the middle of the summer? I had to go, no question about it, and I was pleasantly surprised by what I found.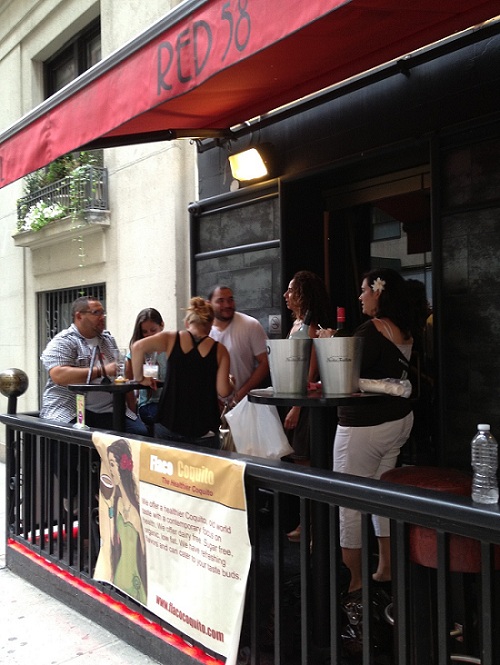 Outside of the bar I found a small outdoor space where I saw my friend along with a couple of other people I didn't know enjoying free samples of coquito. The very friendly and upbeat organizer Cynthia Sepulveda, who I later found out was the creator of the Flaco Coquito brand, quickly welcomed us and started handing out samples of mango and white chocolate coquito. Right off the bat I was shocked by the tasting selection. Traditional Puerto Rican coquito is a coconut based holiday eggnog. It's very fatty but super delicious. I myself happen to make excellent coquito for the holidays (That's my biased opinion of course). I just never knew or thought to make coquito infused with a different flavor. I'm sure the purist are already upset about the making of non-traditional coquitos, but before anyone gets upset, let me start off by describing the texture and taste of the coquito. It was sinfully light and refreshing. I had to stop myself from drinking it too quickly because the coquito had a nice kick of rum to it. My favorite was the mango coquito. You got a good taste of the fruit without having to sacrifice that very traditional coconut coquito flavor. What surprised me even more was how light it was. Traditional coquito is a very heavy drink. You really shouldn't drink more than two 8 ounce servings. This coquito on the other hand felt less caloric and more enjoyable as a summer beverage. You felt like you could drink it without worrying about the llantas or tires growing around your waist.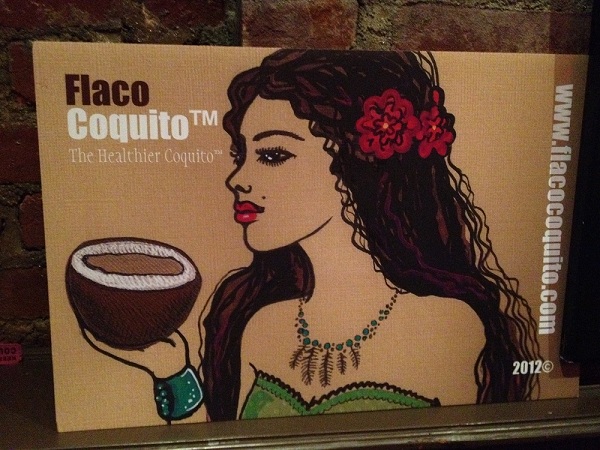 A little while after ordering a decent sized portion of coquito my friend and I went over to talk to Cynthia. We wanted to know more about what makes a coquito flaquito and to learn about what inspired her to develop a healthier alternative to coquito. She said she developed this brand of coquito called Flaco Coquito because she started to notice that a lot of her family members who suffer from diabetes, cancer, and even lupus, had strict dietary restrictions that prohibited the consumption of such a sugary and fatty drink. Though she still loves and makes traditional coquito, she felt the need to develop a healthier alternative with what she calls "an old world taste with a contemporary focus on health". According to the 2010 National Health Interview Survey conducted by the CDC, 13.2% of Latinos 18 years of age and older in the United States have been diagnosed with diabetes. That's part of the reason why Flaco Coquito offers dairy free, sugar free, organic, low fat, and even vegan and non-alcoholic coquitos. It was very important to her that when she gathered with her entire family for the holidays that everyone in her family could be part of the celebration and that means they also get to enjoy a healthier version of a very traditional Puerto Rican drink.
Because I was truly inspired by Cynthia's story and the concept of her drink I decided to reached out to Cynthia to learn more about the importance of coquito to her and her family, how she sees the brand growing, and the type of impact she would love to have in the Latino community.
You can find the entire Q&A in my blog Tofu con Sazón.
I really hope you support Cynthia and Flaco Coquito and I hope that her story inspires others, as it has inspired me, to think of healthier ways to experience traditional home cooking. I certainly can't wait to go and buy a bottle of the traditional coquito but with less sugar of course.
If you know of others start ups that have inspired you to eat healthy don't forget to submit a comment to tell others about it.
Buen Provecho! =)