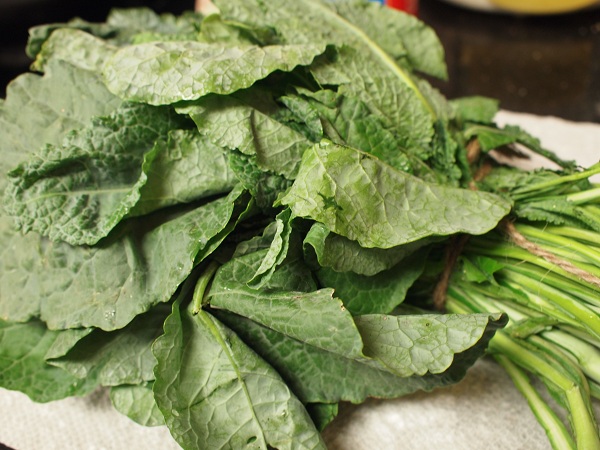 A couple of week ago I visited the local farmer's market by my job and as always I saw a lot of veggies I've never had the guts to try. One of the workers in the Migliorelli Farm stand recommended that I try their kale. He boasted that it was the best kale you could find in NY. So I had to give it a try. (To find a farmer's market near you simply search online, or visit GrowNYC for a listing of NYC farmer's markets.)
I went ahead and bought a head of kale for $3.50 as well as a bunch of beets with leaves for $3. The farmer said that if I had never tried kale before to try making kale chips. He said buying kale chips in a place like Whole Foods will cost me around $8 which is ridiculous expensive. Better to make them yourself instead. Whatever you don't use just set aside and make something other than chips. You could sauté the kale with a drizzle of olive oil and some salt and pepper, or a dash of low sodium soy sauce. You could also grill them or bunch them up between other ingredients in a kebab. I have tried it and it is delicious! Kale could easily make a healthy and delicious side dish to any meal.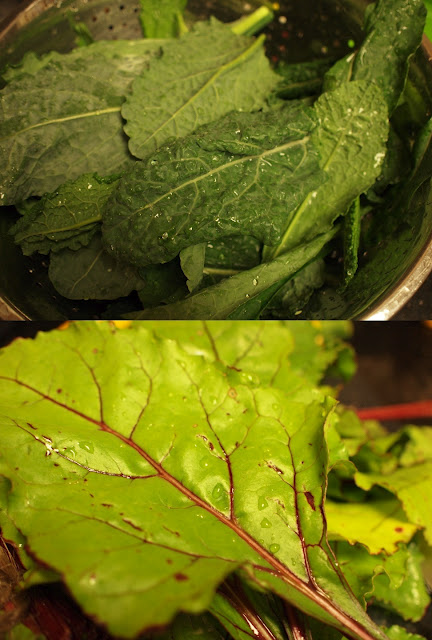 Even though this was my first time trying kale, I had heard the rumors that it was supposed to be amazing for you. I think I need to personally introduce my aunt and mom to this leaf. I recommend that you check out the 7 Reasons Kale is the New Beef for more information about this amazing leafy green. You will definitely see this ingredient popping up around this blog more often. It's anti-inflammatory and claims to have more iron and calcium per calorie than your favorite choice of beef or milk.

Beet leaves may not be quite the superstars like kale but they are packed with fiber, vitamins, and minerals. Check out livestrong.com for more information on the Nutritional Content of Beet Leaves. The reason I picked beet leaves for this recipe was one because they looked so pretty, and two because it would have been a crime to toss them out and only use the beets. I remember my mom telling me that whenever she bought beets with the leaves she would use the leaves to make vegetable soup. I was taught not to throw away food, and if it's edible, then why not make something with it. That's why I decided to use them to make chips instead of soup.

I really hope you enjoy making Kale and Beet Leaf Chips as much as I know you will enjoy eating them. Make them as snacks or as appetizers, either way they will be one of the healthiest snacks you will ever enjoy. For more recipes check out my blog Tofu con Sazón

Buen Provecho! =)

TIP 1 - Preparation for making these chips is fairly simple, just use your imagination on the seasonings and go for it! I made one batch with parmesan cheese and another with Cajun seasoning and they were amazing!
Kale & Beet Leaf Chips
1 head of Kale
Leaves of one bunch of beets
2 tablespoons of olive oil
Sea salt and Pepper to taste
1 to 2 tablespoons of seasoning
Seasonings:
Parmesan Cheese (Parmigiano Reggiano di Parma is the best!!)
Cajun Seasoning
Adobo Seasoning
Minced Garlic and/or Ginger with a few drops of Soy Sauce
TIP 2 - I like to use any type of vinegar, could be apple cider vinegar if that is all you have, to wash vegetables and leaves. I add a tablespoon of vinegar to a large glass of water and then use the water to wash the leaves making sure they all get a good coating. Then I let them marinate with the vinegar water for two to three minutes before washing off the vinegar and patting them dry. You can also use baking soda if you don't have any vinegar.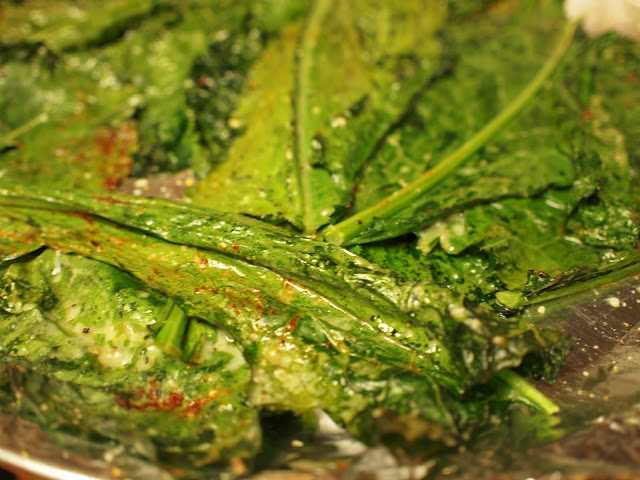 Directions:
Preheat the oven or grill to 350 degrees Fahrenheit
Wash and dry the kale leaves. You can cut out the ribs of the kale. I happen to like the ribs so I kept them on. Remove, wash and dry the leaves from the beets. Mix ingredients in a bowl and make sure everything is well coated.
Place leaves on top of an aluminum sheet pan. Try to give each leaf its own space on the pan so that they dry quicker. Placing them on top of one another delays the process and only cooks the leaves instead of making them crispy.
Check back after 5 minutes then turn them. Wait 5 more minutes and remove them from the oven. When you put them on the grill the flames will make the leaves dry out a lot quicker so check back after 3 minutes. If you think they are still not crispy enough, leave them in for a couple of more minutes and then remove.
Try to use all of the racks in the oven so that you can make as many as you can in one batch.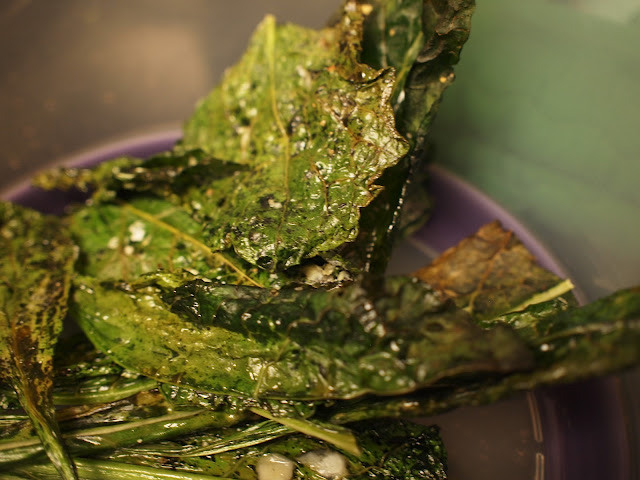 TIP 3 - Don't leave them in the oven for too long, otherwise you'll get chips that look brown (see image below). You want them to still look green when you take them out of the oven. I found that the batch below turned out dryer and they didn't preserve the taste of the parmesan cheese which I used as my seasoning ingredient.