Oh spaghetti squash, where have u been all my life?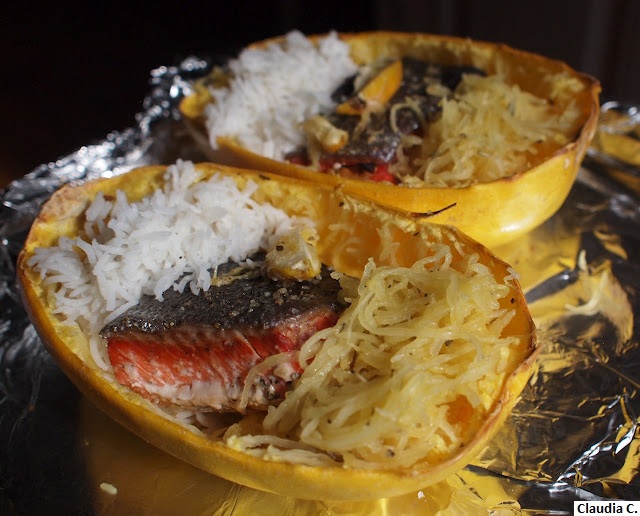 I first tried spaghetti squash a couple of months ago and I couldn't believe how amazing the texture was, the subtle sweetness, the way it made the dish lighter and healthier than it otherwise should be. How could I have lived a good portion of my life without it? Can't say I know much about squashes, the only other squash I use with confidence is butternut squash. But still, I felt like a hermit having stumbled onto civilization.
I can just think of about a million things I want to do with it, and one of them is this very recipe. Like I previously said, it has been a while since I last saw one in the farmer's market or in the store. This squash is usually a winter variety, and not too long ago I almost bought one at a local grocery store until I found out they were trying to charge me $8 for a small one. I convinced myself that I would just have to wait for winter, until I saw it while wandering through Whole Foods during my lunch break. I spotted this spaghetti squash for about $1.50/lb. I snatched it in a heartbeat! I don't buy much in Whole Foods unless it's on sale and I was not going to wait for them to change their mind on the price. I was finally going to get my chance to make something with this beautiful squash.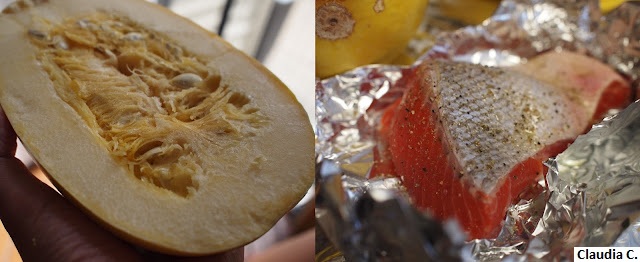 That same day I also found some wild caught sockeye salmon fillet on sale for about $11.99/lb. That may sound expensive, because it truly is, but it usually goes for about $16/lb. I call it my once every three to six month treat, so when you see it on sale I highly recommend making the investment. Even if not on sale, cut out some of the junk food from your grocery list and get this baby instead. If you buy a half pound or 8 ounces you are getting two 4 ounce steaks. Believe it or not that's the recommended portion size for most meats, and it's perfect for this recipe. Another great thing about this salmon, besides the fact that it has a ton of omega 3's, is that it comes from fisheries that are certified sustainable by the
Marine Stewardship Council
. It is really important to remember that how we choose our food has as large an impact on the environment as anything else we do to save it. Buying locally and sustainably puts pressure on major producers to make this type of food the norm and not the exception. I know that growing up in Colombia most of the vegetables I ate were bought at the local mercado or market which was sold by local farmers. Even large grocery stores carried local produce. Our consumer choices can dictate the types of foods we want exposure to and it's up to us to increase the supply of healthy and sustainable produce. Now that I finished my environmentally conscious rant, I will proceed to tell you how amazing this salmon is in comparison to its plain vanilla counterpart. It's just fresher and fleshier than what you are probably accustomed to buying. From what I've read its bright pink color has a lot to do with the diet and the size of the salmon that grow in the Northern Pacific. The wild ones tend to be larger and fattier, which also means juicier. There's very little you have to do with this salmon. It's good all on its own. I used to think that the bright pink color meant it had more nutrients, but that's not the case at all. Some fisheries, the ones where you don't want to get your salmon from, tend to feed the salmon die to give them a pink color. Something worth thinking about the next time you buy salmon. So now that we have two amazing ingredients I decided to make Spaghetti Squash with Sockeye Salmon. I added Basmati rice to this recipe because I was craving it, but a nice summer salad with a hint of lemon would be a better pairing for the salmon. Maybe even a simple diced cucumber and tomato salad with salt and pepper to taste plus the juice of half a lime.
Spaghetti Squash with Sockeye Salmon
Serves 2 1 small/medium spaghetti squash 1/2 lb of salmon with the skin 2 cloves of garlic (if you have also use roasted garlic) 1/4 cup of grated parmesan cheese or crumbled feta cheese 1 lemon salt and pepper to taste Olive oil A pinch of dried oregano, rosemary, thyme, basil, and/or red pepper flakes for some heat (anything you can find in your cabinet works)
Directions:
Preheat oven to 350 degrees Fahrenheit
Cut spaghetti squash in half. With a spoon take out the seeds (don't throw them out, set aside)
In the cavity of each half of the spaghetti squash place a table spoon of olive oil. Add a pinch of each of your favorite herbs. If you want some heat add some red pepper flakes. I used rosemary, thyme, and basil.
Mince the garlic and add an even amount for each half. I also had some roasted garlic so I smashed a clove of roasted garlic in each cavity.
Add salt and pepper to your liking
With your hands mix all of the ingredients and rub them all over the inside and edges of the squash, don't rub it on the skin.
Once the oven is ready, place each half with the cavity facing up and leave in the oven for 20 minutes.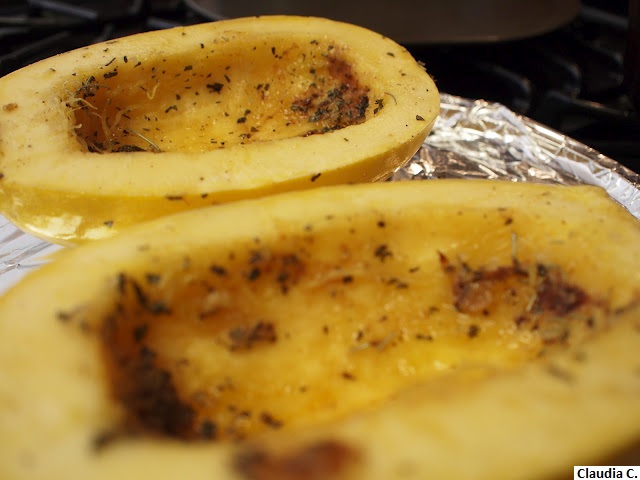 TIP 1 - If there is one thing I hate more than anything when using an oven, is to use it and only make one thing at a time. If I can make multiple things at once, then I'm spending less money on gas and being more energy efficient. Here are a few of the foods you can prepare that won't cause any added stress to make.

After the 20 minute mark you have a few choices and it all depends on how you like to eat your salmon.
If you like it well done
, then this is the time where you take out your spaghetti squash and add the salmon.
Make sure you cut your salmon steak so that it fits into the cavity of the spaghetti squash.
Rub some salt and pepper to your liking all over the salmon. Rub a little bit of olive oil on the skin, but only enough to give it a shiny coat.
Place the salmon skin side up inside the cavity of the squash, this will enable it to get a nice and crispy skin, which I LOVE!
You will notice some olive oil squash juice in the cavity, DON'T REMOVE! that's only going to add flavor to your salmon.
Place it back in the oven for another 20 minutes and you are done!
If you like your salmon medium rare
, leave the squash in for 30 minutes and with 10 minutes remaining follow the steps above and leave the spaghetti squash with your salmon in the oven for another 10 minutes.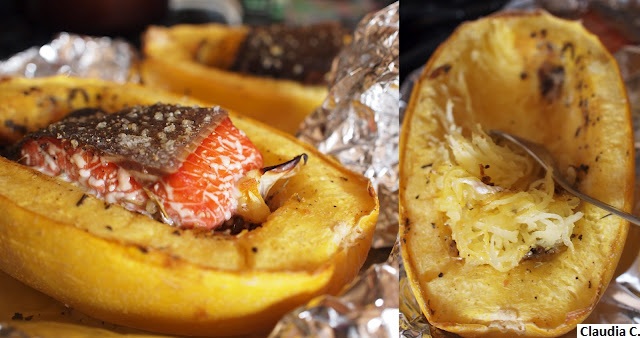 Once the 40 minutes are up, take out your squash and let your salmon rest separately on the side.
So you don't burn your hands, let the squash rest for a few minutes before you start to separate the strands.
If you still see squash/olive oil juice that hasn't been soaked up by the salmon, use a spoon and save it in a small container so that you can add it to the finished dish.
Once the spaghetti squash has cooled enough, take a fork and start to separate the strands of the squash.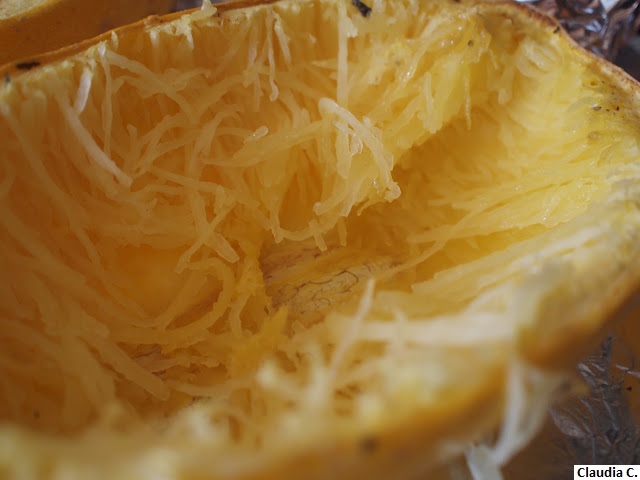 Now you understand why they call it spaghetti squash!
When you separate the strands try not to puncture the skin of the squash. As you can see from the pictures you can use the skin as your plate and it holds up well to the task.
Put all of the spaghetti squash strands in a separate container. You could add a pinch of salt and pepper to give the squash some flavor, BUT, I would actually recommend that you use grated parmesan cheese or feta cheese. The warmth of the squash will melt the cheese away and it will taste amazing!
Whatever squash you have left over simply save in a container and leave in your refrigerator. You can use it for lunch, or if you happen to be making this dish for 4 people, then I would say that it will yield enough for everyone without any leftovers.
TIP 2 - Try making the Basmati rice earlier in the day. It will reduce the amount of time you spend around the oven. Follow the instructions in the bag, but add a clove of garlic or the stem of one scallion for flavor (My mom and aunt do this to regular rice and it makes Basmati rice even more flavorful!). When you are ready to reheat, simply place your rice in a microwavable container, wet and strain a paper towel, just make sure the paper towel stays moist. Use it to cover the rice and microwave for a minute. The rice comes out as if you had just finished cooking it.
Now that your dish is ready to plate and serve I hope that you enjoy it with a beer growler of your choice (which I did) or maybe a nicely chilled glass of your favorite white wine.
Buen provecho! =)