Ohio got a bad rep after the 2004 Presidential Election because the long lines at the polls discouraged and disenfranchised urban working people and students from casting their vote, an electorate that usually votes democratic. Many blamed the long lines as the reason why Bush beat Kerry that year.
Since then measures taken by the Secretary of State and the local Boards of Elections have sought to minimize the wait. Not only have voters been able to vote early, but for election day they have added more machines, specified poll worker duties and streamline the voting process.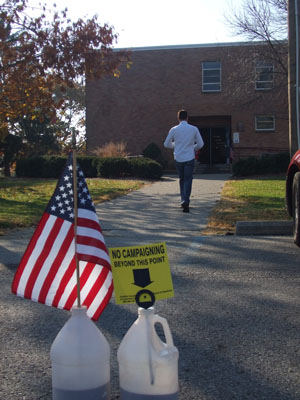 Still, voters who showed up early at some polls did find a line. In the Westgate neighborhood of Columbus, at 6 a.m. the line already wrapped around the Westgate Recreational Center.
"I thought I'd get here early and vote quickly but it took me an hour and fifteen minutes," said Ursula Barrera, a new resident in the area surprised by the line. "I feel bad for those who arrived as I was leaving and also had to be at work by 9 a.m."
By ten o'clock however the line had completed dissipated to about a 20 minute wait.
"There has been a slow trickle throughout the day," said Susan Ashbrook, a democratic party campaigner who handed out ballot information outside. Ashbrook said that about 60 percent of the voters at her location seemed to have voted Democrat, a change from when she first moved to the area.
The Franklin County Board of Elections foresaw that there would be heavier traffic at certain hours of the day. They hope that their measures will make this election day memorable for short lines rather than long ones.
Watch A Quarter Million Central Ohioans Vote Early
(Total running time 5 minutes 38 seconds)