Eleven. That's the number of minutes people spend on any given work task before being interrupted. This statistic comes to us via the new discipline of "interruption science;" we need such a thing because our lives have become an ever-accelerating moving walkway, carrying us from one thing to another to the next. I am not old-fashioned about this sea change. I marvel at having the world a click away, love my iPhone and find a lot to embrace in this climate of mass information and exponential connectivity.
I also believe the sheer volume -- of information, of experience, of people to know or know of, of possibility -- can extinguish what makes us human if we don't bring significant attention to a seemingly parallel track where more is not more, where the only task is to let the non-essential dissolve. In this era, non-doing becomes an essential practice. It is an art, and increasingly, also, a survival tool.
I had been looking for the Rothko Chapel long before I knew of its existence. I had a primal yearning for contemplative spaces I could just barely see in my mind's eye, let alone describe. I called them "chapels, " spaces that engender a scared hush but without the trappings, requirements or dogma of a specific tradition. I thought I'd learn to build small wooden structures, accessible to all, for silent practice. (I still might.) When I first heard about the Rothko Chapel I was in awe.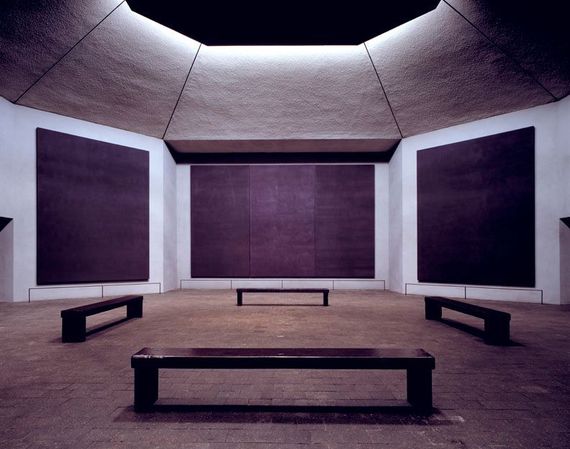 This unassuming brick building in Houston, TX houses 14 monumental painting by Mark Rothko. Save a few benches, there are only the paintings inside the octagonal building and a great quiet. The Chapel is a place for contemplation, prayer, meditation, and when we have programs, profound dialogue about current issues. Mostly there is nothing to do but to be with oneself and the magical transmission of the paint. For me and for many others, it defies every possible expectation or point of reference; there is simply nothing to compare it to.
The Rothko Chapel was built in the late 1960's by Dominique and Jean de Menil, two Houston patrons of art and architecture with a deep commitment to human rights. Originally they wanted to create a Catholic chapel but as plans evolved it became clear that wasn't going to work. So with the encouragement of religious leaders from around the world the de Menils decided to create their own non-denominational chapel. Maybe they knew what it would become or how vital it would be; it's rare in this country to enter into a space that asks only that you remain quiet, so that experience can unfold without distraction.
The Chapel is both a metaphor and container for what is now commonly be called "mindfulness." It is an environment in which to notice: The passing of moments. The torrent of thought or the absence of thought. The changing light and how that affects the paint. The emotions that arise, from serenity to agitation and everything in between. The quiet and sheer vastness can and does occasion any number of reactions. Mrs de Menil described Mark Rothko's process of painting this way: "As he worked on the Chapel, his colors became darker and darker, as if he were bringing us to the threshold of transcendence. The mystery of the cosmos. The tragic mystery of our perishable condition. The silence of God, the unbearable silence of God."
The Chapel upends a number of conventional notions. It houses priceless art by one of the 20th century's most monumental painters but it's not a museum. It is called a "chapel" but it defies any notions of religious space. And while it is a place for contemplative practice, there is no central instructional framework or guiding teacher. Since it opened in 1971, the Chapel has held thousands of programs celebrating specific faith traditions and culture, offering instruction in a wide range of practices and engaging dialogue with experts in human rights. These programs take place a few times a month. The rest of time, 365 days a year, the Chapel is open -- at no charge -- for people to come and be and let go of doing for a while.
Unembellished. Quiet as a tomb. Primordial. Like being inside the mind of someone whose eyes are closed while praying. These are just a handful of the millions of words people have used to describe the Rothko Chapel. Rothko himself put it this way: "The familiar identity of things has to be pulverized in order to destroy the finite associations with which our society increasingly enshrouds every aspect of our environment." For Rothko, the Chapel was about creating a contemplative environment that supported the transcendence of the boundary between object and observer. Art historian Peter Selz said that the paintings "really seem to ask for a place apart, a kind of sanctuary where they may perform what is essentially a sacramental function."
Where else can we find similar spaces of non-doing in our daily lives? A quiet corner, a pew in our home religious institution or underneath a favorite tree? It doesn't matter where we find it, only that we do.