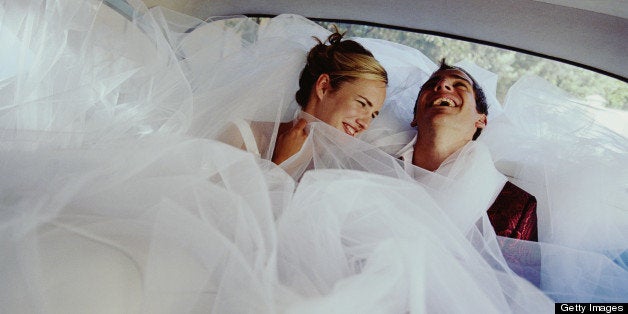 Weddings are amazing events, filled with love, family, dancing, friends and the celebration of a beautiful couple. But depending where you are in your life, going to weddings can be an expensive, time-consuming, emotionally overwhelming event. That's why despite being raised in a family where good manners are an imperative, I have been a horrible wedding guest in the past. I've not sent an RSVP back and still shown up. I've not bought a wedding gift. I've brought a plus one when I wasn't really given that option. And the worst offense, once a friend asked me to be in her wedding, and I never called her back! I just didn't go. I was a horrible friend. (For clarification, it was to be in her house party and not a bridesmaid, but I'm splitting hairs to defend my this awful decision.)
Basically, I've shown poor manners, supreme rudeness and shockingly selfish behavior. I made the usual excuses -- being broke, new job, no job, depression, drama in my own life -- basically being in my early-to-mid twenties. (Hence my sympathy for Hannah's behavior on "Girls"). I'm not proud of these actions or excusing them, but it happened. Looking back at the poverty and confusion of my mid-twenties, I repeatedly let etiquette, manners and being a good friend (and wedding guest) fly out the window. Having recently planned my own wedding, I realize the annoyance and stress I placed on those brides. And I know now that planning my own wedding has made me a more thoughtful, considerate person in general.
Wedding planning is an etiquette crash course. Each new task, from the guest list, to invitations, seating charts, wedding websites, decorations, traditions, etc. either teaches you something new or reiterates something you had forgotten about or thought silly before.
1. You Realize the Importance of the RSVP Card.
For years, I'd held onto a wedding RSVP card, procrastinating until the last minute while I tried to figure out if my finances could cover the flight and hotel. I'd watch to see if airfare would miraculously shrink by half and then freak out at the last minute if I couldn't afford to go. I now realize the torture and hassle it puts on the bride not to have RSVPs returned. We may think our presence at a wedding is really important, but basically brides just want an answer. Of course the bride and groom want their friends and family there, but they get it. Just return the RSVP. Brides need an official headcount, and the sooner the better. Numbers mean money, and no-shows and last minute changes waste money. A 'no' is as good to them as a 'yes.' In fact, with looming food and alcohol costs, every 'no' reply card usually results in a bride and groom victory dance. Also, getting a 'no' reply usually allows the couple to invite someone their parents may want them to invite or a more recent acquaintance. Don't think your humming and hawing is helping anyone. If you don't know where your life will be in three months, just say no. Return the reply card as quickly as possible. These days, I always return a reply card, answer promptly to evites, shoot back the text with a yes or no and basically am just better about responding 'no' if that's the case. I'm so much more aware that an answer, no matter what it is, is always better than nothing.
2. You're Quick to Help Others
After the wedding and honeymoon, brides become the proud owner of a lot of superfluous items. Candle holders, cake toppers, mirrors, ring pillows, baskets, votives, vases, ribbon, material, frames, archways, fake flowers, chandeliers, you name it and a bride has bought something that she'll never use again. My friend realized a week before her wedding that she needed outdoor lighting to hang over the dining area for her outdoor winery wedding. Realizing how expensive and cumbersome such standing outdoor lights were, not to mention the thought of getting them to Northern California at the last minute, the last minute expense and oversight threw her into a tailspin. She went on a wedding blog searching for an affordable option, and a bride gave her the lights. In a bride-to-bride pay it forward moment; one bride understood exactly what another bride needed. My friend paid to ship them and that was it, and they looked incredible. Planning your own wedding increases your sympathy and generosity to other brides. I've been offering up bulk flameless candles, votives, silver frames, a giant mirror and massive vases to any bride within shouting distance. Brides understand the hidden costs and lurking expenses. You'll be surprised how many brides will come forward happy to loan, borrow or give what they no longer need. Even among strangers.
3. You Understand that the Rules are There for a Reason
All of those seemingly silly rules for addressing invitations, who throws what, who should be invited to what, etc. will help later in life. Miss Manners probably started her career from brides asking lots of questions. I've never googled so many etiquette questions in my life as I did planning my wedding. My friend and her husband are both doctors, but she told me often times letters come to Dr. & Mrs. XYZ. While it isn't that big of a deal, she does wonder why her hard-earned degree is so easily dismissed and actually thanked me for addressing the invitation correctly. In the big scheme of things, these are little things. But learning the right way to do things is never ever a bad thing.
4. Why Thank You Cards Are Lovely
Trust me, I understand the dread of writing 100-200 thank you cards. As much as I tried to stay on top of them, I needed wine and some serious guilty pleasure television to get through them all. Rest easy that you probably never have that many cards to write all at once ever again. And while you know that it is kind, proper and polite to acknowledge the gifts and generosity you've received from some people you've never even met before, it's still daunting. That being said, I love when thank you cards arrive in the mail. I appreciate the time taken for a simple thank you. We email, Facebook, Skype and tweet everyone. But propriety says you can't do that for wedding gifts, and call me old-fashioned but I like it. The time it took to look up your registry, search through gifts, order one and pull out a credit card to input the correct information (and that's nothing to those that drove to a store, purchased a gift, wrapped it and then went to the post office to mail it) is a lot more than 3-5 polite lines in a card. The wedding thank you card chore will make it easier to send them out after you child first birthday party and other future events. I was not really a thank you card person before, but I like a small gesture that goes a long way.
5. It Forces You to Deal With Delicate Situations
It's getting easier and easier in life not to deal with sticky situations. If you live away from your family, you can ignore or forget about the family members that annoy, irritate or embarrass you. If you have friends that you don't always agree with their lifestyle or choices, it's easy to distance yourself or limit your time with them. But a wedding forces all of these people and situations together. When you and your partner (or parents) disagree about fundamental ideas (be it cost, family involvement, traditions, etc.), you have to talk about it. I'm not saying it's fun, but being forced to deal with sticky situations helps you become better prepared to handle them in the future. While I don't relish dealing with awkward moments before your big day, something always comes up. I got a tougher backbone planning my wedding. Things that normally would have been swept under the rug were brought to light, handled and we moved on. I hope to do this all the time in my adult life because, as I've shared, I've been childish and selfish in the past.
Are these small details? Definitely. No one is going to die if they don't get a thank you card, get an exact headcount or are mislabeled on an invitation. Of course, you don't need to plan a wedding to know and practice all of these things. However, the wedding planning phase sometimes teaches the lessons of their importance more than a mother's reminders might. Obviously, I needed these reminders more than most. These little things add up to becoming a person others consider well mannered, polite and courteous. In a time when everyone bemoans that these things are getting lost, wedding planning is a teacher and reminder that the details make a difference.