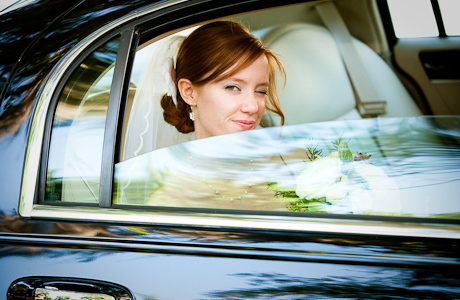 Trust your gut when choosing vendors.
A few hours before my rehearsal dinner, I completely freaked out. I wasn't nervous about the actual I do's. I was afraid I had forgotten to organize or coordinate some detail of the wedding that would prove disastrous the following day. I was slowly turning into the Bridezilla I swore I would never become. After the rehearsal dinner, I was regaling some of my friends about my midday meltdown when of my married girlfriends shared some great advice, "You've done everything you can do. Tomorrow, all of the professionals that you've hired will show up and do their job. So trust that you've hired professionals. All you can do now is relax and enjoy it." And she was right. I felt very confidant in who we'd hired, and it allowed me to relax and enjoy our beautiful wedding. And luckily only my sister saw my Bridezilla moment.
Why? Because I trusted my vendors. Vendors and the services they provide on the wedding day are integral. So feeling comfortable and confident with their abilities gives brides a peace of mind like no other on the big day. Picking vendors is a little like dating. You go in with high expectations and secretly hope that each one is the one. Some will be amazing and some are just meh. And unfortunately, there are some bad apples out there. Most brides get vendor recommendations from friends, from a wedding coordinator, from their venue (most have a list of vendors they use) or online. It can be a daunting task to coordinate everything from decoration, food, dj, photographers, rentals etc. while trying to adhere to a budget.
However, keep in mind that the choice (and employment) belongs to the bride and groom. If you have a vendor that comes highly recommended but shows up late for appointments, doesn't return emails, is late returning phone calls, or just leaves you with doubt regarding your wedding, then use someone else. The attention a vendor shows you in the initial planning stages tends to be a precursor to the attention they'll give your wedding.
Early on when going through recommendations and vendor lists from our venue, I realized that businesses tend to show you early on how professional they'll be. A friend recommended her wedding florist to me. While this florist was personable and fun to talk to, she was always late for meetings, forgot about an appointment, never gave me specifics concerning cost and took forever to return emails. I felt guilty firing her, but my worry that I'd be disappointed or stuck with a massive bill on the wedding eclipsed that guilt. It was a great decision. I met someone who'd just done an acquaintance's wedding and she couldn't have been a more valuable asset -- and is now a good friend! The best advice I can give brides for an enjoyable wedding day (besides marrying the love of your life and having family that support and embrace this union) is to hire vendors you trust. That being said, don't be afraid to fire a vendor that doesn't deliver.
Recent newlywed Amy S. explained, "I was REALLY hesitant about booking two vendors in particular. During the planning process, there were serious red flags. They were late to meetings, were not good at responding to emails or phone calls, or just didn't 'wow' me with their work. But for one reason or another (they were a friend, they were giving us a good deal, etc.) I chose to ignore my gut feeling that something would not turn out how I wanted it to on my wedding day."
Many brides may have never hired or fired someone before. And it's not easy. But neither is being upset or disappointed in a service you've paid a considerable amount for (and will live on in your photographs forever). If you get early indications that a vendor is unreliable, let them go. Even losing a deposit may be worth the satisfaction of working with someone you have confidence in on the big day rather than staying with someone already disappointing you. Cutting ties earlier than later will usually save further headaches down the road. Amy S., who had reservations about her rentals/uplighting guy said, "The drapery they set up was terrible and some of it was missing completely. The uplighting was very stingy and not even the correct colors. I ended up threatening to sue so I could get back some money for items I didn't receive or that were incorrect. He did apologize after seeing some pictures and refunded us the money after nine months."
Reducing stress while planning your wedding is always a bonus. Finding and securing great vendors can be a time-consuming, daunting task so trust your instincts. People tend to show you their true colors early -- pay attention. And who knows, just because one vendor was amazing at your sister or best friend's wedding, doesn't mean they are right for yours. As Amy advised, "I tell all brides-to-be that if a vendor is rubbing them the wrong way, run -- don't walk -- to someone else that makes them feel much more at ease." Remember your job is choosing and hiring reliable professionals so that on your special day, they can show up and do their jobs while you enjoy an incredible day with loved ones. You've earned it.