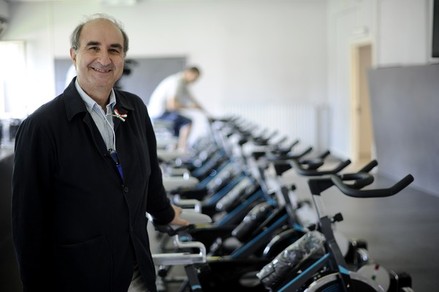 When the police seized the generators used to give power to the protestors' camp in Zuccotti Park, the Occupy crowd started pedaling.
They used stationary bikes connected to a dinamo to generate as much of the electricity they needed with their legs. A school in Rome is doing exactly the same, only on a stable basis.
This is to teach about the worth of electrical power, but also how to avoid waste. The mastermind behind the plan, Oscar Santilli, is both an architect and a teacher in the school, Istituto Tecnico Vallauri, helped by an ex-student, Luca Viducci.
The new "generator room" hosts 18 emplacements which are composed by a total of eight spinning stationary bikes wired to a dinamo -- eight hand-driven handle dinamos and two free-spinning cylinder to be used with a street bike (conceptually similar to what sport cyclists use to train).
All are monitored by a hardware and software setup which was built ad hoc. The school produces knowledge, Oscar Santilli stressed, and this is the real meaning of this project:  generating a growing consciousness in new breeds about energy saving and learning on themselves the necessary effort to produce only 1 kW.

Next to every bike there is a little badge reader where every user can insert its tessera dei crediti energetici (energy credit card), whose chip records every single student energy production. Every student has 15 minutes a day. Every credit can be spent in school activities (a film projection during school).
There are also several prizes for those guys: cinema or soccer tickets or books or music credits on the net. The project is open to school-related people (parents, school workers and others) that want to become "kwh donors."
Just to evaluate the results, one hour pedaling produces 100w, so if all the bikes are working, the energy produced gives coverage for the 50 percent of an apartment energy consumption. Going to school by motorbike generates an energy consumption equal to 72 hours of wheeling.
Our students now know all this kind of information and someone will decide to go to school by bike, even because any of them reaching the school by bike has the chance to use it in the energy room earns then a credit which is three times bigger than usual».
The project is being financed by the Provincia di Roma. The aim of Oscar Santilli is to spread this best practice to other institutes. This kind of energy saving is also being applied in New York (using bike-boats selfproducing energy), in London (with the project "Cicle in Cinema") and also in Copenhagen (where a famous hotel rewards wheeling with free meals).
Cycle in Cinema - Magnificent Revolution from culturehunter on Vimeo.