Western analysis of India is often blinkered by the "hyphen syndrome." First it was India-Pakistan, now it is India-China. But a recent conference in Pune showed exactly why that assessment is dangerously short-sighted, at the very least.
The India and Development Partnerships in Asia and Africa: Towards a New Paradigm meeting, was held mid-December in Pune, India. It was co-hosted by the Indian Ministry of External Affairs and Symbiosis University. Symbiosis was an apt choice. The university has a large cadre of international students -- currently representing over 80 countries -- and the name derives from one of its founding principles: "Allowing various international cultures to culminate at a point and grow together".
The conference cast was impressive -- good thing Symbiosis has its own helipad. The Keynote on the second day was given by Afghan President Hamid Karzai. Also attending were Ambassadors and/or Ministers from, among many others, Bhutan, Burundi, Dubai, Gambia, Iraq, Mozambique, Oman, Senegal, Tanzania and Turkey . Each panel was chaired by a retired Indian Ambassador.

H. E. Lyonpo Rinzin Dorje, Foreign Minister of Bhutan; Padma Bhushan Dr. S. B. Mujumdar, Founder & President of Symbiosis; H. E. Hamid Karzai, President of Afghanistan; H. E. Dr. Joseph Butore, Minister of Education and Scientific Research, Burundi.
The message from non-Indians was overwhelmingly: "We already have strong relations with India, and we want even more." They weren't just being polite. The call was based on long-standing, multi-faceted relationships -- far beyond the soft power of Bollywood and small scale trade.
There is a genuine desire in a lot of the world to have an option that isn't the West and isn't China. So far, fractious internal politics in India have weakened the central government's ability to fully engage. But elections are coming up in 2014 and, if an effective government comes in, dynamics might change very quickly. A small sample of what was said at the conference shows why.
President Karzai underlined the millennia-old relationship between Afghanistan and India, even mentioning that Afghan cities were part of Indian consciousness as far back as the Mahabharata.
And today, there is an enormous amount of fluidity between the two countries, including in education. In his address, Karzai said that while the West gives a good education: "In a dry sense, what they don't give is a moral value. And that is extremely important." Indian education is viewed as offering both. To widespread applause, he said:
India is not a melting pot which will assimilate you in their culture. Instead it will inculcate values and morals in you.
Currently there are around 4,000 Afghan students studying in Pune alone, and thousands more elsewhere in the country. Karzai himself earned his Master's degree in International Relations and Political Science from Simla University.
India, he said, had already given Afghanistan $2 billion in aid -- adding it was "quality" money spent on "projects of long term development and proper infrastructure," including transmission lines, the new parliament building, a hospital for children, a dam, etc.
He saw the Afghan-Indian economic relationship as potentially growing substantially, with access to the Indian market a boon for the Afghan economy, and Afghanistan being "a roundabout" for Indian access to Central Asia and beyond.
Other speakers echoed variations on the same themes. The Chairman of the Public Authority for Investment Promotion & Export Development of Oman also underlined the age old relations between the two regions (separated by a relatively short sea route) and said that Oman was going to be putting in billions in infrastructure -- including potentially a railway from Kuwait to Oman that would let cargo bypass the Strait of Hormuz -- and they wanted more Indian involvement.
The Foreign Minister of Bhutan talked of Nehru visiting Bhutan by yak before the highway was put in (with help from India), and of India continuing to be a key partner, and friend, for Bhutan.
The distinguished representative from Senegal asked the audience to stand in recognition of the influence that Gandhi, who lived for a time in South Africa, had on Africans, and on Mandela, before calling for the establishment of an India-Africa think tank to promote even closer ties.
Other African ministers mentioned the generations-old Indian communities in their countries, and the contributions they've made. As well as India bringing to Africa a range of critically needed products such as affordable medicine.
And on and on. All wanted more engagement with India, and said so in warm tones that Washington and Beijing could only dream of hearing. There was a feeling of genuine societal compatibility -- with deep roots and a strong desire for a growing future.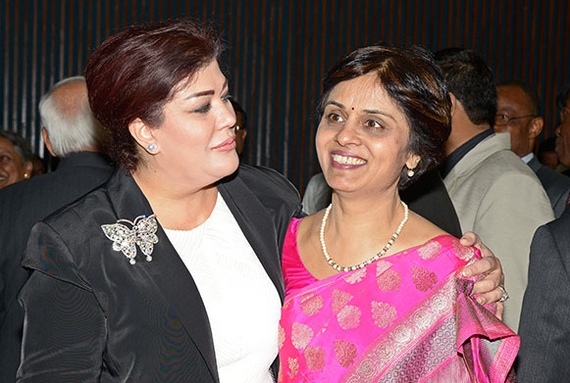 Hon. Safia Al Suhail, Member of Parliament, Iraq, and Dr. Vidya Yeravdekar, Principal Director, Symbiosis.
The Pune conference was not an isolated event, more another wave in a swelling tide as medium and smaller powers seek to maneuver through the perceived rocky Scylla of Western blunt force power, and the sinking Charybdis of economically and socially intruding Chinese influence.
Similar sentiments about India were expressed in November at Asia Uninterrupted, a high-level gathering co-hosted by Gateway House think tank and Manipal University.
Japan is also looking towards India with interest. Economic compatibilities are combining with concerns over China and a lingering doubt about U.S. willingness to engage in a war in Asia to defend Japan. India -- a nuclear state with hundreds of thousands of troops near China's border -- could present China with a distracting second front, if properly motivated. Perhaps coincidentally, not only has the Japanese Emperor just visited India after a lull of over half-a-century, but billions in Japanese investments are starting to flow in to the country as well.
Significantly, quite a few of these discussions are held away from Delhi, and without many participants from the West. I was the only ethnically Western speaker at the Pune conference (though I am working with an Indian university), and no one from the West attended the closed door meetings in Manipal.
These renewing constellations of alliances aren't a challenge to the West. India is a democratic, secular, education and family-focused, demographically young country with a lot of potential friends and a solid growth rate. From a Western point of view, a stable, successful and above all friendly India would be a sound ally heading into troubled times.
For the friendly bit, it means revisiting attitudes towards India, including the sort that produced things like the handling of the Devyani Khobragade case, House Resolution 417 and the indignities meted out over the years to India's President, Defence Minister, UN Ambassador, U.S. Ambassador, and biggest film star. This has to stop. If only for the U.S.'s own sake. Apart from strategic considerations, if healthily engaged, India could help in understanding the concerns of sections of the world that are often underrepresented, including India itself, and be a valuable partner in growth as geoeconomics shift.
At the moment, India, in the sense of a strong national government making consistent, directed foreign policy decisions, seems a bit MIA. This may continue until at least after the elections. So, many of the linkages are being maintained informally by the business sector, education sector, health sector, people-to-people relationships, extended families, state-to-state engagement (for example, the Indian state of Gujarat reaching out to Gujaratis living in other countries), the Indian-American caucus (one of the largest on the Hill), etc. The links are there. And will grow. Regardless.
It is high time to ditch India's hyphen. The many complex parts that make up India are more like myriad overlapping hubs with myriad spokes than a single linear hyphen. India's place in the 21st Century is much more than just a counterpoint to China. No matter what happens in Delhi.