Beer gardens (or "bier gartens" depending on your hipster level) are not new inventions. Nor are they a purposeful invention. In fact they are an accident, or perhaps more precisely a product of convenience.
You see, lager beer (the preferred beer of Bavaria) needs to be kept cool while it ferments. And before refrigeration, finding a constantly cool place in Bavaria to store lager while it fermented was not so easily done. So brewers dug large cellars along the banks of rivers to store their beer and keep it cool. Many also planted trees above the cellars, providing shade that further lowered the temperature of the fermenting lager.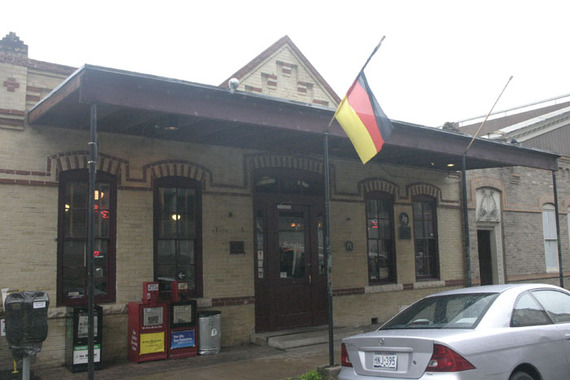 But then as it turned out the tops of these cellars, with the many shade trees and cool breezes drifting in off the river, provided a bang up space to spend the day drinking. Brewers quickly grasped the opportunity to turn a buck (and sell some brew) and set up what we now know as the "beer garden."

German immigrants spent little time before setting up beer gardens in the United States. In fact the first beer garden in the U.S. was reportedly created in 1824 in Manhattan's Castle Clinton in Battery Park. Busch Gardens was also initially created as a beer garden by the German immigrant-owned Anheuser-Busch Brewing Company. And at one time in the early 20th century the U.S. boasted hundreds of beer gardens across the country.
Obviously prohibition put the kibosh on the beer garden's popularity, but they are experiencing a resurgence due to the craft beer movement, and new gardens are opening up throughout the country.
If you've read our book or some of our other articles then you know that we'd like to focus not on the new, but on the old. Specifically the oldest beer garden in America (in fact one of the oldest bars in America): Scholz Garten in Austin, Texas.
It was 1866 when Civil War veteran and (of course) German immigrant August Scholz settled in Austin and opened his own beer house. Texas had been made a state only 21 years earlier but already there was a large influx of German immigrants in the area -- owed primarily to a popular news article published in the mid 19th century in a German newspaper espousing the virtues of Texas.
By the time Scholz put out his shingle he already had an excited clientele: droves of thirsty Bavarians and Prussians were looking for a piece of their homeland. Scholz only was happy to provide it. And his beer house, and requisite "garten" are standing today, still quenching the thirst of locals.
When you make the trip here know that little has really changed since 1866. In fact you will see black and white images taken in the late 19th century of the small, brown brick building that will confirm the lack of change -- it's in fact identical to the building you see today.
They do feature a full bar now (unlike they did when they originally opened) but beer is still the main attraction. In fact if you go on a night when the local UT Austin football team is playing you'll see them go through 30-50 kegs and hundreds of cases of canned beer in a single night.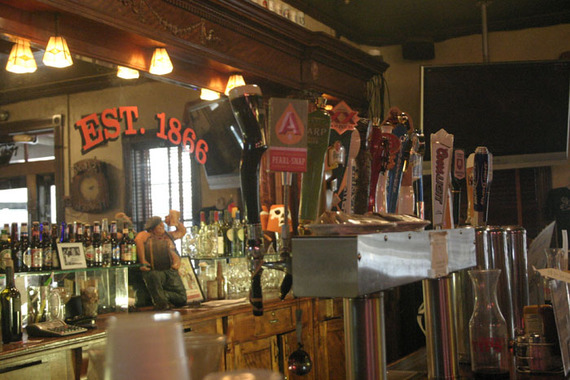 They also have a full kitchen now, serving up traditional Bavarian pub grub (bratwurst, etc.) but also smoked brisket and barbecue.
Keep an eye out for notable drinkers while you're here -- especially the politicos. Because Scholz Garten is so close to the Texas Capital Building (and always has been), many of the state legislators gather here for a pitcher or two while hashing out deals.
The place is beloved by locals and Austin expats alike who all make sure to stop by for a beer if they're in the area. It's easy to see why. It is warm and fun and authentic - the three things every traveler yearns to find in a faraway place.
Be sure to make Scholz Garten a destination when you travel to Austin. Try to go on a game night when the place is packed with friendly UT Austin fans. Or, maybe even better, go when the polka band is onstage in the garten. Find a seat under one of the aged trees, listen to some polka, eat a brat, drink a pint and live like a 19th century Bavarian for a night.
If you'd like to learn about this great place, you can find a brief documentary about it here.
Scholz Garten
1607 San Jacinto Blvd, Austin, TX 78701
(512) 474-1958
When To Go
Anytime is a good time, but the place is especially hopping when the UT Austin football team is playing at home.
What To Order
Beer. Lots of it. Also try the brisket or brats...or both.
What's Nearby
UT Austin campus and the Texas Capital Building are both in staggering distance to Scholz Garten.
Insider Tip
If you're out in the garten and you hear what sounds like thunder, it may be from the private bowling alley in the far side of the building.