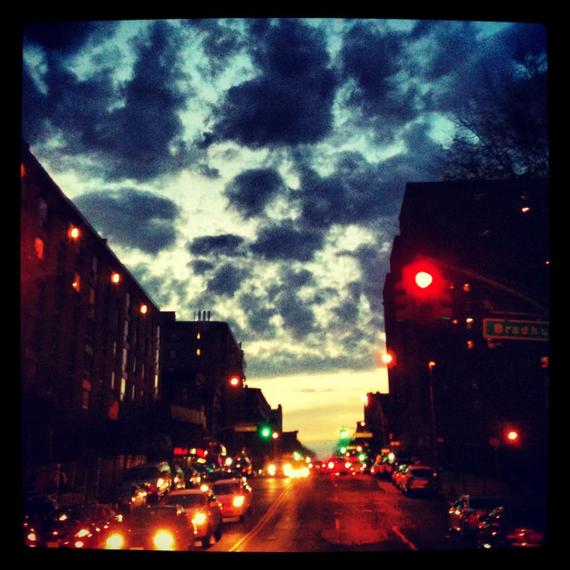 On the last Sunday in February at around 8 p.m., Jon Jensen, who teaches English at Kingborough College in Brooklyn, was walking north on Frederick Douglas Boulevard near 135th Street in Harlem.
In one hand, he held a leash, to which was attached his fluffy white Pomeranian dog, Bumpy. In the other hand, he had out his iPhone 5. As he was checking a text, a woman bumped into him, and he dropped the phone onto the sidewalk. The woman made a grab for the phone, took it and then began to calmly walk away up the avenue.
Jensen described the woman as mid-30s, wearing jeans, a gray jacket and tennis shoes. Jensen said he was dressed similarly, wearing jeans, a green jacket and tennis shoes.
He lives in the neighborhood on St. Nicholas Avenue at 141st street. And I live just down the hall on the other end of the big Harlem apartment.
For what it's worth, unlike Jensen, I'm a relative newcomer to Harlem, having moved into the apartment around two years ago after spending a year in Austin. Harlem is cheaper than the East Village and the apartment is spacious. Still, my universe for all intents and purposes is, as it has been for the past 20-plus years I've been in New York, centered downtown.
When I'm uptown, I'm usually there to sleep, run mundane errands, work in my room, watch Netflix or perhaps ride my bike to the Hudson river, where I usually pedal back downtown.
But Jensen's take on the area is different. His 14-year run in New York City has been centered in great part, right here in Harlem. The Wyoming native knows where the neighborhood's hidden gems are, he's studied its buildings, its culture and its streets. He recites historical tidbits, telling stories about the great migration and the Harlem renaissance. He leads impromptu tours for his students where he points out the area's literary history. Many of the students are Russian immigrants learning to converse in English.
Earlier on the same night before his phone was snatched, Jensen had arrived back in Harlem from what he called a 'spiritual' weekend retreat in Connecticut with several other city dwellers. Perhaps that experience had left him more spiritually empowered to take the approach he did in this particular incident.
After the woman took the phone, and began to walk away, instead of screaming or grabbing her, Jensen and his dog Bumpy, walked up beside her and Jensen tried to reason, demanding she, "give me back my phone."
The woman said, "no," and kept her pace heading up uptown. But Jensen said she didn't lock his gaze. She kept her eyes forward and that signaled something to him.
"I am a seasoned city dweller," he said recalling other places and moments where he had encountered crime.
Jensen grew up Mormon in a frontier mentality driven Wyoming. At 19, like most young Mormon men, he served the church as a missionary. He got sent south to Atlanta to bring the word of Joseph Smith to one of that city's toughest areas. This was the crack-filled late 1980s, and at that time, Atlanta was considered one of the nation's most dangerous cities.
"Here were these two white boys in polyester suits wearing really bad overcoats walking around with bags in the public housing projects of Atlanta. People assumed we were selling insurance," he said.
And then one night at the Perry Homes Projects, the two got held up.
"Two guys walk up to us and put guns in our backs, and demanded our wallets, our coats, our bags, our shoes. Gratefully, they didn't take our shoes," he said.
Interestingly, Perry Homes in Atlanta has since been torn down and replaced with a Federal HOPE VI funded mixed income project called West Highlands.
Brimming with optimism that he could help change the world, after college while in his late 20s, Jensen signed up for the Peace Corps and was sent to Russia to be a teacher assistant. While in suburban community outside Moscow, he was brutally attacked by group of young men. He says there was a constant sense of fear in Russia. The felling was similar what he felt in parts of Atlanta. But, fast forward to 2000 and his arrival in New York City, where those feelings quickly changed.
Newcomers to New York City land in various neighborhoods and for whatever reason, Jensen landed in Harlem. He says he's always felt relatively safe here.
"I know there are certain blocks that can be rough. And, when I first moved here, up until around 2008, I was careful not to display my electronics on the street," he said.
But, he thinks there might have been an assumption on the woman's part, that he was another gentrifying white guy, who was probably doing well financially.
"That's part of why I felt it was important to tell her I am a teacher and I make just enough money to get by, and this phone was not something I could just go tomorrow and buy a new one and not think twice about it," he said.
Something told him she might just listen. After all, she was walking, not running.
Soon enough, a rapid fire exchange began to unfold all within one block of the busy street.

"I said, please give me my phone back," he said.
"I can't pay rent," she said.
"I'm a teacher and I struggle, too. That phone is really important to my livelihood," he said.
"But I can barely eat," she said.
"I'm really sorry that you're struggling like this, but taking a phone from somebody isn't going to make it better because if you don't give me the phone back, I'm going to get the police," he said.
She said, "No you won't. I don't care."
And then he told the woman, if she would give him back the phone, he'd give her the last $20 he had in his wallet, and that he wouldn't call or involve the police on the incident.
She stopped walking, and the two locked eyes and she said, yes.
"But this is how it goes, I give you the $20, you give me the phone," Jensen said.
She handed him his phone.
Jensen said when the retreat's city dwellers get back to their respective neighborhoods from the weekends away, they often text in on each other, asking how the re-entry back into reality is going. Jensen said he was answering one of those texts when the woman bumped into him and he dropped the phone.
"A lot of us, the retreat attendees, have made some really big mistakes in our lives," he said.
Jensen said he didn't view the woman that took his phone as a criminal. He just saw her as in the midst of distress and perhaps this phone snatching would have been for her, a turning point, one of those big mistakes.
An estimated 1.7 million New Yorkers, or 21.2 percent, live their lives below the poverty threshold according to the Census Bureau. That number rises to closer to 35 percent in both Central and East Harlem. There are people in this big city, who are on the verge of losing their shelter, their ability to feed themselves and ultimately, their health. Day to day survival is the driver for getting out of the bed each morning.
The old song says, if you can make it here, you can make it anywhere. I can't think of anything that rings more true. For some here, economic stability comes easier than it does for others. For some, a culture of poverty is the only reality they've ever known. That, coupled with a nation scarred by systemic injustice that feeds old prejudices, all inhibit many New Yorkers from ever achieving true economic mobility
After the incident, Jensen walked over to his favorite local Ethiopian restaurant on 135th Street.
Suddenly though, he said he felt sensitive about what it looked like -- him with his Pomeranian. He walked to an ATM machine and got some cash. Once outside the tiny restaurant, he tied up the dog, and went to the counter to order his food.
"I think there are stories you don't hear about in this community, Harlem. People up here watch out for each other," he said.
Still a bit shaken about what had just happened, he was nervous to leave the dog outside.
There was one customer in the restaurant.
"Don't worry hon', I'll watch him for you," she said to Jensen.
As she sat at one of the three tables in the tiny place and ate her dinner, she talked to the dog through the window.