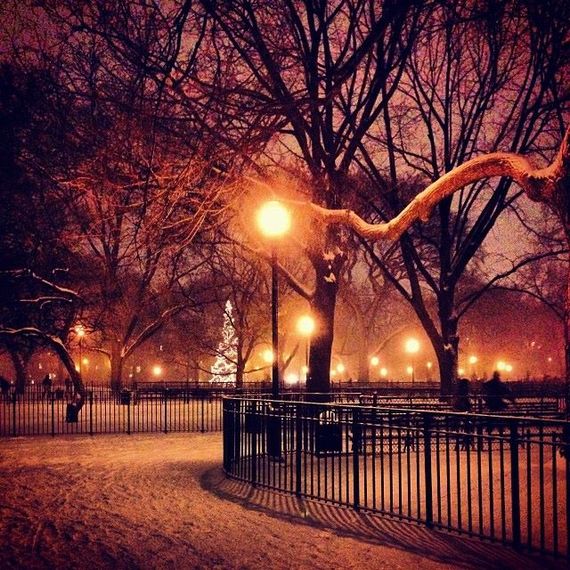 The early evening hours of Saturday December 14, 2013 were enchanted. That's despite a fear that my friend's bar, where I work on Saturday nights, might be overrun by drunken SantaCon participants.
Earlier that day, there'd been talk of heavy snow later that evening, and sure enough, around 7 p.m. it got heavier and heavier. By the time I'd reached the L train's First Avenue subway stop and started out walking to my destination on Avenue C, the streets and sidewalks had all been transformed into a mostly fluffy sometimes slushy, powdery carpet .
A few blocks later, as I made my way towards the Christmas tree in Tompkins Square Park I stumbled onto what looked to be some sort of impromptu outdoor party. Around 30 to 40 people had gathered in the area where the bandshell used to be. For some reason it brought up the Peanuts theme in my head, but this group was actually playing 'cha cha slide' on a boombox as they bobbed up and down and shook in snow. Later, I saw a friendly-looking pair of guys with a girl, and feeling the indulgent need for a selfie with the park's tree and snow as background, I ran up to them and asked if they'd take my picture. The woman took a few shots and I posted the photo on Instagram and Facebook, later I sent it to my parents.
Soon enough I was walking on 7th Street, headed east from Avenue B to C where the bar is located. Along the way, I began to think about where I grew up in Alabama, and how I'd gone home almost every Christmas since moving to the city over 20 years ago.
But this year, in part because I started a new job during the week, and more importantly, I literally hadn't paid attention to what the date was, I'd essentially waited to late to buy a plane ticket, at least a reasonably priced one. Round-trip air fares to Birmingham and back were obscenely expensive, I called my parents and they and I later decided I'd just stay in NYC for the holiday and venture south for a few days in February.
As I walked along, at least for a brief moment, sadness crept in, my thoughts were infected with the fact that I'd be stuck in the city for the holiday.
But then, as if the snow reached up and tickled my nose, my eyes began to look around at the shades the light was casting on the snow and I started to hear the sounds that New York City makes when the honking horns get muted, the loud voices muffled, those symptoms of soft fluffy padding. If just for a moment our big beautiful city becomes quaint, almost magic.
On this particular Saturday night right, just days before Christmas, holiday decorations were hanging in windows, fire escapes and an occasional string of lights crossed across a few streets. With the snow, pink, blue and green hues of holiday reflected against the white of the snow. One worn looking brownstone along the way featured big windows framed by wood covered by white flaking paint. Beyond the plate glass, soft strings of small mutli-colored bulbs, framed dolls, a tiny woman, wearing red and white holding a choir book, singing, an illuminated Mickey Mouse, an elf, and a pair of plastic choir members in robes with red rouge like cheeks.
It was as if I were living inside the set of some old classic movie.
I walked down Avenue C, and I got to the bar and pulled out my keys to wrestle with an unlock the two large master bolts that would let me raise the metal security gate. Bolt one on the left, undone.
I walked over to the right side and began unlocking the second bolt but then suddenly I heard a soft and squeaky voice.
"Can you please help me," she said.
I turned around, and there was a big older looking woman, wearing a reddish looking sweater, a big puffy blue coat, jeans. Her face was round, her eyes big, and she was stuck in the snow.
She was sitting on a mobility scooter.
"I can't get unstuck, please help me," she plead, as she fidgeted with a little black switch on the arm rest, but as fidgeted, the wheels turned fast. What raised my anxiety more, was that she was so close to the curb, another inch or less, she could flipped onto Avenue C.
I stood there holding the bolt, and for a split second because I didn't know what to feel other than horror at the sense of helplessness he was witnessing. But, by the next second, I realized, I needed to turn off my stew pot of emotion.
On every corner of this earth, life deals all manner of complicated cards. Although some may see a snowy evening in New York City as an enchanted evening that allows reflection or the chance to live out an old classic movie, some may experience just an inch of snow as a horrifying event.
So, with a tone of complete confidence, at least on the surface, I said to the woman "of course I can help you!"
I went over to her and her scooter, and as carefully and firmly as I could, maneuvered her out of the gathered snow that had stalled her electric wheels.
She said thank you, I said you're welcome, and then I ask if she was okay.
At that point, she tried to fidget with the switch again with the switch, but the wheels still weren't gaining any traction. By that point, another passer by, had stopped and was watching what was happening. She stood at a safe enough distance, an observer, who if absolutely was needed, she could jump in.
At that point, I asked if there was anyone I should call, thinking the city's all answers, all complaints line 311 would be the number.
The woman on the scooter replied with a simple, no.
And, at that point, the wheels must have gained traction, because off she went.
The other woman standing at a safe distance, looked at me, then shrugged her shoulders, smiled, and walked away. She'd never uttered a word, but she spoke nonetheless.
Before I unlocked the door to the bar, I watched as the woman on the scooter sped precariously down Avenue C, she turned the corner on 3rd Street and headed east into the snowy night.