Click here to read an original op-ed from the TED speaker who inspired this post and watch the TEDTalk below.
An artist with a disability shares many of the same experiences as other artists.
We do, however, struggle with ideas and how to convey them on a canvas. Having a favourite artist to emulate provides ideas to pursue. In my case, I like Monet, although many individuals have indicated that my style resembles The Group of Seven, which is probably influenced by living here on the West Coast where I'm surrounded by both the Canadian wilderness and picturesque waterfront. With their techniques in mind, I paint from photographs I have taken mainly from travel to various parts of British Columbia and Alberta.
I am a quadriplegic and my disability forces me to paint holding the paint brush in my mouth. While not a traditional way to paint, this method has worked best for me. Although I have tried molded dental devices, I find that simply taping a paintbrush to a chopstick with a rubber end is the most effective. This allows me to rotate the brush and provides more movement and control.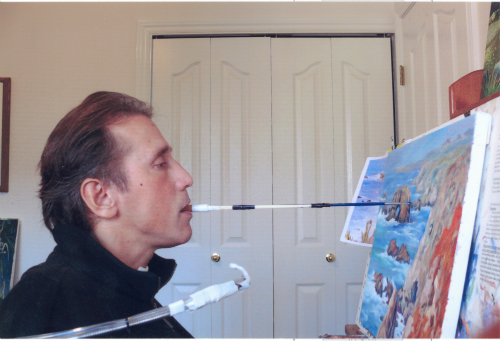 As I have limited mobility, I am also only able to paint on vertical surfaces which are typically about a foot from my face. This can pose a problem when trying to get a full view of the image and to combat this issue, I have to drive away or back up quite often to view my picture from afar.
While mixing the paint is a little tedious and slow, spreading the paint stroke by stroke and watching the painting come alive is well worth it. To have created an artistic piece from nothing, whether it is a painting, music, or sculpture provides one with a great deal of satisfaction, as well as a sense of accomplishment and pride. This sense of satisfaction is emotionally uplifting and gratifying and makes me anxious to get started on something new. My options have been a little limited by being disabled, but I'm so glad that I have my painting to look forward to each day. Having the ability to create art has changed my life.
Another one of those life changes was when I joined the Mouth and Foot Painting Artists (MFPA). Being a member of MFPA has allowed to me make an income so I can support myself with my art. It's has, and continues to be, a very rewarding part of my life. I receive a lot of support from the organization and I am always excited to communicate with fellow members all over the world. Listening to their experiences, taught me how fortunate I am to live in such an accessible place as Canada. With the help of volunteers in Vancouver, I have been able to attend Adult Community Education programs in places such as Emily Carr College and Basic Enquiry Studios. I now live in Surrey with my wife of eleven years, Elvie, have my own studio and my own caregivers which allows me to continue taking courses wherever and whenever possible.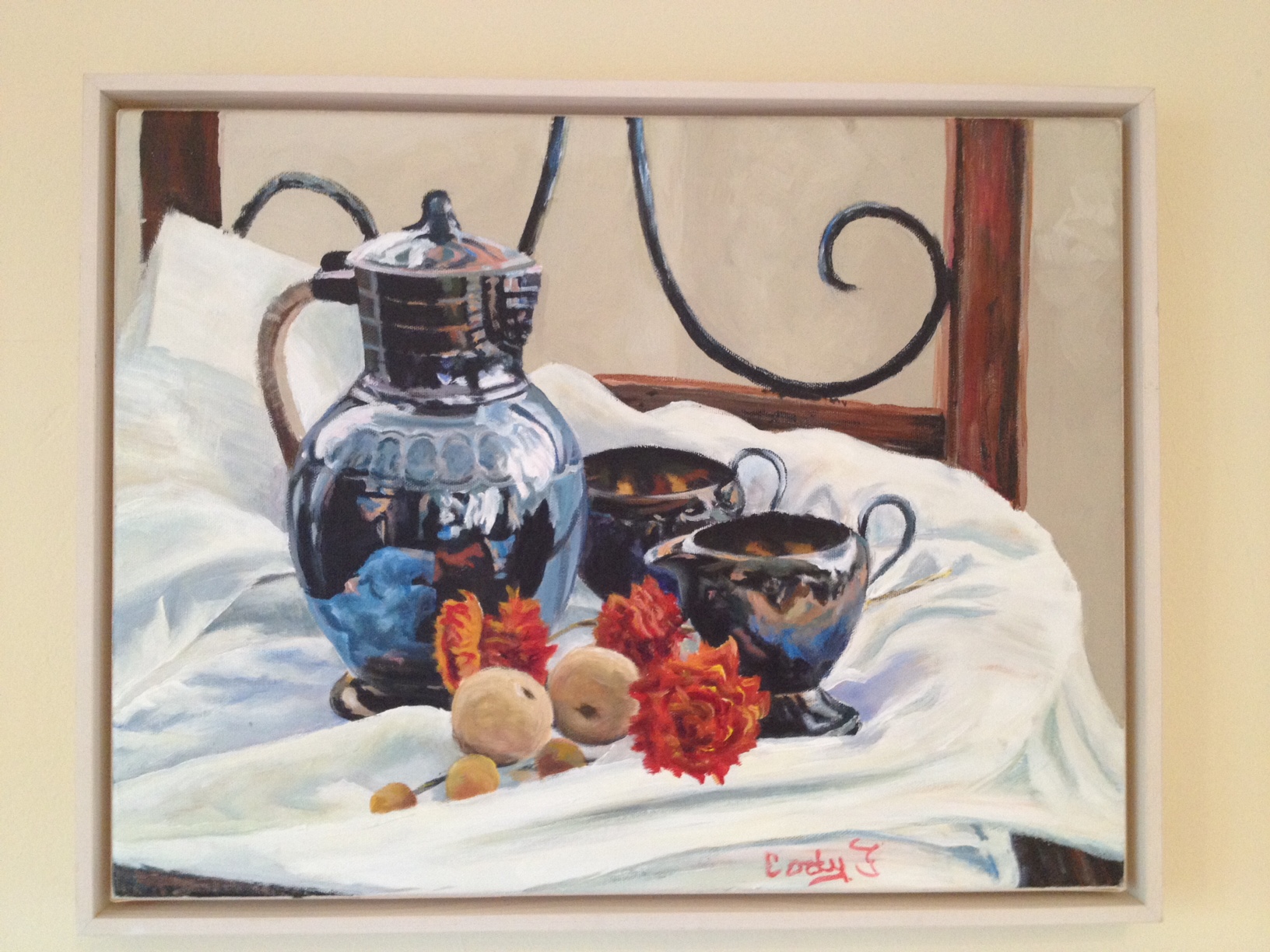 Ideas are not set in stone. When exposed to thoughtful people, they morph and adapt into their most potent form. TEDWeekends will highlight some of today's most intriguing ideas and allow them to develop in real time through your voice! Tweet #TEDWeekends to share your perspective or email tedweekends@huffingtonpost.com to learn about future weekend's ideas to contribute as a writer.