Missed your morning shot of green tea? Not to worry: You can play catch up during cocktail hour.
Got that? Mixologists have done health-conscious imbibers -- who can't get enough of those antioxidant-rich catechins found in green tea -- a huge service by using this type of tea as an ingredient in their alcoholic concoctions.
Last night at New York City's iconic Grand Central Terminal, a couple of cocktail meisters worked some green-tea magic into the drinks they created for the launch of Japan Week, a celebration of Japanese culinary, beverage and spirits arts.
Esteban Ordonez, a mixologist and beverage consultant, featured his "Green Kimono."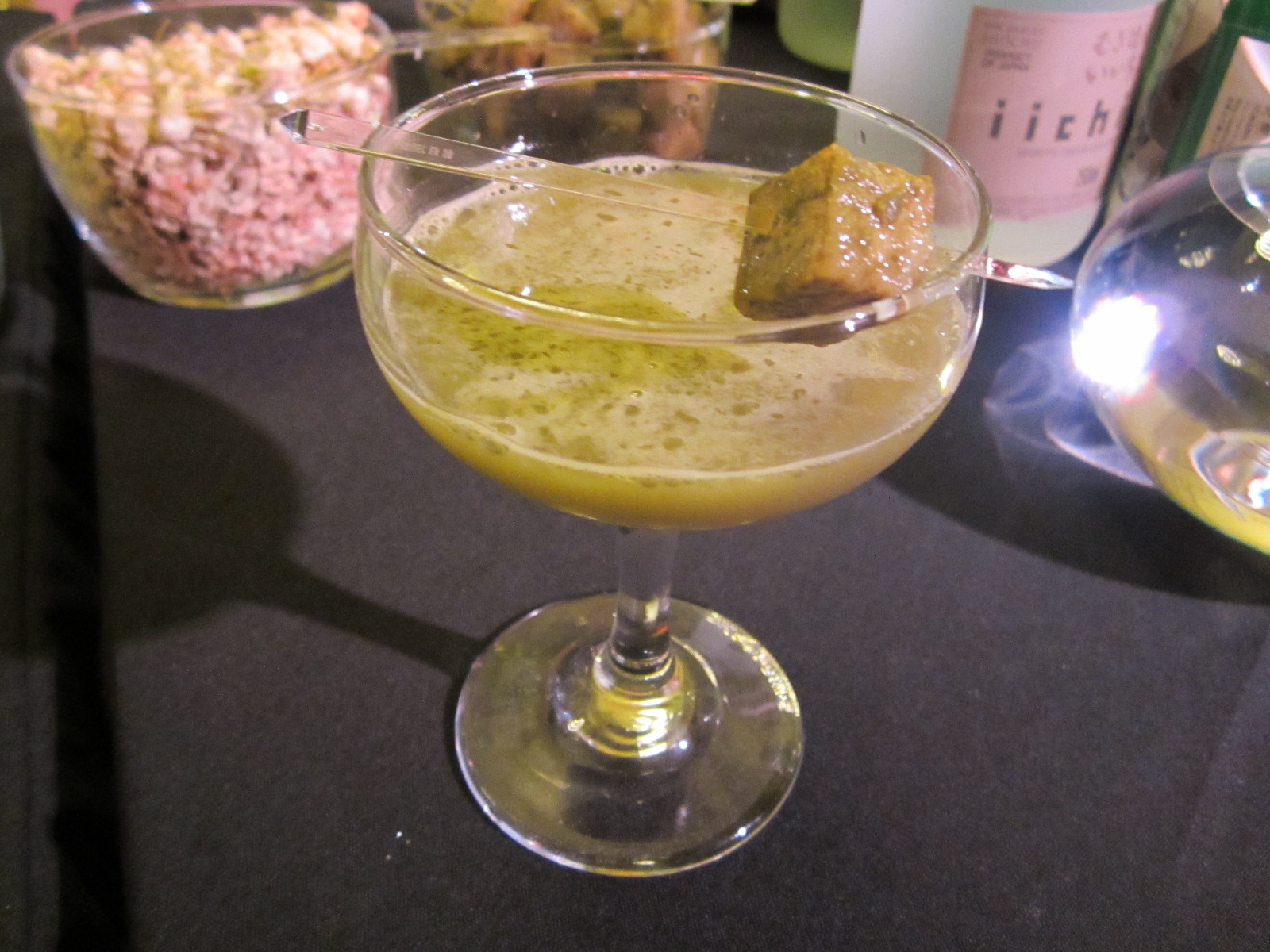 The Kimono's alcoholic component was barley-based iichiko shochu, along with some nashi pear, lime juice and kabosu, a citrus fruit related to the yuzu lemon. But the drink's deep green color was from matcha, a powdered green tea whose sweet mellow flavor and strong color are the result of tea growers' letting the plants thrive in the shade close to harvest time.
"Most of the green-tea cocktails I create are concept-based," says Ordonez, noting that the cocktails for this event's celebration of Japan mandated a Japanese character and flavor.
Gen Yamamoto, a mixologist at chef and restauranteur David Bouley's Japanese restaurant Brushstroke, in Tribeca, used brewed -- and some roasted -- sencha green tea in a cocktail that contained pomelo juice, pomelo confiture and kudzu, with 12-year-old Suntory Yamazaki single-malt whiskey as its alcoholic component. "Pomelo has a nice acidity and tartness that goes well with green tea," says Yamamoto.
At the event, both Ordonez and Yamamoto used Sá Japanese matcha and sencha teas from Sugimoto America. "We hadn't even intended to sell matcha, which is typically used in tea ceremonies, in the U.S. but many Americans kept asking if we had it," says Kyohei Sugimoto, the company's vice president of business development; he imports the tea from his family's 70-year-old company in Japan and distributes it here.
No doubt patrons' increased awareness of green tea -- its culture and health benefits -- are helping fuel its reputation as a priority ingredient for mixologists. For Bouley, a green tea aficionado, the trend's roots were planted about 15 years ago when he opened his Danube restaurant.
Around that time, Bouley started using the anti-viral and nutritionally rich elderflowers -- in the form of jelly -- in drinks he created with Austrian bar chef Albert Trummer. An expert in brewing temperatures to extract the best flavor and nutrients from green tea, Bouley believes a fair number of people have been turned off to green tea. Usually that's because their first taste of it was too bitter, due to using too-hot water and letting the brewing process go on too long. Getting it right makes all the difference.
Think of these cocktails' luscious sweetness as the spoonful of honey that makes the so-called medicine -- trendy and good-for-you green tea -- go down nicely, suggests Bouley.