Nothing reinforces female yearning for romance and the perfect man like a plaintive song trilled by a woman. In The Deep Blue Sea, director Terence Davies calls on Jo Stafford to hit it out of the ballpark.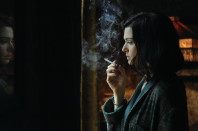 It's 1950 in London where Hester (Rachel Weisz) has ditched her passionless marriage to an older magistrate (Simon Russell Beale) who idolizes her. She's replaced him with the younger, damaged and far less stable Freddie (Tom Hiddleston). Things will not go well.
How do we know?
Aside from Hester's despair, the proof is the great and glorious voice of Jo Stafford, belting out "You Belong to Me" -- the much covered classic with this visually iconic opening verse: "See the pyramids across the Nile, watch the sunrise on a tropic isle."
One of this country's leading pop and jazz vocalists in the post-WWII era and throughout the '50s, Stafford actually released her version of the song in 1952. But given its impact in this movie, the two-year discrepancy is forgivable.
The song's most telling lyrics are these: "I'll be so alone without you, maybe you'll be lonesome too." I suspect a movie audience of women with a 21st-century mindset (think Beyoncé's "Single Ladies") will ridicule Hester's emotional torment.
Taking the mindset back a few decades -- to see how the penchant for yearning-in-song marked '50s women like a knife -- may help.
"In the '50s, longing was a classic theme, articulated, most often, by women," says Glenn C. Altschuler, a professor of American Studies at Cornell University and author of All Shook Up: How Rock 'n' Roll Changed America. "It speaks to a fundamental issue -- the tension between being themselves and subordinating part of themselves to a man and a relationship. The assertion of this longing happened in song, literature and film -- everywhere in pop culture."
Of course, these obsessions hit youth -- immature adults also qualify -- the hardest. "The subject matter of 'You Belong to Me' is about looking for something that will last," says John Beebe, a psychiatrist and Jungian analyst in private practice in San Francisco. "In the inner world, you've got that adolescent dream -- no matter what age you are -- that one's love will be reciprocated forever. But in the outer world, you're headed for disaster if you truly believe that these expectations will be met."
Hester, as Beebe aptly puts it, "seems to be in a double bind, longing for an identity and life she can't have."
Another way to look at the song's relevance within the movie, says Beebe, is by seeing the lyrics as representing our inner relationship to ourselves. The lyrics that remind the lover to be faithful, no matter where on the globe he finds himself, could also suggest the need to be true to oneself, he says.
But they also uncannily reflect the fact that Hester is the one who has cheated on her husband.
"Stafford's timeless archetypal voice is all about cool objectivity, the eternity of emotions and a search for something long-lasting," says Beebe, author of Integrity in Depth and co-author of The Presence of the Feminine in Film. "The song is an assertion of the wish to experience our own integrity and the right to be true to one's self."
In her search for passionate sex -- and acting on it with Freddie -- Hester did turn suicidal. Yet, in her own mind, she just might have won, after all.