We have just delivered a national petition organized by "Just Foreign Policy" that was created by Abir Elzowidi who lost five members of his family in the ongoing bombing of Gaza by Israel, two of them children. He wrote this. A couple of days later the petition to end the killing of Gazans as well as end the economic blockade that has strangled them for years was signed by nearly 15,000 Americans, including over 250 Minnesotans.
We delivered copies of the petition and signers' comments today (July 24) to both Minnesota Senators Al Franken and Amy Klobuchar, both of whom, sadly, have voted to condone yet another of Israel's horrible killing of civilians who are trapped in a kind of open-air prison with no place to flee to. We requested a written response from each Senator but don't have much hope that either Senator will actually take the time to seriously reconsider their blind support for Israel's slaughter, unless thousands more of their Minnesota constituents come to their offices.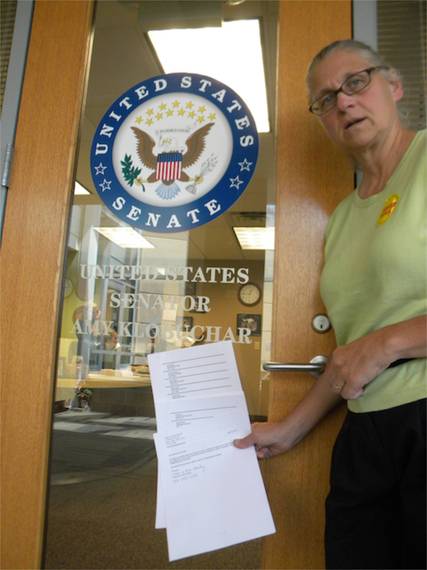 As I wrote on Facebook and again on this petition, I just don't see what good can be gained in the horrific slaughtering of so many children! (These charts published in The Telegraph were outdated the minute they were created as the body count just continues to climb.) Israel has several arguments of course to try and justify the slaughter -- some more absurd and grotesque than others -- but with nearly half of those trapped in Gaza under the age of 18, it's simply impossible to bomb in the densely populated space and not kill a high proportion of women, children and other civilians. So not only is this bombing unethical and illegal, it is strategically counterproductive for Israel.
Please call on your own Senators to rethink their stances and then to tell Israel to end its siege!