Do critics count? Teddy Roosevelt has a great quote about critics that boils down to: critics do not count, but the person who is actually in the arena ("whose face is marred by dust and sweat and blood, who strives valiantly, who errs and comes up short again and again... ") that counts. In the Internet age, everyone is a critic -- often an unhinged critic who hides in the "comment" sections of an article. With fine art, it is easy to say that art critics do not count for much, because fine art is subjective by its nature, so the only opinion that really counts is your own.
Because this is the Internet age and because everyone is a critic, I believe art critics do count -- not for everything, but they count as informed filters for the rest of us. The at-large public critic who comes across an article or a painting and gives his or her two second "subjective" assessment does not count. However, the critic who comes across an article or a painting and gives his or her reasoned and well-informed assessment does count, and he or she counts more than ever as a valuable intermediary between the general public and specialized fields. While fine art is subjective, it is also a specialized field. Viewers should not discount their initial, subjective responses to a piece, but viewers should be receptive to the opinions of an art critic who day in and day out views and thinks about art.
Why? Because your opinion may change as you view art more critically, and an art critic may point you in a direction that you would not consider on your own, yet that direction opens your eyes to a whole new world of inspiration.
More proof that critics count: Conor Foy.  Conor Foy is an important artist, he is in the arena creating great work, and without the critics at ArtPrize his work could have merely sat quiet at a local bar in Grand Rapids, Mich. ArtPrize critics shortlisted Conor's piece, "East View 1."  With this piece, he shows that he is able to capture immense emotion through delicate figurative work. He creates a quiet narrative that does not lecture to the viewer, but it compels the viewer to consider the figure's tragic story.
Michigan's ArtPrize 2012 recently came to an end. ArtPrize is the world's largest art competition (it awards $560,000 in total prizes). Throughout its life, ArtPrize has expanded its scope. It is primarily a contest decided by public vote, but ArtPrize's organizers have listened to the "art world" criticisms and expanded ArtPrize's scope to include the opinion of art experts. ArtPrize is an amazing event, which has -- in my opinion -- educated a large population to critically think about fine art. In years past, artists were able to fair well through gimmicks, but as the competition has progressed, those gimmicks no longer hold the attention of the general public. By introducing lectures and juried awards, ArtPrize provides a happy marriage between a general public and an exclusive art world event.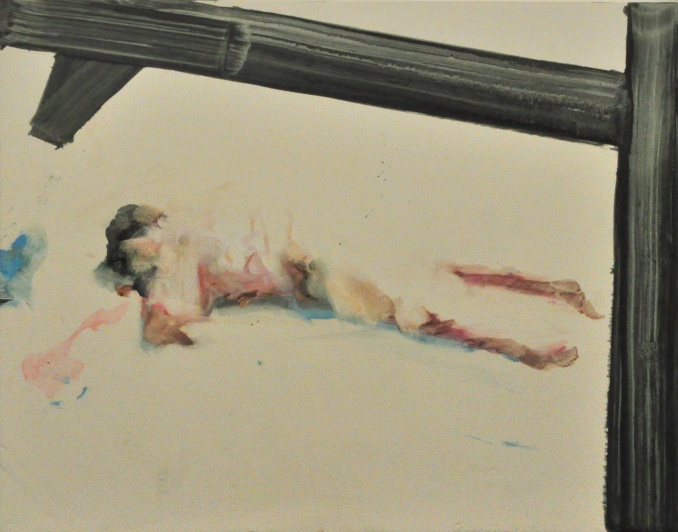 "East View 1" by Conor Foy. Image courtesy of the artist.
I sat down with Conor to learn more about his background and to learn about his thoughts on ArtPrize. Conor lives in Brooklyn, N.Y., (he has lived in New York for the past 17 years and prior to that he lived in London for five years), and he received his undergraduate degree from the National College of Art and Design in Dublin Ireland and he received an MFA from Columbia.
Colin Darke: Can you describe your piece in ArtPrize?
Conor Foy: Small piece, 14inches x 12. Oil on board. Primed with underbody sanded to a smooth finish, a lot of which shows through on the finished piece. It's clean, sparse, minimal. Works with abstraction and figuration. Meaning open to interpretation, not event specific but there is a particular source.
Is this in line with your other work?
Conor Foy: Yes. Most of the work is based on news, documentative source material. Working with the same open meaning to create a meditative space, driving a dialogue between the work and the viewer.
What are your overall thoughts about ArtPrize?
Conor Foy: I think the contrast of juried prizes and public vote is going to be ArtPrize's strongest feature going forward. The strength of the juried shortlist will attract artist in the future, who previously might not have seen ArtPrize as worthwhile in the past, for whatever reason.
What is your process?
Conor Foy: Start with images from documentary/news footage. Usually the pieces are completed over three or four sittings (standings). I always work with music. I find the distraction stops me over thinking the action of painting. It allows the subconscious to engage
Does beauty play a role in your work?
Conor Foy: Oh yeah. It is the great enticer. It draws the viewer in then, gradually, the harsher aspects will reveal themselves.
What do you look for when viewing new artwork?
Conor Foy: Usually I'm looking at work related to my own. It's an extension of the conversation I'm having with myself and stops that conversation from becoming too reflexive, it poses questions highlights areas I may not have considered without the outside influence. I don't purposefully avoid other work, that's just what I gravitate towards. Having said that I got a great kick out of the work at Site Lab at Art Prize this year.
How do you define success?
Conor Foy: Working exclusively in the studio, which means it's funding itself. And driving a spankin' new series 5 Beamer would be a nice outward show of my recognized genius.
How can Detroit attract artists like you?
Conor Foy: Like ArtPrize has done, with well-known critics, collectors. Attract them you'll have artists swarming the city. How do you attract the critics and collectors before the actual artists? Cash, good spaces and a discerning eye for the work that's presented. Be brave; put your foot down, no schlock.
What's next?
Conor Foy: I'm off to the studio. A steady development of the work, more showing, more nominations (next time the cash would be nice).