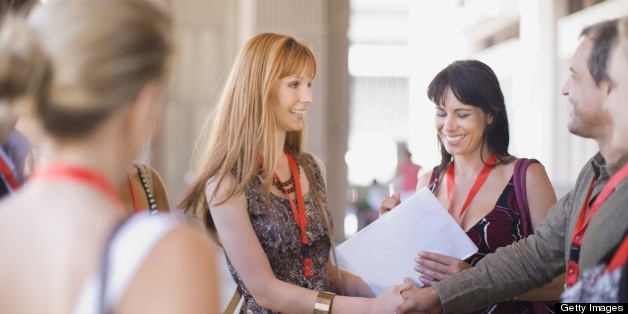 I was listening to a show on my local public radio station the other night. The host was talking to first-generation college students. They talked about how going to school like was entering a foreign land. There were customs and norms that they didn't know, and privileges they didn't have. It wasn't that these students weren't smart enough, or didn't have enough potential. Nor did they lack the discipline or desire to succeed. They were just starting from behind.
When I moved to Washington, D.C., it took me a while to find my space and my way to make it feel like home. I knew there were a lot of things to do, but I wasn't sure where, or how, to find them. I also had no idea how to jump start my career. As a first-generation college student myself, I actually did okay in college. I made great friends and never felt out of place. Afterward though, as I tried to turn my degree into a job -- and ideally one to pay off my student loans - I fumbled. I tried in vain to remember that one class I had on how write a cover letter, and kept hearing about this "networking" thing that I was supposed to do. My dad was a machine builder and my mom was a store clerk, among other part-time jobs. To my knowledge, neither required much in the way of networking or a cover letter that knew how to get to the top of the interview pile. But I was in a big city built on ambition and having the best connections. If I planned on staying, I needed to learn the language. Fortunately, one of my connections (a.k.a. my co-worker) told me about WIN, the Women's Information Network. It's like a Rosetta Stone for young, pro-choice, Democratic women in D.C., and one of the best things I've done while here.
If your city doesn't have one, make one. It's simple, really. Just get a bunch of women together who want to help other women, add wine, and... well, it's not that easy, but it's not hard either. Our story dates back to the end of the Dukakis campaign, a time that many WINners can only be told about, since they weren't born yet. As the campaign staffers made their quadrennial pilgrimage to D.C. to get jobs, many of the women noticed that they weren't getting the same opportunities as their male counterparts. There were networks in place, but the women didn't seem to have the same level of access. So they reached out to women in the area who were successful, and in positions of leadership, for guidance. After a long night spent around a dining room table, WIN was born. Twenty-four years later, we're still going strong, with over 1200 members. Sheryl Sandberg would love us.
As is my way, it took me a while to really become active, but once I did, I had door after door opened for me. My skill set has grown, my confidence has grown, and my opportunities and aspirations have grown. The other thing the radio show said was that many of these first-generation students didn't have aspirations in the same way as their peers with college-educated parents. They didn't necessarily see themselves running a company, or for public office, or starting their own business. They didn't grow up with examples of what that looked like, or how it actually happened. They wanted to do well, and use their education, but just didn't reach as far.
For people who are looking for some guidance, a few more opportunities to learn, or just a few more contacts in a big city, organizations like WIN are essential, especially for women. As Sandberg points out in her book, women don't get to play by the same rules. We are perceived differently, and often have to work twice as hard. It's incredibly comforting to know that there are places where women can go to talk about things like this, as well as connect with other professionals and learn how to overcome these roadblocks so we can in fact reach our full potential. It can start with something as simple as having coffee with someone a little further up the ladder in your field. Or taking advantage of the leadership opportunities afforded to our members to help them learn new skills and have a safe space in which to try something new. It's also for anyone who believes in things like camaraderie and sisterhood. It's truly heartening to see how many successful WINners return the favor by mentoring new members, offering their time, and often their skills and expertise for free, just to help the next generation.
WIN has an event this Thursday called Women Opening Doors for Women. We'll begin with a reception and then we will all attend one of over 20 dinners held simultaneously around the city. Each dinner has a topic, like how to start your own business, the issue of paid sick days, or what "leaning in" means for women of color. The dinners all have expert speakers who will dine and talk with our members and others who want in on such a great opportunity. It's celebrates our beginning and is one of my favorite events of the year. What's not to love about solidarity expressed over dinner and drinks? If you're in D.C., do yourself a favor and check it out.
(Only women can attend the dinners. Sorry guys.)