How do you know when it's time to end a life?
As we wait and see how our 53-year old brother, Kevin, responds to his second brain surgery, this is the question looming above the scenarios offered by the neurosurgeon.
Following a brain aneurysm two months ago and subsequent stage IV cancer diagnosis, this current need to reopen our brother's head revealed that the radiology treatments aren't working. Kevin could continue treatment, but it would only nominally prolong his life and additional surgeries would still need to be done.
The alternative is to cease life sustaining treatment and instead focus on comfortable pain management for his final few weeks of life. Adding to this mix is us siblings possibly making the decision for our single, childless brother should he not awaken from surgery alert enough to decide for himself.
The frustration is maddening.
He was doing so well after the aneurysm, soon remembering most of the words to his beloved musicals, mocking himself as he struggles with routine tasks like opening the refrigerator, and even joining his friends for happy hour at the harbor.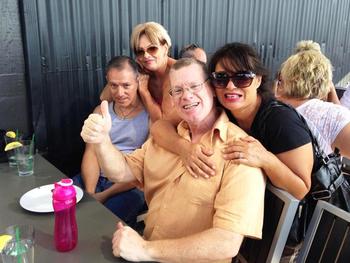 Kevin's new normalcy living with brain cancer also included him being so exuberantly affectionate that he would leap into our arms with hugs every time he saw us, declaring his love with abandon. His joy of being alive was contagious, as visitors poured into his apartment to experience this magic. Laughter and singing spilled from his living room, cheering up the dreary apartment complex surroundings.
Our fly-by-the-seat-of-our-pants style of care giving, with our oldest sister living with him and constant support from Kevin's closest friends and us siblings, also seemed to be working. The seven of us kids were making this thing work.
It was, however, a cautious enthusiasm given his form of cancer is aggressive, like a fast traveling bully claiming new organs to conquer - he now has a spot on his lung. It shouldn't have surprised us when Kevin's balance and speech suddenly began faltering. He went downhill fast, demanding another round of emergency surgery.
So, given the doctor's latest prognosis, do we keep fighting no matter what? Or do we surrender to quick but peaceful closure?
As I searched online for any guidance from "experts," I was struck at how common this scenario is for cancer patients and their families. And I related to how painful of a decision this is to make.
Kevin was always clear in his opposition to needlessly prolonging a terminally declining existence. However, the past two months were the picture perfect model of a man driven to keep improving, giving us spirited daily reports about how much better he's been getting.
There wasn't much time to think things over, as Kevin awoke from his surgery quickly and lucid enough to understand the options the doctor outlined.
Our brother chose to cease treatment and play out his final days with family and friends. It helped that he loathed everything involved in the treatment regiment, especially the claustrophobic MRIs, let alone the prospect of having more brain surgeries.
While at peace with this decision, he admits to being scared. For us siblings who have been embedded with him on this two month chapter of his life, we respect and honor his choice.
That didn't preclude me from panic, however.
Without proper medical treatment, I envisioned his life winding down rapidly as if unplugging a laptop computer, the battery draining fast on the life of this amazing man. The doctor did say "final weeks" a few times.
But the brain/life/Universe/God surprises.
Out of the hospital and back home, Kevin's physical and mental condition quickly got stronger. Radiation be damned. In mere weeks, he now shuffles around town, bathes and shaves himself, remembers names and recalls obscure Hollywood facts such as Elizabeth Montgomery being nominated for five Emmy's. Of course, in our true competitive family spirit, I debated my brain-injured brother on this tidbit until a Google search sided with him.
He also continues to light up from the parade of case workers, nurses and well wishers who stream through his door. This guy's so popular, he holds court like Don Corleone in The Godfather's wedding scene . Only Kevin's scene is a merry mix of Irish bar meets gay pride parade with lots of loud singing and dancing every hour on the hour.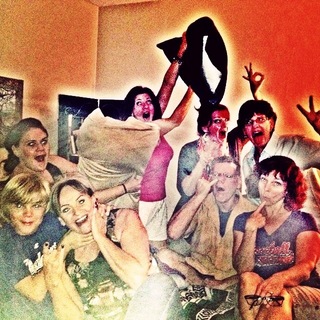 I am happily astounded that ending cancer treatment doesn't mean ending life. Quite the contrary, as Kevin's spirit soars he is truly living every moment to the fullest, as are we being with him.
The best part of this roller coaster ride is the pure love and gratitude that became the essence of Kevin following his initial brain surgery -- it hasn't gone away. You know with certainty that you are loved and treasured deeply by him. Each moment shared with Kevin continues to be magic in its unconditional love, joy and childlike innocence.
It's a state of grace to which monks aspire. When with him, the bond is electrifying and deeply moving, even transcendent.
We could make a million bucks if we could bottle this stuff.