Tomorrow marks the running of the Kentucky Derby at Churchill Downs in Louisville, Kentucky. Also known as "Run for the Roses," it is the most exciting two minutes in sports. The Derby, is synonymous with chic red carpet style as well as marking the official start of the summer season.
It's impossible to think of the derby and not think of hats! The Derby hat parade takes place inside Churchill Downs and refers to the fashion at the top of women and men alike. The key to a great Derby hat is originality, the more outlandish, the better!
Roses have also played a starring role in the pageantry of the Derby, both on the track and in Millionaire's Row, becoming the official flower in 1925. In 1932, the first red rose garland was given to the winning jockey. So, be on the lookout for red roses to dot the crowds.
No matter where you're watching the race, don't forget the ultimate accessory -- a classic Mint Julep in a sliver cup.
So gather friends, don a hat, put out a bunch or red roses, mix up a batch of julep, and you're off to the races in glorious southern style!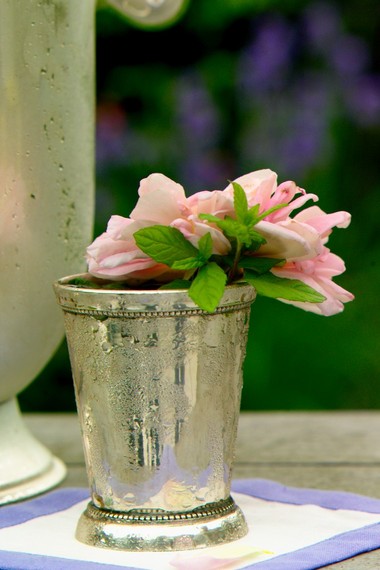 Photo by Jack Deutsch
Mint Juleps
Serves 4
2 oz. mint infused simple syrup
8 oz. Kentucky bourbon
3 cups crushed ice
4 oz. seltzer
Mint leaves for garnish
Fill julep glasses with crushed ice. Combine simple syrup and bourbon in a cocktail shaker filled half way with crushed ice. Strain mixture into glasses, top with seltzer, garnish with mint sprig and serve.
Mint-Infused Simple Syrup
Makes scant 1 cup
1 cup water
1 cup superfine sugar
1 cup mint leaves, washed
Combine water and sugar in a medium saucepan. Bring to a boil, stirring constantly until sugar dissolves and the liquid becomes clear, about 5 minutes. Remove from heat and add mint leaves. Let stand for 15-30 minutes. Cover and refrigerate overnight. Strain the syrup and discard the mint leaves. The syrup will keep in the refrigerator in an airtight container for up to 2 weeks.
Sidebar:
Mint Julep Cups
Although the tried and true Southern Belles call for an ice-frosted silver cup either sterling or coin silver, finished in a simple design. (I love to add to my collection when I find one or two at antique sales) there's no pressure, and use what you have, as the real prize lies in the glass!