To me, summer is all about cool refreshing cocktails. At the beach, poolside, or on the patio, they are a summer ritual. But in the warmer weather as we flit around town in short-shorts and sundresses, we want to look and feel good. And we want our cocktails to be low in calories, but high in taste, color, and texture -- a happening in a glass.
Both of these libations use agave nectar, my new cocktail friend. It's an all-natural sweetener that can be found in the organic aisle of most markets. I use a dash in just about every cocktail I'm mixing up these days.
These summer sippers are high in fun factor, and light enough in calories to enjoy all summer. Perfect for mixing up a batch or two, inviting friends over, turning up the tunes and getting into the swing of summer.
The Brazilian
serves 4
220 calories per cocktail
This cocktail has just the right zip of tropical flavors for a refreshing finish of international proportions.
8 oz. light rum
8 oz. mix of tropical nectars (I like mango and passion fruit)
2 oz. freshly squeezed lime juice
1 oz. agave nectar
seltzer to top
Mix all ingredients in a pitcher filled with ice. Pour into glasses, top with seltzer and serve. Cheers!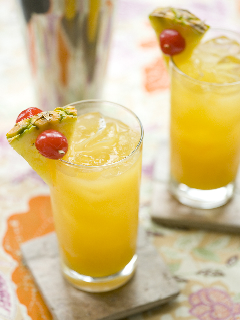 The Bramble
serves 4
200 calories per cocktail
I love gin -- it's a delightfully pure spirit that takes on the flavors of anything you pair it with, like these lush blackberries. Try raspberries or strawberries for a twist.
6 oz. gin
2 oz. Creme de Mure
2 oz. freshly squeezed lime juice
1 oz. agave nectar
12 blackberries, more for garnish
In a bar glass, muddle blackberries and lime juice. Fill the glass with crushed ice and add remaining ingredients. Mix well. Pour into glasses, garnish with blackberries and serve. Cheers!