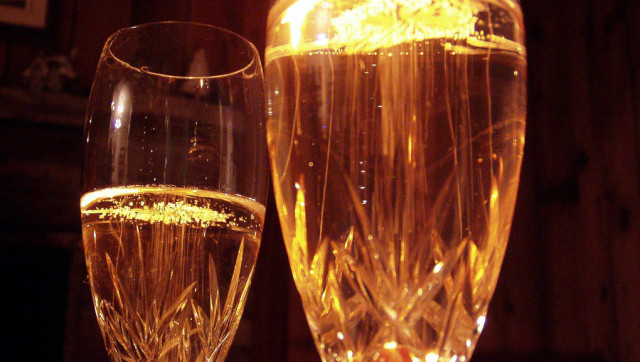 It's time to ring in the New Year with cocktails and confetti. Have no fear, if your holiday budget has hit the brakes, you can still celebrate in high style without breaking the bank. If you're inviting a small crowd over, make a signature cocktail, this way you mix one cocktail instead of many, and you can limit your spending on a mixed bar.
Start with a classic like a vodka based cocktail, vodka is a real people pleaser, mix it in a drinks dispenser filled with ice and a colorful garnish, think mint sprigs,lemon, lime, or orange wheels, and watch your guests flock to this colorful, instant self-serve bar.
And of course, we need a champagne cocktail with a festive mixer, it is after-all, New Year's Eve. I like any fruit based mixer that has just the right balance of sweet to zippy. Set it out in a pitcher on a side table next to an ice bucket filled with champagne and sparkling wine. As your guests serve themselves, you have more time to mingle and think about your New Year's resolution!
Resolution TBD
serves 10
16 oz. Absolut Mandrin vodka
4 oz. pear liqueur
8 oz. passionfruit nectar
16 oz. lemon seltzer
Mix all ingredients in a drinks dispenser filled with ice, just before serving, add the seltzer. Garnish with lemon or orange wheels and serve.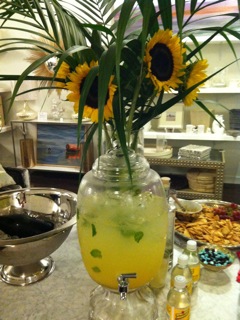 Glitter Bug
Serves 10
2 bottles (750ml) champagne or sparkling wine
3 cups raspberries, more for garnish
1/4 cup sugar
2 tablespoons water
12 oz. orange liqueur
In a sauce pan over medium heat, stir raspberries, sugar, and water until raspberries cook and breakdown. Pour this mixture through a fine sieve or strainer removing seeds and pulp.. Let cool. Pour into a pitcher, add orange liqueur, and stir. Set out with champagne and small bowl of raspberries for garnish.
To serve: In the bottom of each glass, pour a dash of mixer, top with champagne or sparkling wine, add a raspberry for garnish and serve.