The glamorous Academy Awards are Sunday February 28th, and are around the corner. Time to make some Room to celebrate like the stars and shine the Spotlight by planning a dazzling, festive and fun event with your friends while watching the stars gather on Hollywoods biggest night of the year. Here are some of my favorite easy ideas so you don't end up in a Big Short situation to put you in the running for best Soiree of the Year from LA to Brooklyn!!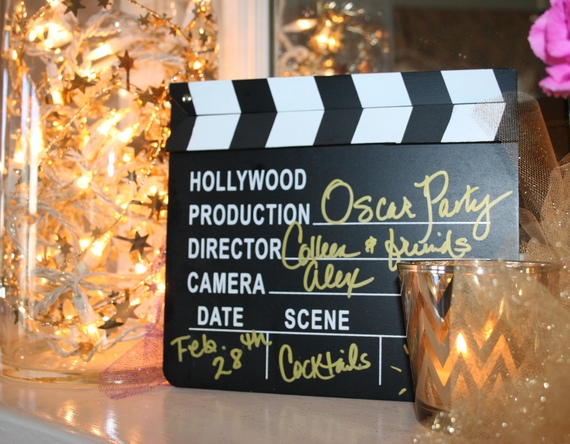 Setting the Scene:
Send a glittery golden invitation to your event, Evite has a great selection, and set the tone for a winning night.
Print out ballots and have them ready for your guests to fill out while watching the red carpet show.
Give your white holiday lights a golden glow by spray painting them with gold glitter spray, and then stringing them in clear glass cylinders for shimmering accents.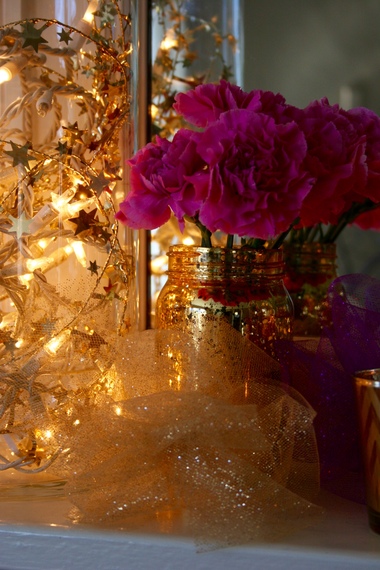 Flowers in a solid color set and carry out the theme in a bold modern way, carnations come in a rainbow of colors, have generous blooms and are budget friendly. Set them in gold mason jars on mantels, tables and powder rooms.
Glittery tulle blossoms are so easy to make and add a bit of whimsy while rounding out the gold theme. Most craft stores carry glitter tulle in a wide assortment of colors and sizes.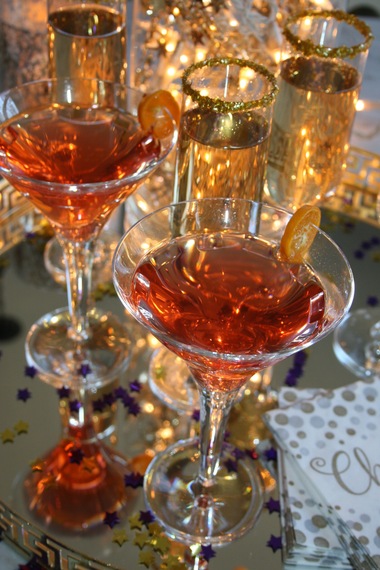 Cocktails
What is an Oscar party without bubbles? For an extra festive touch dip your glass rims in lemon juice and cover with edible gold stars. Make a bunch and set them out ahead for your guests to serve themselves.
The Winner
Serves 8
1 bottle (750ml) Taittinger Brut champagne
8 oz. St. Germain Elderflower liqueur
1 oz. freshly squeezed lemon juice
4 oz. lemon seltzer to top
In a small pitcher mix liqueur and lemon juice. Pour a splash into each champagne flute. Fill with champagne and top with seltzer. Serve.
I always like to have two cocktails, the champagne cocktail depending on guests tastes, since the Oscars is all about glam, I have a champagne cocktail and a spirits cocktail with a prosecco topper.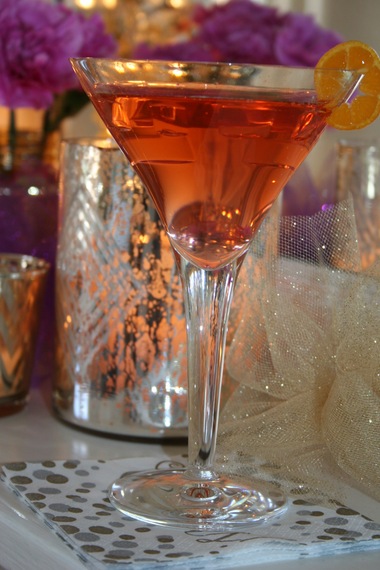 The Smash Hit
Serves 8
1 bottle ( 750ml) ZONIN Prosecco Black
16 oz. SVEDKA CITRON vodka
8 oz. white cranberry juice
8 oz. guava nectar
In a pitcher filled with ice, mix vodka, cranberry juice and nectar. Pour to fill glasses halfway, top with prosecco and serve. Garnish with kumquat slice and serve.
Be sure to have sparking water, or water with lemon or clementine slices as well.
Games
I love a good game of Oscar trivia, did you know that the statue weighs 81/2 lbs.? And the 5 spoke film wheel that he stands on represents the actors, directors, producers, technicians and the writers?
Another game that is always a hit, put all the categories into a hat, be sure you have one for each guest, you may have to repeat some, have each guest pick a category from the hat and during commercials they have to give an acceptance speech for the award they chose.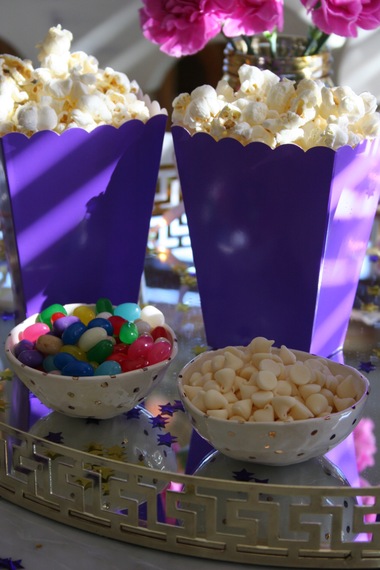 Eats and Treats!
Always have an array of snacks, gourmet pizzas, warm cheese dips, veggie wraps, sushi, are all good choices. Desserts should be decadent, fun and when possible gold of course!
This year I went with a popcorn topping bar that was on the sweeter side, chocolate candies, jelly beans, white chocolate chips, coconut and mini caramels. Boxes of popcorn set out among the bowls of toppings make it easy for guests to fill up.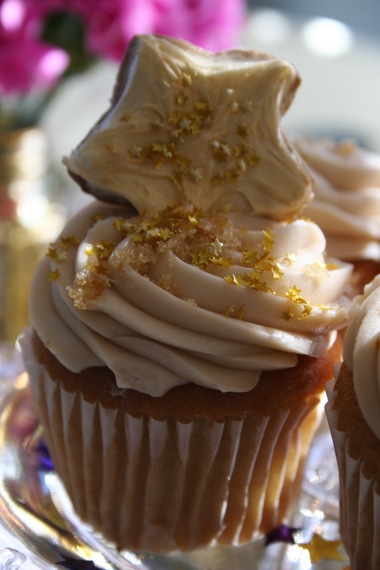 Store bought cupcakes get a hollywood makeover with a sprinkling of gold edible stars and topped off with an iced star shaped sugar cookie sprayed with gold edible spray.