If you've been too busy worrying about the turkey and all the fixings, you might have overlooked the cocktails. Fear not, I have just the right libations to please every personality in the crowd. ( And we know, there are a few hum dingers). Light, tasty, and reflective of the seasons bounty of flavors, mix up a batch or two for the pilgrims coming your way.
The Treaty
serves 4
8 oz. vodka
4 oz. Pear liqueur
2 oz. Orange liqueur
8 oz. pear nectar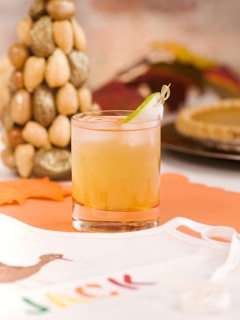 Mix all ingredients in a cocktail shaker with ice. Pour into ice filled glasses, garnish with a slice of pear, top with club soda, and serve.
The Pilgrim
serves 4

8 oz. gin
8 oz. cranberry juice
2 oz. St. Germaine liqueur
lemon seltzer to top
Mix all ingredients except seltzer in a cocktail shaker filled with ice. Pour into glasses, top with seltzer, and serve.