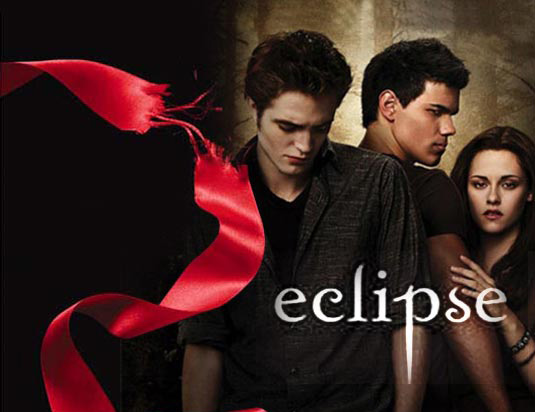 Quench your thirst with these divine cocktails. Sip first -- bite later.
Edward. Jacob. Sigh .... What's a girl to do? Lucky for Bella we don't have much longer to wait for the June 30 premiere of Twilight Saga: Eclipse!
It's a love story for the ages, with a bloody red twist. It's also the perfect recipe for my new Twilight Love Triangle -- a wickedly good cocktail for all of your Twilight pre-parties! Take a deep pour of blood red Pomegranate juice, add a healthy dash of sweet peach liqueur and a top with bubbly pure Prosecco. Perfect!
Starting on Thursday for the world premiere, I'm mixing up some Love Triangles to sip while I watch the parade of supernatural hotties that is Robert Pattison, Taylor Lautner and their leading lady, Kristen Stewart, to catch all the fashion and celebrity action as they hit the red carpet. Despite their coy flirting and tabloid headlines around the globe, we know "Robsten" is the real thing - with that much chemistry onscreen how couldn't they be?! Look for a real "who's who" of Hollywood to join them. They may even parade out their kids as the excuse (a la Reese Witherspoon and her mini-me daughter, Ava, but we know the real reason they'll be there!)
The movie is sure to sweep this summer's box office, taking a major bite out of all of its competition. From the Twitter-crazy teen Twi-hards to the rockin' Twilight Moms, there's no denying these vampires and werewolves are down right drool worthy to all ages alike. Between Edward's fab hair and brooding brows, and Jacob's Oscar-worthy abs, Kristen's Bella is one lucky leading lady.
My neighbor lent me the first Twilight book a year ago and they had me at hello. While author Stephanie Meyer may have originally written it for the tween crowd, Twilight and New Moon movies have catapulted the series and it's gorgeous cast into A-list stratosphere. Fans have been camping out all week at the Nokia Theater in LA just for a glimpse of the stars. So it you're looking for a reason to party, this is my pick of the week!
Several sites are streaming it online so gather your groupies and log on, or better yet make plans for a "lite bite" together before heading to the theater next weekend -- starting at stroke of midnight -- to catch all the action as Bella and her boys tackle a new band of vamps. Team Edward. Team Jacob. Team Cocktails, signing off.
LOVE TRIANGLE
Serves 4
8 oz. Pomegranate juice
4 oz. Peach liqueur
1 bottle (750ml) Prosecco
In a cocktail shaker or bar glass filled with 1 cup of ice, combine the juice and liqueur until well chilled. Strain mixture evenly among 4 glasses. Top each glass with Prosecco. Serve.