What makes a great Valentine's Day cocktail? Sharing it with someone you love! This year, Cupid's arrow strikes on a Saturday so whether you start the day with your best girlfriends at a bubbly-filled brunch or indulge in a romantic evening with cocktails, these colorful, tasty libations are sure to set your heart beating.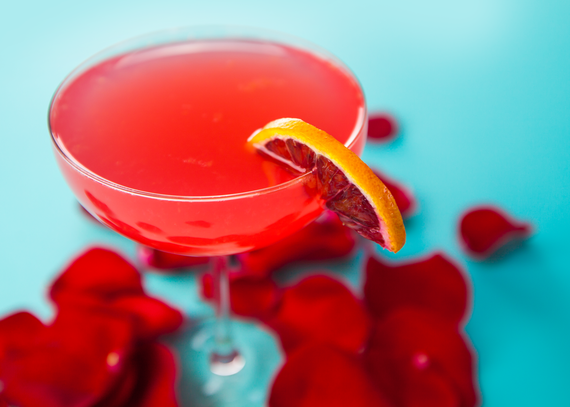 Casa Amor
Who can resist a sexy cocktail from George Clooney and Rande Gerber?
Serves 4
8 oz. Casamigos Tequila Blanco
3 oz. Cointreau
4 oz. Blood orange puree
2 oz. Freshly squeezed lime juice
Splash of Ginger beer
Shake all ingredients together in a shaker. Strain into a coupe glasses, top with ginger beer.
Garnish with a blood orange wedge and serve.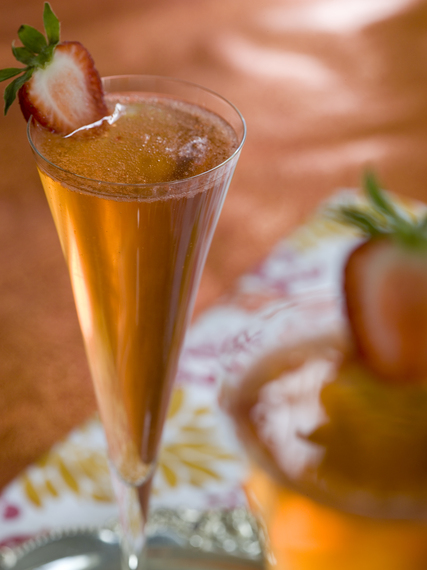 Queen of Hearts
Rose is on the rise, so trendy, and just right for this romantic time of year. I love serving this cocktail year-round when I have a girlfriends' gathering. It's colorful, tasty, and pure fabulousness. The recipe is a rendition of 'Broadway Bellisimo" from my book, It's 5 o'Clock Somewhere.
Serves 4
8 oz. Raspberry puree
4 oz. St. Germain Elderflower liqueur
1 bottle (750ml) Moet & Chandon Rose Imperial Champagne
Fresh Strawberries or Raspberries for garnish
In a small pitcher pour raspberry puree and St. Germain, mix well.
Pour raspberry mixture to fill the bottom of each flute glass, top with Moet Rose Imperial Champagne, garnish with raspberries and serve.
Raspberry puree
In a small saucepan mix 1 cup raspberries, ½ cup sugar, and ½ cup water. Bring to a boil and stir until sugar dissolves. Let cool and pour through a fine sieve or strainer into a pitcher. Puree will keep refrigerated up to 1 week.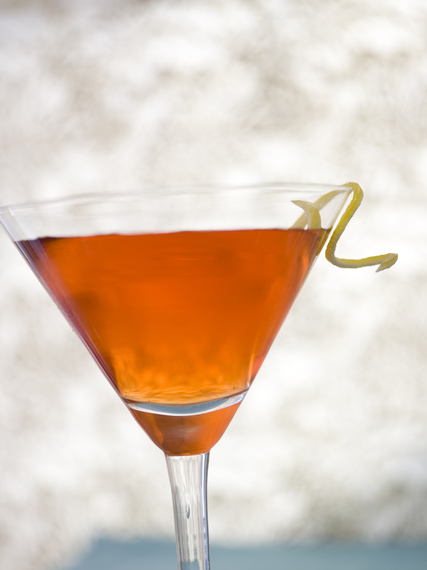 Photo by Jack Deutsch
Dirty Robby
Serves 4
This potent cocktail is named after a friend and whiskey lover. The "dirty" simply refers to using orange bitters instead of the traditional Angostura, that and also that Rob is a badass. Mix up a batch for a valentine's cocktail before or after dinner. It's sure to get the conversation started.
8 ounces of Ballantine's Blended Scotch Whiskey
4 ounce Sweet vermouth
4 dashes of Orange bitters
4 Lemon peels, for garnish
In a shaker filled with ice, add the Scotch whiskey, the sweet vermouth and the bitters. Stir to chill. Strain into a martini glass (or an equally alluring vessel) and top with a lemon peel.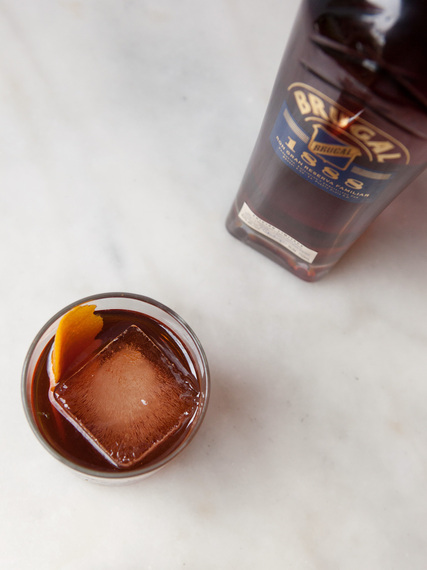 Rum Old Fashioned
Serves 4
8 oz. Brugal 1888 Rum
4 tsp. simple syrup
4 dashes of orange bitters
4 dashes of Bittermen's Xocolatl Mole bitters

Combine all ingredients in a mixing glass, add ice & stir briefly. Strain into chilled rocks glass filled with ice (one large chunk preferable) and garnish with an orange & lemon peel.
Note: simple syrup, orange and chocolate bitters can be found at fine wine and liqueur shops everywhere.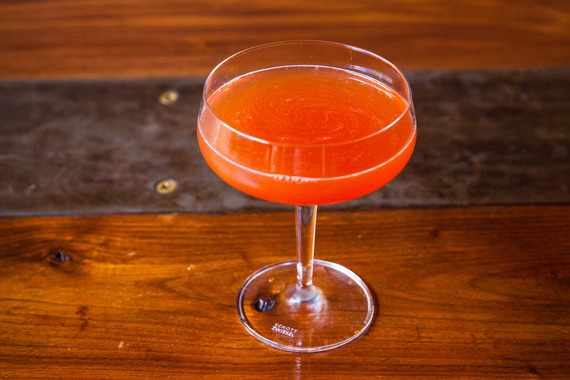 Love struck
Serves 4
8 oz Roca Patrón Reposado
4 oz Averna Amaro Italian liqueur
2 oz freshly squeezed grapefruit juice
4 dashes Orange Bitters

Combine ingredients in a mixing glass and add ice. Stir and strain into chilled cocktail glasses.
Garnish with orange peel. Enjoy with someone special.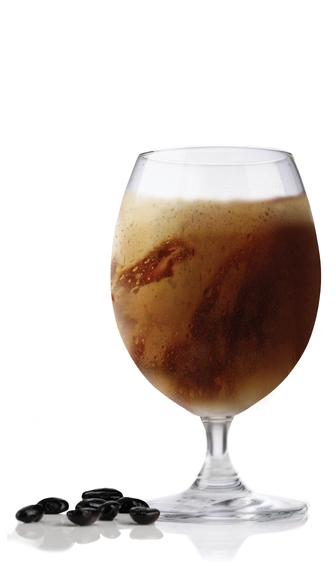 Frappe XO Extreme
Serves 4
8 oz Patrón XO Cafe Dark
4 oz Patrón Añejo
2 oz Chocolate Syrup
4 Scoops Vanilla Ice Cream
2 Scoop Ice
Mint Sprigs for garnish
Method: Swirl the glass with chocolate syrup. Combine the ingredients in a blender. Blend until smooth and pour into glasses, garnish with mint sprig and serve.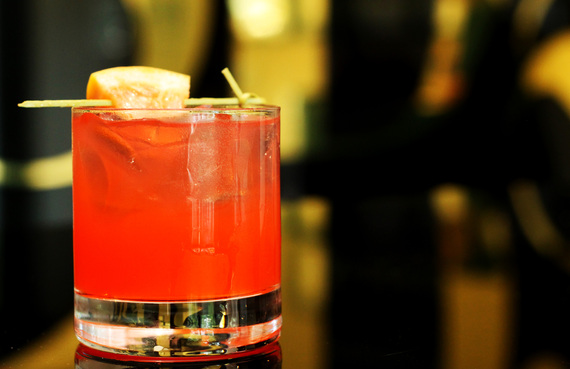 Milano Old Fashioned
Serves 4
8 oz. Tanqueray No. TEN
2 oz. Campari
8 oz. Grapefruit Juice
Club Soda to top
Shake first three ingredients with ice, strain over fresh ice in a rocks glass and top with a splash of club soda. Garnish with an grapefruit slice.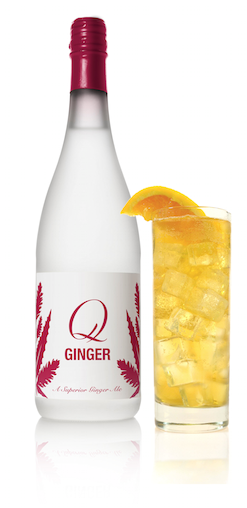 Ginger Blast
Serves 4
12 ounces Q Ginger
6 dashes orange bitters
8 ounces Knob Creek bourbon
4 ounce SNAP ginger liqueur
Orange wedge for garnish
Fill bar glass with ice. Add SNAP ginger liqueur, bourbon and bitters. Top with Q Ginger and stir. Strain into ice filled glasses, garnish with orange wedges and serve.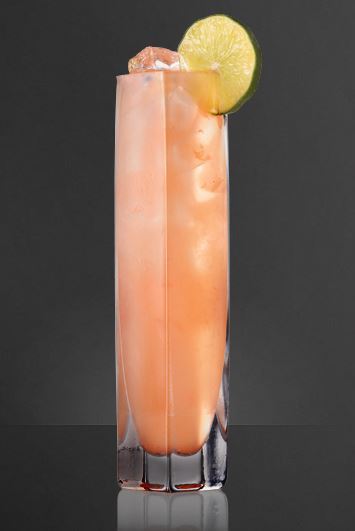 Valentine's Twist
Serves 4
8 oz. Skinnygirl Tangerine Vodka
2 oz. Fresh lime juice
2 oz. Fresh lemon juice
2 oz. Fresh orange juice
4 oz. Lemon-lime soda
Orange peel to garnish
In a bar glass or pitcher mix Skinnygirl Tangerine Vodka, lime, lemon and orange juices with ice and strain glasses. Top off with a splash of lemon-lime soda and garnish with an orange slice.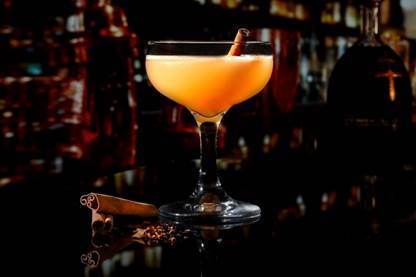 D'USSE Devotion
Serves 4
6 oz. D'USSE VSOP Cognac
3 oz. Fresh Squeezed Lemon Juice
3 oz. House made Cinnamon Simple Syrup
4 oz Hard Cider
Dash Angostura Bitters

Combine the D'USSE, Lemon Juice, Cinnamon Syrup, and Angostura Bitters in Shaker. Shake and serve up in a coupe glass. Finish with Hard Cider and a little stir.
Note: The cinnamon syrup is made by adding 2 or 3 cinnamon sticks to 1 cup boiling water until the water begins to take on a brownish hue, then adding in 1 cup sugar, continue boiling until sugar has dissolved. Let cool and store in an airtight container.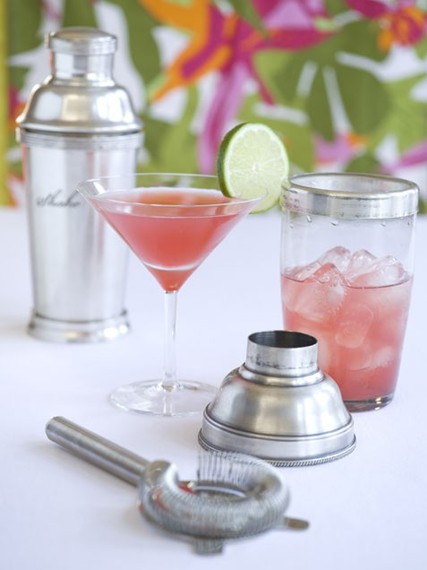 Photo by Jack Deutsch
Pink Lady Punch
Serves 4
1 cup guava nectar
½ cup apricot brandy
1 cup SVEDKA Peach vodka
1 cup lemon-lime seltzer
Combine guava nectar, brandy, and vodka in a large pitcher filled with ice. Slowly top with lemon-lime seltzer. Serve.