This Valentine's Day, mix up love.
Hearts are everywhere with this love-filled holiday. Honestly there is no need to make fancy plans and max out your credit card on some poor chef's interpretation of aphrodisiac surprise.
But you're working all day and too tired to cook, no worries -- pick up something on the way home or order in, no need for stress there. Just make sure you have a Valentine's cocktail ready to roll for your honey, your girlfriends or yourself. Here are a few of my favorites, colorful and tasty and sure to set hearts a-flutter.
Cupid's Crush
Serves 4
8 oz. Pucker Cherry vodka
4 oz. cranberry juice
2 oz. triple sec
Dash lemon juice
Cherries for garnish
Toss a few cubes into your martini glasses or set in freezer for a few minutes to chill. Meanwhile, in a cocktail shaker filled with ice, mix all ingredients. Shake it like you mean it and strain into martini glasses. Garnish with a cherry and serve.
Bubblicious
One has to have a bubbly cocktail recipe on hand for, well, always, but especially this time of year. I tend to use prosecco, Champagne's less expensive stepsister as I see it, when you're mixing with sweet fruit juices as such, it makes no difference, but when having a straight glass of bubbly, oh it does.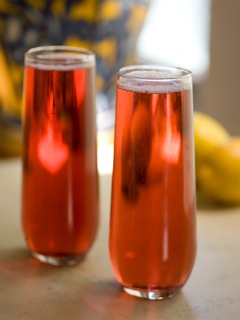 Serves 4
8 oz. Raspberry juice or puree
4 oz. limoncello
1 bottle prosecco or champagne
In a small pitcher mix together the raspberry juice and limoncello. Into Champagne flutes pour the mixture fill the bottom third of each glass. Top with prosecco or Champagne.
Rosy Glow
Now, something for those romantic gin fans out there. This lush libation is remarkably crisp with hints of fruit and floral notes, perfect for those donning their suit and tie, you know who you are... and the women out there applaud you. Now, let me go get my lipstick.
Serves 4
6 oz. Nolet's Silver Dry Gin
2 oz. Lillet Rose
4 dashes Orange bitters
4 oz. freshly squeezed ruby red grapefruit juice
Edible blossoms for garnish
Into a shaker filled with ice, pour the ingredients. Shake it in your heals ladies, strain into coupe glasses. Garnish with an edible blossom, and serve.