Looking from the outside in, Savannah, Georgia may not appear to be the ideal location for an art school, especially one with a burgeoning student body, as well as film, fashion and visual art departments. Despite its appearance, however, the Savannah College of Art and Design (SCAD) and its students continue to bloom and flourish, right here in the South.
Savannah is home to an intense and rich history. Dating back before the Civil War, the quaint squares and cobblestone streets by the river provide inspiration to anyone who visits. There are even quite a few ghost tours available for the superstitious folk. With its Forrest Gump and Midnight in the Garden of Good and Evil fame, Tybee Island so close to historic downtown, SCAD and even a new law school, Savannah is a growing city full of life. (And don't forget Paula Deen!)
Providing that life is the some 10,500 students that attend SCAD. Without a distinct campus, SCAD students are spread throughout the historic district of Savannah, attending their classes in newly renovated buildings, many with a great history of their own. The students are everywhere you look, all the time, from the Farmer's Market in Forsyth Park to the shops on Broughton Street. Between the SCAD Film Festival every October and the SCAD Fashion Show each May, along with the fairly new SCAD Museum of Art, the school is responsible for bringing in a vast array of media and professionals from various fields. With such excitement around the city, there is always a reason to dress to impress.
SCAD style is quite the diverse and eclectic mix, not unlike the students themselves. Students may come from all over the world, but the unhurried southern lifestyle is clearly represented through the laid-back and artistic nature of many SCAD students.
This Fashionista is a prime example of SCAD Savannah fashion. Dressing for class in a city where the weather is so customarily hormonal isn't easy. And that's especially true for SCAD's fashion majors. Outside Morris Hall, Fashion Marketing major, Alexis, kept her look casual and comfortable for the forthcoming two and a half hours of class, but also stylish and trendy. Her oversized sweater is a key piece for fashion this fall, and the boots and ripped jeans gives her ensemble a touch of edge and rebellion.
Her outfit embodies the creativity that is so potent in each and every student. Comfortable looks for an early class doesn't mean sacrifice. It doesn't mean sweatpants and a T-shirt, either. It means having the opportunity to put together a look that represents a personality. The true splendor of SCAD style is its distinctiveness and individuality. Every student has a unique style that carries through day-to-day (though sometimes changing each year) certain to make a statement and always easily recognized.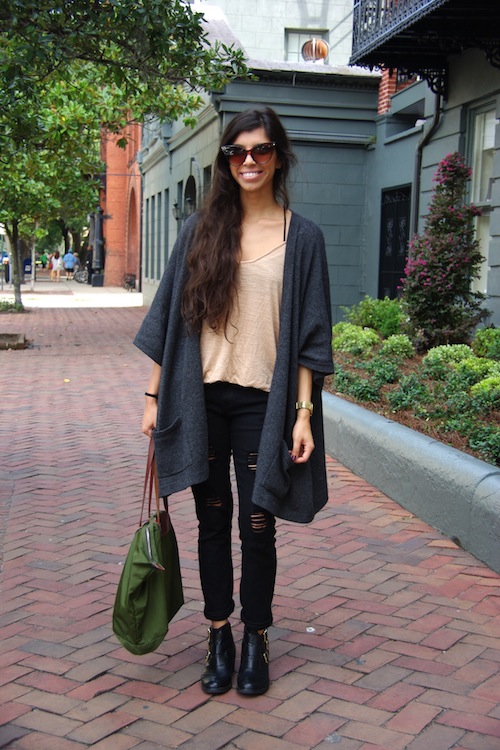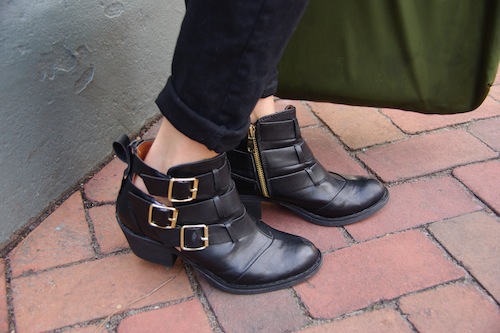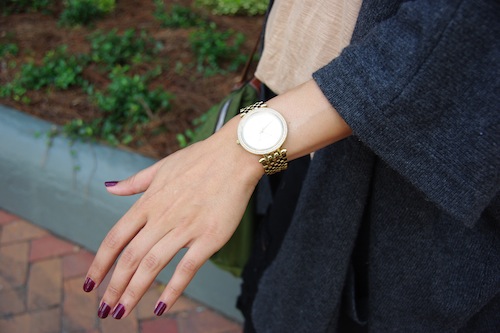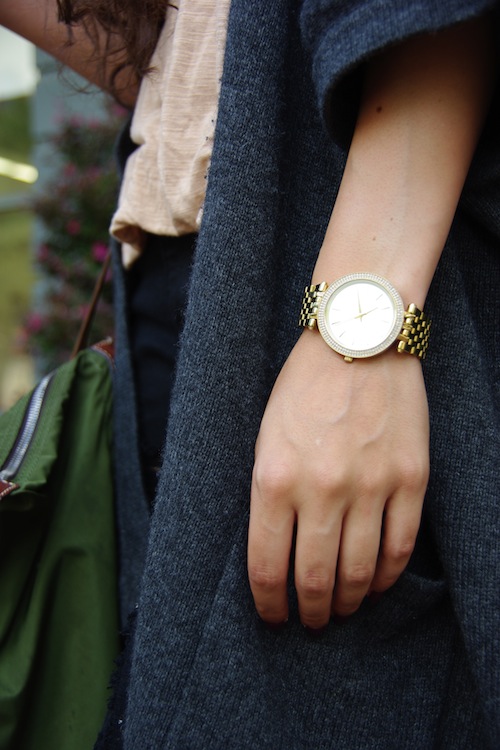 Shelby Katz is a senior at Savannah College of Art and Design, pursuing a BFA in Fashion Marketing and Management. Upon returning from a summer internship in New York City, she plans to continue working as a Style Guru and Editorial Intern for CollegeFashionista while working towards completing her degree. After graduation, she hopes to move back to Manhattan and chase her dreams in the fashion editorial world.