Out of all places, Iowa would probably be the last you would turn to when searching for Fashionistas/os. However, I walk the streets of the University of Iowa campus everyday searching for fashionable college students and I must say, no other place has inspired me more. That's right, out here in the middle of what everyone else in the world seems to think is all cornfields, fashion does exist. And while what I see people wearing around campus definitely falls under the category of "fashionable," I think the best word to use when speaking of fashion at the University of Iowa is, "personal style." It is the best fit because, although people aren't walking down the sidewalk in head-to-toe couture as they would in say, New York City, this place is undoubtedly filled to the brim with the most authentic personal style.
Over the years of observing the fashion here on campus I have found that defining the University of Iowa style in one word, (or 500 words for that matter) would be very difficult. As I'm sure is true on every college campus, there are so many different types of style. There are the classic college students who are just going through the busy motions of everyday life in athletic pants, UGG Boots and a Northface jackets. There are the business students, who are constantly in their skirts, suits and ties thanks to their professors' efforts to prepare them for the professional world. There are the foreign exchange students from China, Korea and Japan, who bring a high-fashion vibe to Iowa City with beautiful designer bags and one-of-a-kind inspiring looks. Then there are the quirky hipsters, which I'm sure -- along with the Northface- and suit-wearing students -- are a staple group on every college campus.
However, here on the University of Iowa campus, it is that "hipster" look that seems to best describe our overall style. You see, here in Iowa, we really value the idea of homegrown, homemade and supporting anything local or eco-friendly. The town is filled with locally owned businesses that thrive off the loyalty of customers -- both college students and locals alike. When the weather is warm (and often when the weather is cold) there are environmentally friendly folks riding their bikes to and from campus and the public library has a constant flow of students who still value the idea of reading actual books with paper (not digital) pages.
So with a general idea of the type of people one would find around the University of Iowa campus, it is easier to picture that "hipster" style I use to describe this vibrant Midwestern town. It is safe to say that the people here dress to fit their personal lifestyles, whether it be that of an eco-friendly bike enthusiast or a vegan who supports locally grown products. So when I spotted this Fashionista walking through the Pentacrest on a brisk winter day, I knew her style perfectly encompassed the overall vibe here on campus. She was dressed like a true Iowan in tons of layers, creating a look that was practical and full of texture and small intimate details that truly showcased her own personal style. Layers are as important in Iowa as they are in any town that experiences unexpected weather patterns. Since the morning she had already shed the faux fur scarf she has slung over the strap of her canvas backpack. At the moment she was sporting fun fringe booties but, like any student constantly walking around campus, was prepared for snow -or aching feet -- with a spare pair of boots in her bag. While her lace top added a chic girly touch, her bright-colored flannel and army jacket helped tie in that hip grunge look that I see so often on campus. With this Fashionista however, it was the small details that took her look from everyday Iowan to College Fashionista. Her tortoise-shell sunglasses, statement red lip and wrists and fingers filled with pieces of jewelry, each with their own story, only aided in helping her unique personal style shine through. It is looks like this that not only keep me inspired, but also remind me that you don't have to go to the coast to find great fashion. It is right her in the heart of Iowa.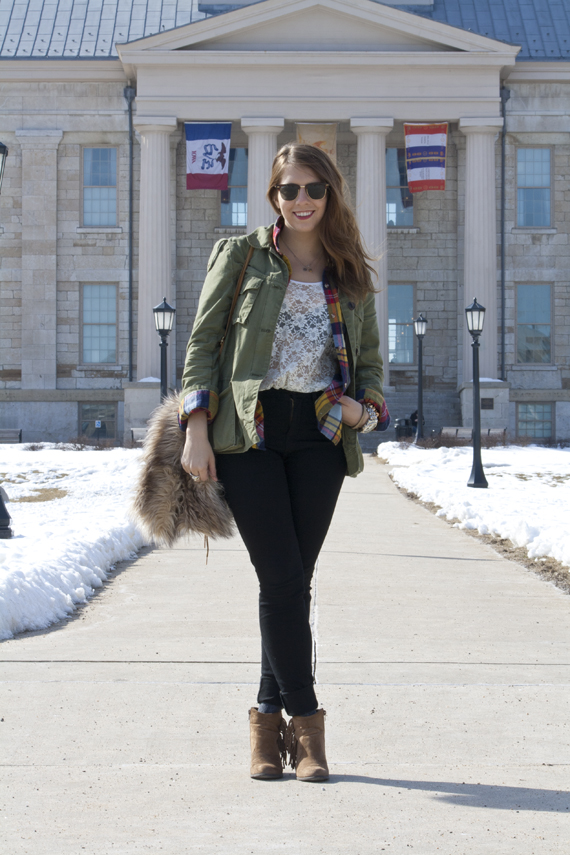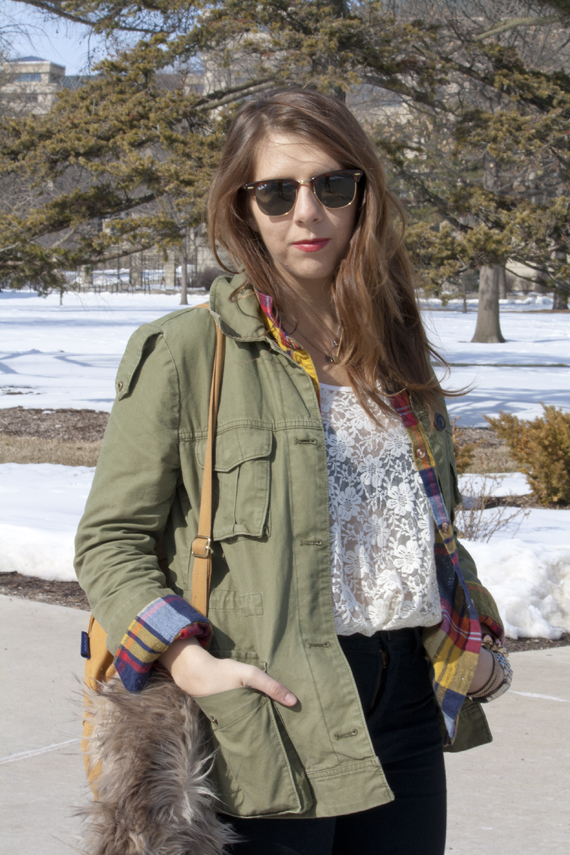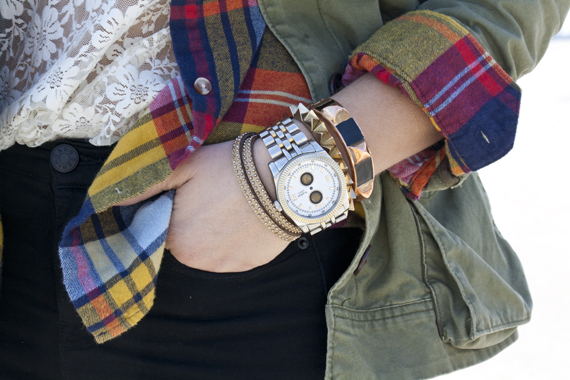 Lisa is a senior at the University of Iowa studying journalism and graphic design. In her free time she enjoys doing yoga and reading fashion magazines. Lisa loves sporting a bright colored lipstick and styling her friends is one of her favorite pastimes. After graduating in May 2013, she hopes to move to Chicago to pursue a career in print publication or graphic design.