To define the style of Illinois State University would take away from the individuality of the campus. College fashion is part of the evolution of finding ones place in a world full of options. It is a way of expressing how you feel and the path you are on. Those who stand out are the ones who effortlessly express who they are. The beauty of fashion and the art of it all come from that individual expression. The great thing about this place we call ISU is the diversity of the people and the lack of uniformity. Our uniforms are our own to build as we simultaneously build ourselves through our education. I confirmed the individuality of my school the day I sat in class besides a girl wearing a chiffon maxi skirt, cowboy boot combo. We do not follow rules of style because we think for ourselves. Style at Illinois State is not always off the runway but it is always inspiring.
Illinois State University is located in the quaint town of Normal, Illinois. A few hours out of Chicago, many students come here to take a break from the hustle and bustle of the big city. A melting pot similar to the nearby city, many different people and ideas meet in this town. There seems to be a place for everyone. Walking to class through the tree-covered quad, along the dark brick buildings people from all walks of life come together. The students define themselves by their dedication to their education, commitment to having a good time, and of course, sense of style.
In this melting pot, fashion sense is scattered in a wonderful way. During the week students often show their Redbird pride in cozy ISU sweaters and cozier yoga pants. The remaining students can be seen in any style from bohemian crop tops and cut-off shorts to leather leggings and white t-shirts. Walk in one of the Uptown coffee shops and you find students in rolled up skinny jeans, loose fitting tees, and colored Converse listening to the latest Black Keys album. Travel down the street to Pub II restaurant and bar and see guys chatting on the patio sporting button down shirts and dark wash jeans, while girls wear tank tops and skinny jeans, perfectly accessorized with gold jewelry and a cross-body bag hanging over their shoulder.
When the sun goes down, an even more exciting and busy time begins. Roommates' closets are raided in a race to find the most perfect outfit. Style is always present and always evolving. We may be in the town of Normal but there is nothing uniform or routine about us.
This Fashionista defines Illinois State University style with her edgy and feminine outfit. She is comfortable while being fashion-conscious. The accessories accent her outfit and portray effortless style. Cutouts, fringe and lace detail add interest to the outfit. This Fashionista is ready to take on any class or any college event with confidence. Illinois State style is detail-orientated, confident and individual in the best way.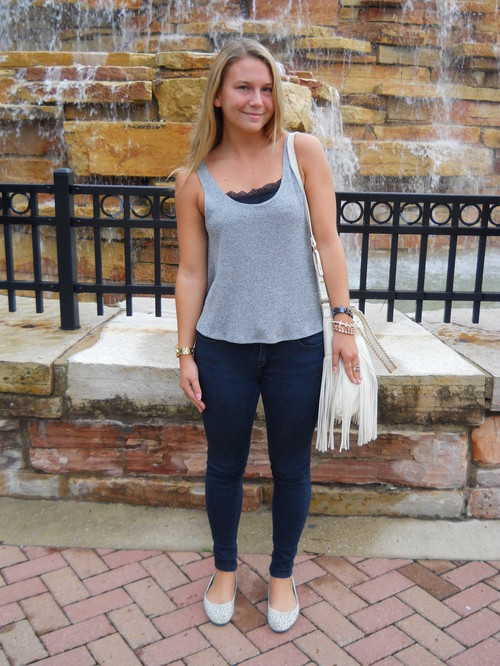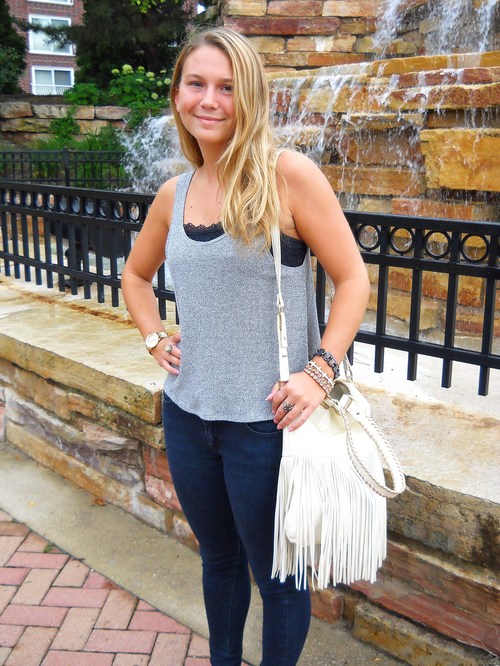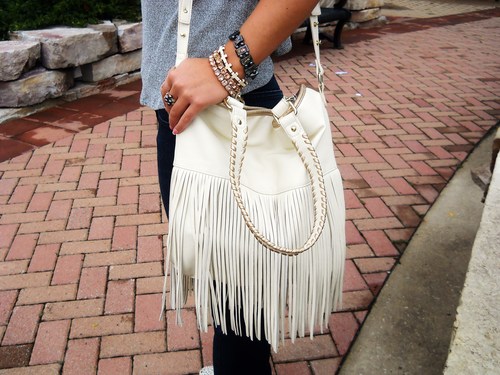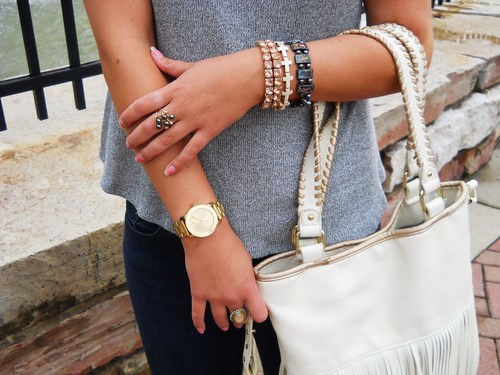 Kelly Alexander is a senior at Illinois State University in Normal, Illinois majoring in Apparel Merchandising with a double minor in Business Administration and Business Environment and Sustainability. She has been working for CollegeFashionista for two semesters and counting. This summer she is also working as a marketing and sales intern for Lana Jewelry in Chicago and enjoying her life in the city. After graduation, she plans on traveling Europe before beginning her career in the fashion industry.