Washington, D.C. -- the land of politicians, laws, history and, of course, the president. More conservative than New York City, less hipster than Chicago and more diverse than Los Angeles; D.C. is often overlooked as one of the major fashion-forward cities of the U.S. However, the students of George Washington University have established a variety of trends and styles in the district, putting this small, 68-mile long city on the map of the fashion-sphere.
There are three distinct styles seen around GW's campus: professional, casual and after-dark. Professional is seen quite often on interns and grad students, hoping to blend in with the experts at work. The casual look is the most popular, seen in the classroom on a majority of GW students. This look is simple, comfortable and chic. After-dark is when the true Fashionistas show their style. When all of the politicians and professors go to bed, the trendsetters wander the streets of D.C. in their best outfits and highest heels. These three distinctive tracks add to the diversity and variety in D.C., making it one of the most hip and stylish cities in the county.
Surrounded by professionals, the GW students integrate into the styles of the city, flaunting a more preppy, conservative look. Now don't get me wrong, there is always a twist. These kids don't just walk around in slacks and a dress shirt; we aren't boring! With some statement jewelry and colorful shoes, the students of GW are always bringing some style to the workplace.
In the classroom, there is the traditional GW look of leggings, boots and sweaters. Don't underestimate us, we always mix it up, but this is the standard style. Printed leggings and big scarves are very popular on campus and are seen frequently on the weekdays. Colored jeans add some festivity and spunk to any outfit, making them a popular statement piece on a day-to-day basis. Still remaining somewhat conservative in the classroom, the real fashion show doesn't start until the sun goes down over the capital city.
You can see them in Adams Morgan, U-Street, DuPont and Georgetown, strutting the sidewalks in their high heels and high-fashion looks. The students of GW let loose after dark, bringing out the fur, leather, lace and velvet. Conservative styles go out with the textbooks and the streets of D.C. become a runway. Students take risks with materials, lengths, colors and looks, always wearing something unlike anyone else. No student looks the same, they dare to be different and enjoy the diversity.
Each look is easy to add to, whether it's more color, texture or accessories. The students of GW are intelligent and trendy. It is important for them to keep up with the latest in both politics and fashion. While many think that D.C. is all politics, the students here prove that it isn't the case; it's what you wear while working in politics.
The fashionista shown provides looks from each style mentioned. She wears a colorful tweed jacket, adding texture to the look and maintaining her style on a chilly day. Trendy coats are very popular around campus, as it gets cooler they provide warmth but allow you to stay chic. Peplum coats, tweed jackets and pea coats are just a few of the many seen on the streets of GW. This fashionista also sports leather leggings. These are a popular commodity, especially after dark. Leather leggings are more fashionable and stylish than the traditional pair because they add texture and a diverse material to the look. Just the use of leather can bring an outfit from boring to chic. Additionally, velvet leggings and printed leggings are very popular and worn around campus day and night. GW students are very texture-driven and are always trying out different ways to wear certain materials. Finally, take a look at this fashionista's adorable shoes. Booties are both comfortable and fashionable and very common around D.C. These have a distinctive heel that, although it is so miniscule, makes the outfit even trendier. A different heel, texture or shape of the booties can have a huge affect on any outfit. Better than boots because you can see the whole leg, booties make a great substitution for heels and can make any outfit casual. This fashionista can wear this fabulous outfit to class or an interview, but with a few changes it can be perfect for a night out on the town.
This fashionista is the ultimate trendsetter at George Washington University. Her style is diverse from anyone else, but not too crazy or out there. She keeps it classy while taking risks with new trends and textures. Her look is versatile and her accessories are simple. She exemplifies the perfect attire for GW students and maintains a good balance between a professional and a young adult.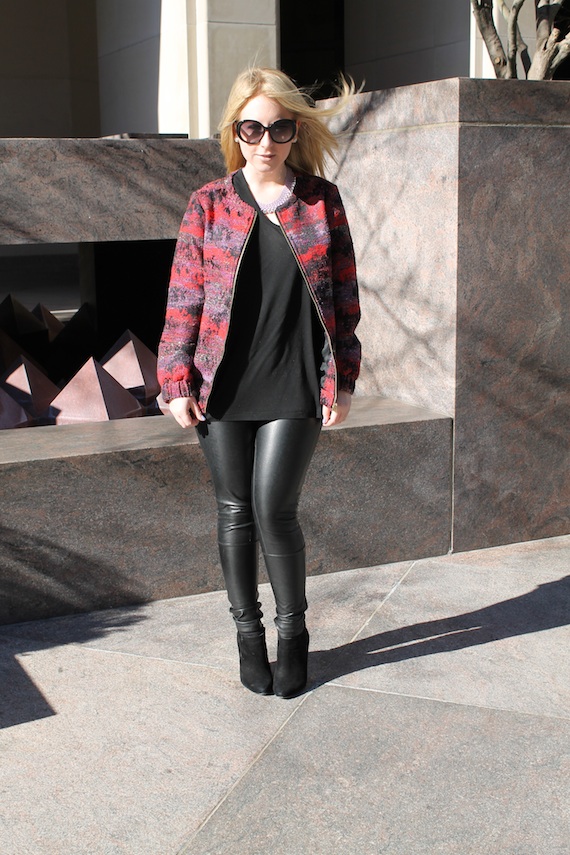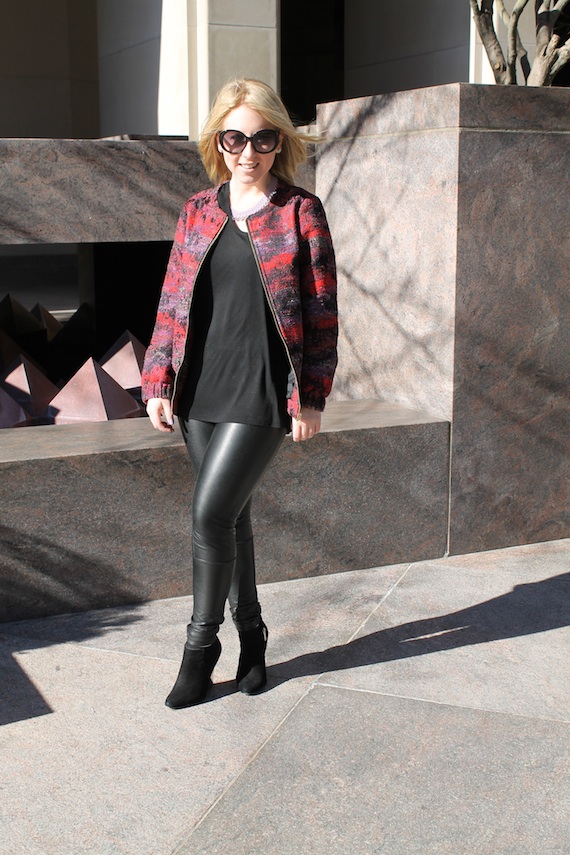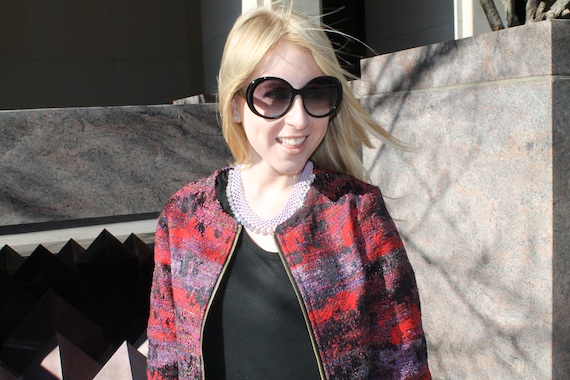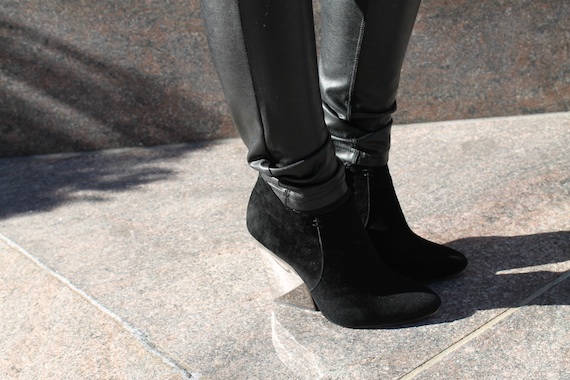 By: Ali Stagnitta
Ali Stagnitta is a free-spirit who loves bright colors, sequins and very high heels. She is a freshman at George Washington University, a journalism major and an active member of the Alpha Delta Pi Sorority. Ali can often be found live-tweeting award shows or cuddled in her bed under three blankets watching crime shows!
For more information check out CollegeFashionista.com, Facebook and Twitter.