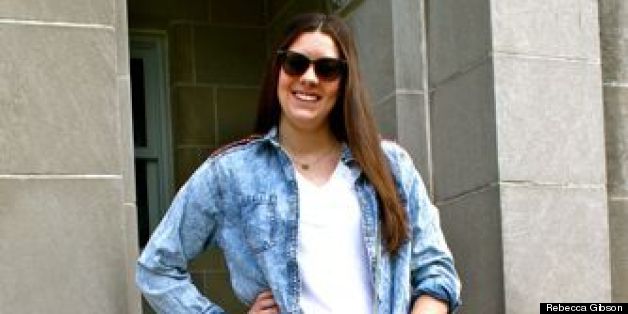 Whenever the phrase "high fashion" is thrown around, our thoughts are instantly transferred to the fashion capital cities of the world: Paris, Milan, London and New York City. While it is true that those four places are melting pots of style and undeniably fabulous, the smaller-scale fashion atmospheres are often overlooked. Hamilton, New York: not the most bustling, diverse or raving place in the U.S., but a place where fashion has made its mark nonetheless. At Colgate University, there is an absolute work hard, play hard mentality among the student body, and that mantra is evident in their wardrobes. Whether a co-ed is studying hours on end in Case-Geyer Library or out to dinner with friends downtown or dancing on a table during Fraturday, he or she dresses to impress. It is hard to pinpoint just one defined style for the typical Colgate student. Traditionally, Colgate has a preppy, East Coast typecast. But I would like to dispel the stereotype that everyone on campus looks like they walked out of a Ralph Lauren catalogue. While Colgate students do embrace the East coast culture, they also put their own unique twists on it to create a totally unique kind of style.
In my past three years in rural Hamilton, I have seen students from all over the country come together to share their personal styles and experiences with one another. When scoping out the "typical Colgate look," I tried to avoid picking Fashionistas that fit into one distinct trend. This Fashionista does just that. Her lower half is pretty and preppy, while her upper half has an edgy twist to make the look her own. She proves that you don't have to be doused in head-to-toe Lily Pullitzer to have an East coast liberal arts education. Any J. Crew-fanatic will fall in love with her pastel pink skinnies; they're the perfect hue for spring, but will keep you covered during these last chilly days. Her nude flats are a staple that every Fashionista should have in her closet; they're versatile and easy to slip on for any occasion. I was most impressed with her cool chambray button-down and white tee. Layering is absolutely key here Upstate, since the weather is always unpredictable. For those rare bursts of sunshine, she could easily slip off the button-down and still have a cute and comfy outfit to enjoy the day in. While the jean shirt has become a popular piece in the past couple seasons, hers has its own flare. At a closer look, there are colorful Aztec strips on her shoulders that pop against her otherwise solid ensemble. Additionally, the denim has an acid wash tint that gives the outfit a little hipster vibe. As for accessories, this Fashionista has it down to a science. Most Colgate Fashionistas have their everyday jewelry they just can't leave the dorm without: simple charm necklace, chunky wristwatch and silver rings. Adding some cat eye sunnies and an oversized clutch, this co-ed deserves an A+.
This is just one of countless examples of how Colgate students have created their own indefinable style, and I can't wait to continue admiring the fashion evolution on campus this coming year.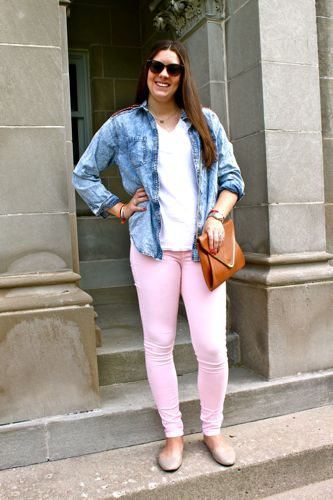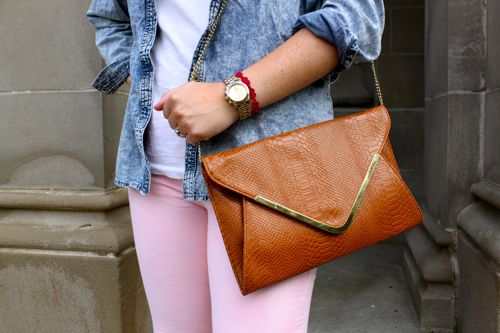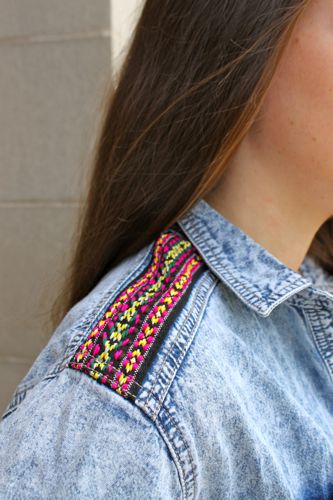 Rebecca Gibson is a rising senior majoring in Art History, with a minor in Spanish Language. If she's not out spotting Fashionistas, you can find her in the studio with GROOVE Dance Troupe or spending time with her fabulous friends. Though born and raised in Chicago, Rebecca hopes to move to the East coast after graduation to pursue a career in fashion journalism.