With each passing semester, I find more and more reasons to love my school. Now that I'm nearing the end of my semesters here, this list has become quite lengthy. The small, tight-knit community of Stonehill constantly leaves me challenged, inspired and laughing. We students get the best of both worlds with a very all-inclusive campus as well as very close proximity to the great city of Boston.
When thinking of the major fashion capitals of the world, Boston is fairly far down on the list. Known as "America's College Town," Boston boasts the highest population of students per capita hailing from different areas of the country and world. The mix is as eclectic as it gets, yet somehow fails to entirely translate through the fashion. The two main stigmas attached to Beantown style are either an entire wardrobe of Red Sox, Bruins, Celtics and Patriots gear, or a wardrobe that would envy someone of the Ralph Lauren clan. While Boston continues to struggle to build a reputation apart from sports teams, the preppy aesthetic has definitely stuck as it proves to stand the test of time.
Preppy is synonymous with the classic collegiate look. Clean cut and academic, with moderate whimsy. Not necessarily logical or truthful in the contemporary sense of collegiate life, but thinking back to classic college movies like Animal House and the South Boston-set Good Will Hunting. Although the typical tweed, elbow patches and Sperry Topsiders may not exactly translate from the movies, the overall feel remains.
A benefit to the preppy style dominating the Boston population is the perceived air of professionalism. When my mother recently instructed me to "start building a professional wardrobe" I immediately had nightmares of ill-fitting pencil skirts and black patent leather Mary Jane pumps. Sends a shiver down your spine, doesn't it? In the men's fashion world, it is much more about quality than quantity and classic rather than trendy pieces. Take a good suit or two, a few different shirts and an array of ties and a workplace wardrobe is born.
Instead of looking straight out of a Vineyard Vines catalogue, the Fashionistos here in the Boston area know how to put a little prep in their step and yet demonstrate a nod to contemporary style -- not just with a popped collar that donned every northeast neck in the 80s.
This Fashionisto has a reputation around the Stonehill campus for his impressive repertoire of functional designer pieces he works together flawlessly on a daily basis. Regardless if it is simply a day full of classes, he does not succumb to the knee-jerk reaction of athletic wear traditional of college-aged males. His dedication to style will undoubtedly aid in his transition into the "real world."
The first bit of fight against the active wear habit is the quilted Burberry jacket. It is an easy way to look far more polished than a hooded sweatshirt or the seemingly omnipresent Northface fleece. He is definitely not shying away from color, and rocks his purple J.Crew sweater, possibly paying tribute to Stonehill's school colors? Definitely up for debate, unlike his overall look which is indisputably dashing.
His Del Toro Skull and Crossbones velvet slippers are the perfect combination of a tasteful version of the stereotypical Hugh Hefner look with the aura of Ralph Lauren and the edge of Alexander McQueen; a combination for the ages.
To be a little more optimistic about the style evolution for Boston, this Fashionisto and his updated version of the classic prep is hopefully a sign of chic things to come!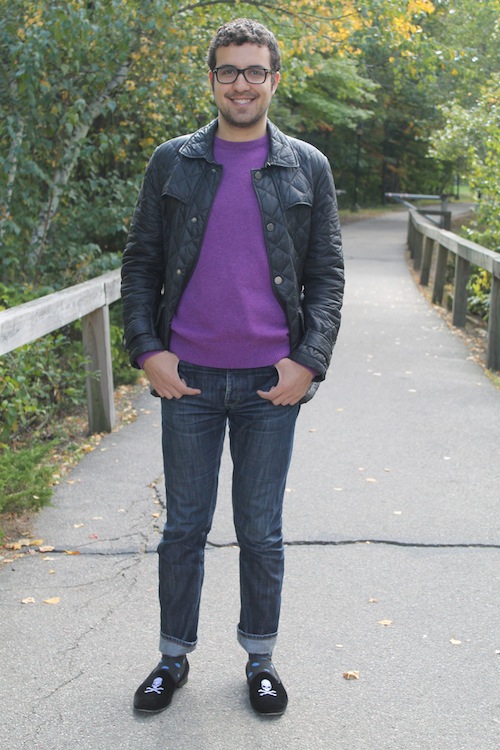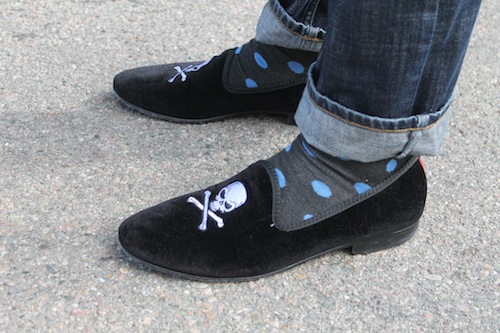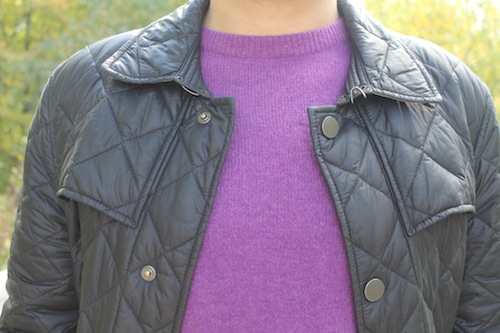 Meg Lewis is a senior at Stonehill College studying Mediated Communications and Journalism. She spends much of her time attempting to curb her social media use and justifying her New York origins to her Boston classmates and that she is, in fact, a Red Sox fan. This is her fifth semester writing for CollegeFashionista and upon her graduation in May hopes to go back to her New York roots and write for a Manhattan-based fashion magazine.