A small town nestled between the rolling hills of southern Indiana and the cornfields of the northern region; Bloomington is a city like none other. When you drive into this booming little college town you may as well get your hills clicking, because you're not in Indiana anymore. The home of Indiana University has a diverse set of students from all over the country, bringing with them ideas and influences that set the city apart from the rest of the state. Thankfully, these influences bring a new take on fashion that the rest of the state seems to be lacking (let's face it, fashionable wouldn't be the first adjective used to describe our little Midwestern oasis.)
Most known for our raging tailgates and basketball superstars, frat tanks and Kilroy's tees are unavoidable at IU. However, in the mix of Chubbies shorts and Greek letters some real fashion can be found. Rising apparel programs and an excellent college of arts and sciences intermingle with the brilliant minds of the Kelley School of Business, resulting in a style that is all our own at Indiana University. We balance out at a wardrobe combining comfort (for long treks across campus), edge (thanks to our lovely students from out of state urban areas), fun (for the weekends of course), and school spirit (we are the Indiana Hoosiers for crying out loud!)
Strutting down the sidewalks of IU, some key trends are seen. As broke college students, we tend to wear a lot of thrifted styles, especially since Macklemore and Ryan Lewis graced our presence during the 2013 Little 500 Race. That means cute refurbished ex-mom-Levi's with tucked in blouses. High-waisted shorts are everywhere, slimming in the waistline and giving an awesome hourglass figure. Chiffon blouses and high-low skirts are also a crowd favorite during warmer months for a breezy feel. The outfits tend to be simple with big wows when it comes to accessories; bold statement jewelry is a must have, along with watches and rings. Through a large chunk of the year, combat boots are the go-to shoe due to the classic cold and wet Indiana weather while more favorable temperatures bring out strappy sandals.
This Fashionista is wearing camouflage high-waisted shorts with studded details and a collared black blouse tucked in. Underneath she wears a turquoise velvety bandeau to disperse some color and match her fingernails. She is all about the accessories with spiked hoop earrings, mixed necklaces, rings and a bold watch. Instead of wearing combat boots, she chooses to sport chunky Timberland boots, giving a tough-girl feel to her outfit. The ensemble is full of edgy city influences, but is overall simple and casual which is very representative of Indiana University style.
The fashions of IU are constantly changing, of course, so it is difficult to roll up all the trends into one. Each student has their own unique take on fashion, really representing the personality of our school. We are a giant melting pot of students from all over the world, offering the opportunity for influences to bounce off of each other. These inspirations flow through the fashions we wear today, and shape us for the future.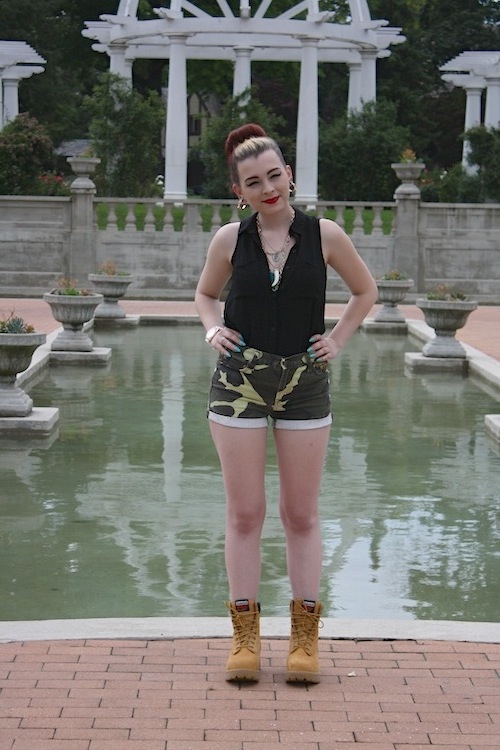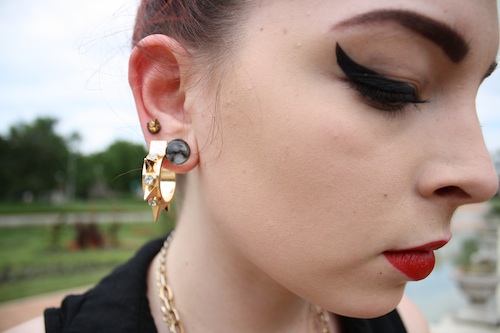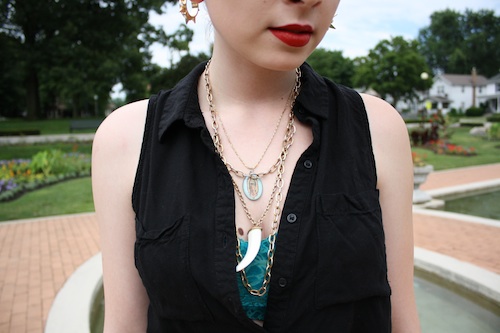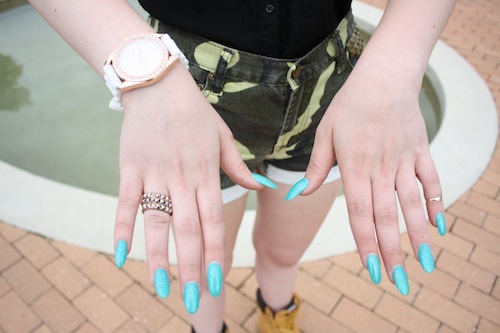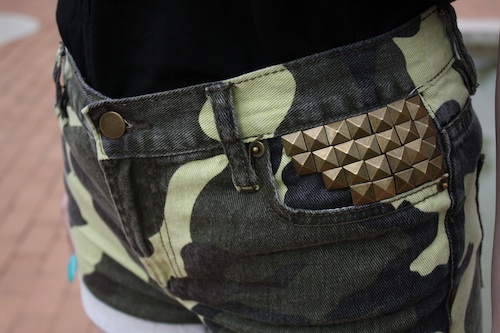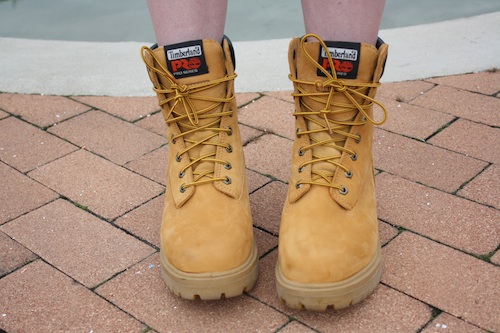 Ashley Minyard is a junior at Indiana University Bloomington studying journalism, apparel merchandising, and studio art. When not writing for CollegeFashionista, she is working as the VP of Marketing for the IU Retail Studies Organization. She hopes to pursue a career in fashion journalism and continue working on artistic endeavors on the side.