Syracuse weather makes getting dressed in the morning a challenge. A deceiving sun may shine in the sky, but the frigid winds whipping through campus mask its warmth. Nonetheless, Mother Nature surprises students every few weeks with a gorgeous day sans wind and ominous clouds. After experiencing these bipolar weather conditions, students learn to master the art of layering. Adding and subtracting articles of clothing throughout the day makes walking around campus more manageable.
This Fashionista sports an ideal layering outfit for autumn. Her ensemble allows for a sweater or blazer to combat the breeze, but without one it remains put together. The scarf helps polish her look and adds to the warm color palette. Scarves and Syracuse go together like homemade apple pie and vanilla ice cream -- the one perfectly complements the other. On chillier days, she could swap her printed scarf for a chunky, knit infinity scarf without detracting from her style.
To help ground the vibrant colors she chooses to wear a pair of light, sandy tan jeans. All over campus both Fashionistas/os rock colored denim as an alternative to the classic blue jean; the trend brings life to the campus on typical gray days. Students' footwear also helps liven up campus. On rainy days, printed and brightly colored rain boots splash through puddles. Regardless of the weather, boots dominate as the go-to choice for shoes. This Fashionista rocks a classic pair of butterscotch boots that complement the colors in her outfit.
She finishes off her look like most Fashionistas/os do -- with a touch of sparkle and accessories. Her bold bracelet adds a hint of glamour to her polished ensemble, as does her embellished backpack. With new backpack styles and designs, these functional pieces now add style to any look. She tops off her look with a pair of sunglasses serving as a headband, creating a breezy, laid back vibe.
No matter what the weather decides to do, this Fashionista's outfit can accommodate it. The key to combat the weather in style is creating a neutral base that allows for exciting layers and accessories. Playing with colors, jewelry and textures results in looks that can excite even the grayest days. Mother Nature challenges students to fashionably transform the gray atmosphere -- challenge accepted.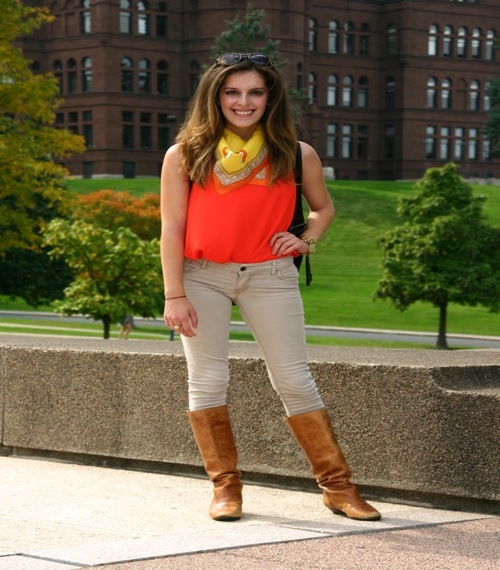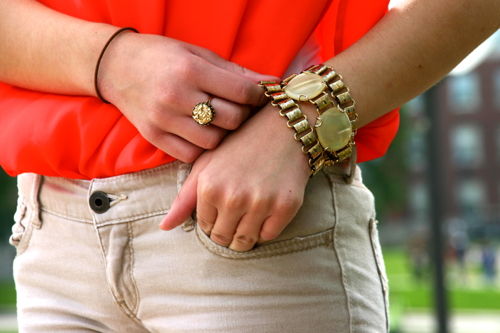 Brittany Fowler is a senior Magazine Journalism major with minors in Nutrition and Sociology. In addition to both writing and editing for CollegeFashionista, she is also the Fashion Director for the student-run women's interest magazine, Equal Time. She enjoys traveling, personal fitness, and of course, all things fashion.