With Whittier College being home to about 1700 students, its small community feels just like that -- home. There are many reasons why Whittier provides that feeling of home as opposed to larger schools that tend to feel a bit overwhelming. The most important is the small classroom sizes which allow students to actively engage with each other and their professor. Seeking the help from a professor outside the classroom is never a challenge when their door is always left wide open for students. This open line of communication between faculty, administration and students is the core of Whittier's special community.
Whittier is also known for its liberal arts education which may seem intimidating at first but most alumni find it to be the most helpful after graduation. It emphasizes making connections in fields of study outside your major. Thus being a business major I had to fulfill requirements in science, history and art all with a strong emphasis on writing. In essence liberal arts education teaches students to be open minded toward cultures, beliefs and disciplines.
I believe it is these two strong elements that define Whittier College which are easily reflected in student fashion. Students exemplify what it means to dress in comfort all while honing in different styles to create one seamless outfit. It is common for me to see a girl wearing a lace dress with combat boots or a distressed jean jacket and pink shorts.
This Fashionista exemplifies student fashion at Whittier by wearing a black and white outfit with a stunning pop of color. Her sheer kimono with velvet paneling was modern and chic against a simple white tank top. Yet her graphic print leggings and black combat boots add edgy elements that pay homage to a punk vibe. Instead of opting for subtle handbag she pulls out all the stops by draping her arm with a touch of class in the form of a quilted blue purse. And of course what I love most about this whole outfit is that it looks super comfortable which correlates perfectly with the spirit of the campus.
People tend to think fashion is all about wearing trends and designer labels. Yet by looking at the students at Whittier College you will find just the opposite. Fashion is about having an open mind and wearing whatever makes you feel comfortable. Let it be an extension of you are, not what others tell you to be.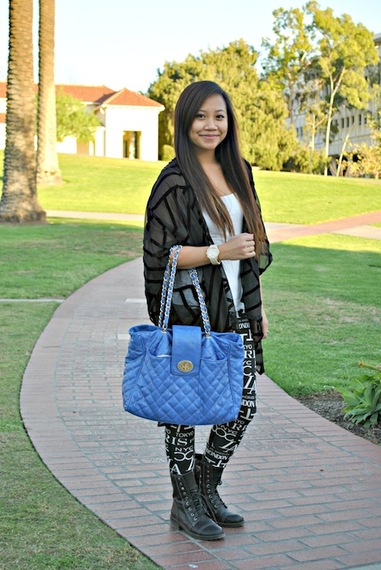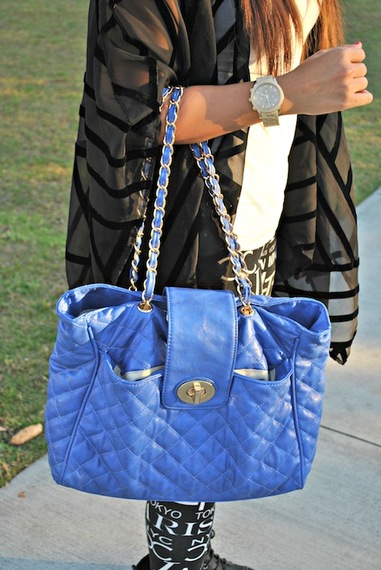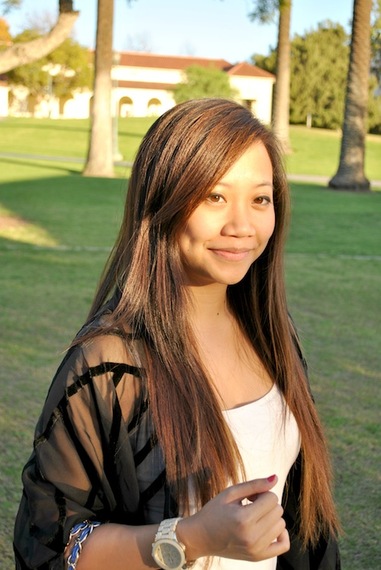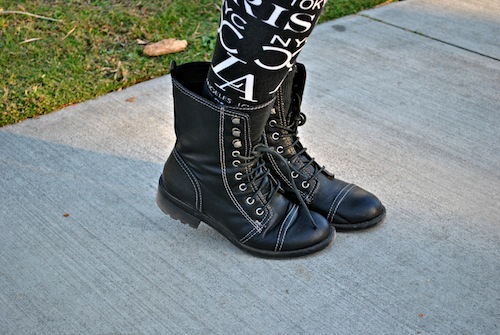 Adryanna Perez is a senior majoring in Business Management and Marketing at Whittier College. In addition to interning at CollegeFashionista she is also a social media intern at BeachMint and a stylist assistant. In her free time she writes for her own personal style blog, www.adryonthedaily.com. Adry plans on pursuing a career in marketing for a fashion company or magazine publication.