Going to college in the Sunshine State is actually as amazing as it sounds. It's warm, the beach is nearby and there are palm trees as far as the eye can see. It's practically summer year round. Home of the Bulls, the University of South Florida is one of 40 public research universities nationwide, offers a plethora of different degrees and facilitates more than 41,000 students. USF's main campus in Tampa sits on a gorgeous 1,700 acres, which means you can always find somewhere new to study or explore. The campus is ultra lush, green and full of the friendliest squirrels you will ever meet. As an Advertising major and a student of the College of Arts and Sciences, I can often be found style-stalking at the USF Library Starbucks with a tea and my camera.
The gorgeous Floridian weather allows USF students to play with all kinds of fashion. With so many people on campus at any given time, you're always bound to see something interesting. The style you see on a college campus says a thousand words about the culture of the school. USF is extremely diverse in all aspects. You can run into anything as simple as jeans and a T-shirt to printed button-ups and ankle boots. There are some days when I can hardly decide who I want to photograph and write about because I'm surrounded by so much unique style. I find it truly fascinating to talk to strangers about why they love fashion or why they decided to wear what they wore that day.
My favorite part about living in Florida is the fact that you can get away with wearing dresses all year long. Dresses are so fun to style because the possibilities are endless. I love combining a simple T-shirt dress with an over-sized plaid flannel shirt, a bold statement necklace and some suede ankle boots. The little things are truly what make an ordinary outfit magnificent. By throwing an olive jacket over a dress, painting on a red lip and adding some vintage jewelry, you're bound to turn heads in the very best way.
This Fashionista happened to be wearing a brilliant, emerald-green skater dress paired with a loose gray cardigan, tan boots with knee-high socks and some perfect accessories. Her white and gold statement necklace pops against the dark emerald dress and complements her gold Michael Kors watch. Finding a color scheme that works well with your skin tone is imperative. The green, gold, and brown work flawlessly with this Fashionista's tan skin and golden blonde hair.
It's easy to understand how Florida can be stereotyped when it comes to fashion. It's notoriously known for being the tourist capital of the country. People tend to assume that all we are capable of wearing are shorts, flip-flops and bikinis. But believe me, Florida has much more to offer than the wardrobe from Spring Breakers. We have a big city mentality and are influenced by fashion in many ways. I hope that by spreading the word about fashion at USF, I can influence students to be brave and experiment with their style in new ways.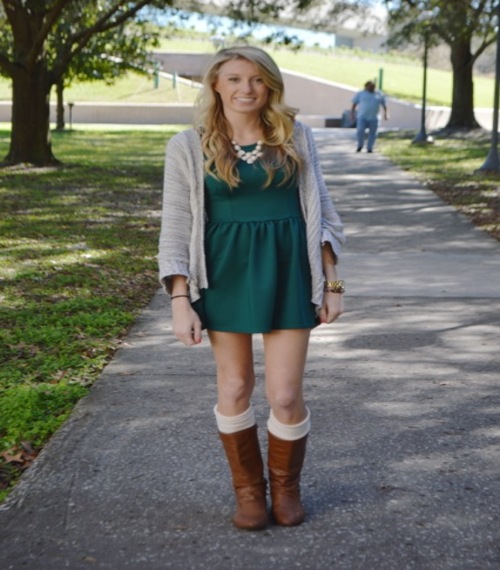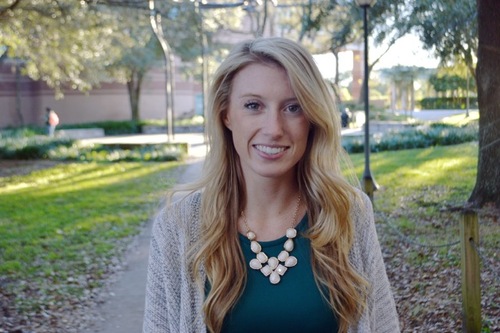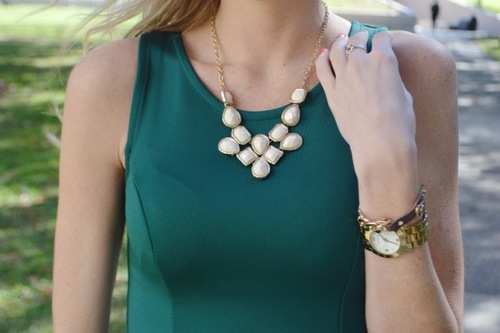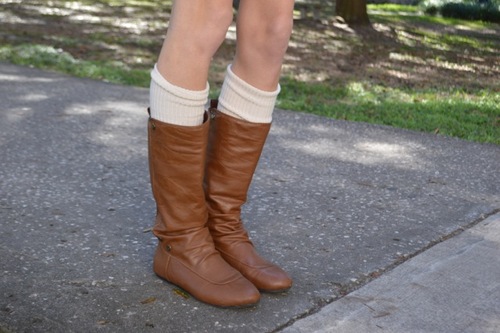 Aisha Hatter is a senior studying Advertising at the University of South Florida. She's a lover of all things aesthetically-pleasing, especially film and art. When she's not feverishly trying to decide what she wants to do with her life, you can find her writing for her personal blog, Stellar Piece (stellar-piece.blogspot.com), eating French fries or manically trying to figure out what to wear.