It was love at first sight. I was mesmerized by the campus' infamous waterfront view off of the James River and its breathtaking beach-like weather. The very first time I set foot on my beloved university was in the 10th grade on a college tour. This was the very first college visit I had ever made and I was more than ecstatic to way out my many options. Being that I am from the northern region where everything moves a bit faster than the remainder of the nation, visiting schools in the south felt exhilarating. It was not only new, it was different. What was most surprising, the south felt like home. Hampton University felt like home. I couldn't help but notice that I was one of the few in the tour group that gravitated toward the beautiful historically black university. As the tour guide described the many traditions and landmarks of the campus, my aspirations grew stronger to one day becoming a student.
Hampton University immediately became my dream school. Just from that initial visit, I knew it was the perfect college for me. It was different from my high school and I felt comfortable. As I roamed the campus, I couldn't help but notice how driven everyone appeared. All by the way the students dressed, it was apparent that everyone had a mission. Unlike many other schools, Hampton University enforces a dress code of conduct. The dress code of conduct not only encourages the students to dress to impress, but as well as prepares them for their desired professions. For example, the school of business is encouraged to sport black business suits on a weekly basis to help groom them into the entrepreneurs they hope to be.
Aside from appreciating the traditions of my home by the sea and its standard of excellence, I immediately fell in love with the fashion. Hampton University is known for their fashion forward student body. You can ask just about any Hamptonian and they'd describe the campus as "one big runway." It's amazing to see how many of the students put effort into their classroom attire. On a typical college campus, you're guaranteed to see a lot of sweatpants and tights. Here at Hampton, that's a rarity. Even if you were to come across a pair of tights or sweatpants on a Hampton girl, expect those garments to be dressed up into a jaw dropping fashion statement. Though the average Hampton student is usually fashion forward, that doesn't mean that everyone has the same look. There is a mixture of styles that can be found on campus including but not limited to vintage, afrocentric, chic, professional and classic.
Out of these categories, I found a Fashionista that I thought exemplified all of these in one. She's a little of each and every one of these categories and it shows through her ensemble selections. With this particular ensemble, she sports denim on denim, black booties, and a tribal print scarf. First and foremost, she is right on trend with pairing the denim shirt along with denim bottoms. Her denim ensemble creates both a classic and chic look. She accessorizes with a vintage creme bag, rings and bracelets. Her booties add a splash of professionalism and her scarf is a pop of afrocentric expression. I would have to say that she represent the fashion sense of Hampton University, perfectly. This Fashionista is spring time ready and exudes all that a true Hampton trendsetter is about -- standing out from the crowd.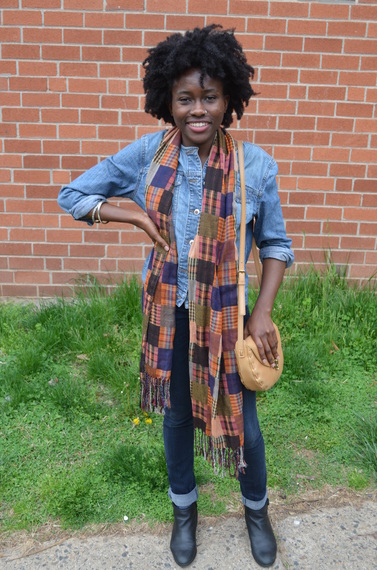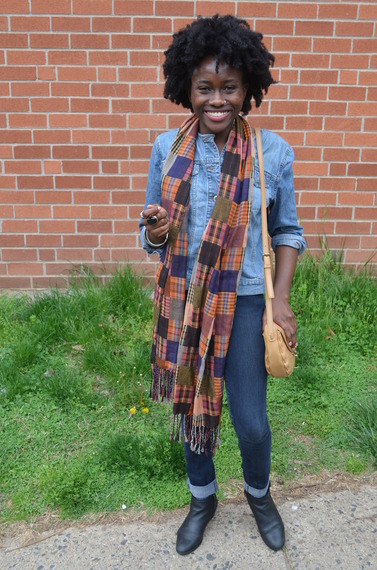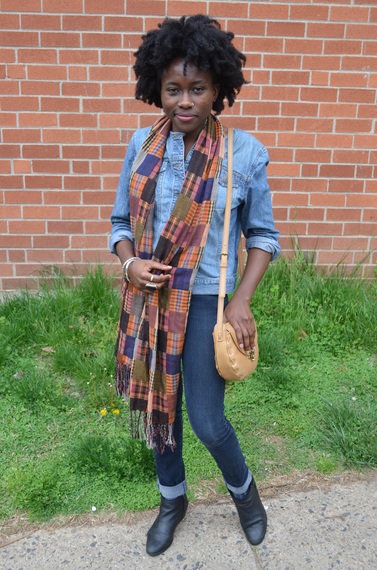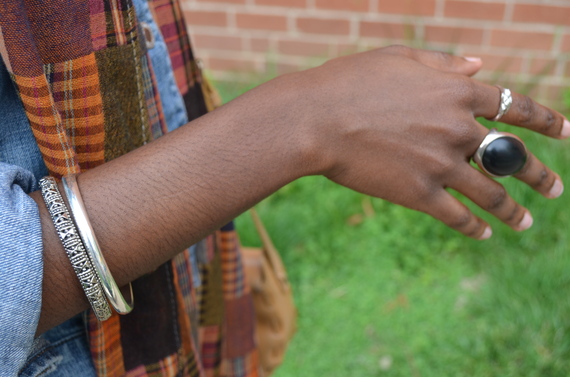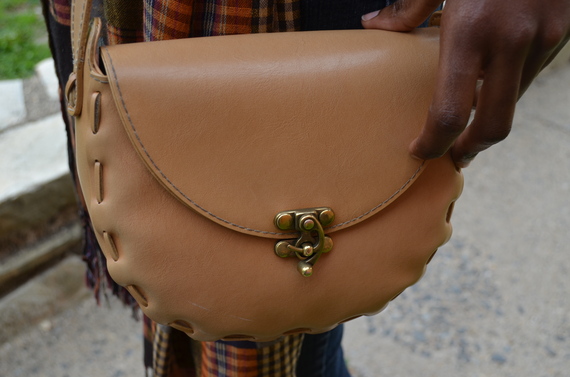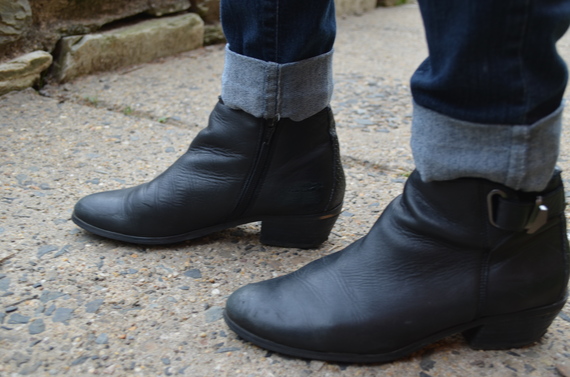 Jasmine Goodwin is a junior at Hampton University majoring in Broadcast Journalism and minoring in Theatre Performance and has been working with CollegeFashionista for a total of five semesters. Outside of contributing her posts as a Style Guru, she enjoys writing, photography, acting, and singing. She hopes to one day take on a career as a writer or television personality for a fashion based publication/network.