When you think the world's fashion hubs, Massachusetts isn't usually at the top of the list. However, nestled in New England are smatterings of college students with fresh ideas and rebellious attitudes, making for a mecca of unique styles. A half hour from the beautiful city of Boston sits Stonehill College, a small school in the small town of Easton, Massachusetts. Stonehill, founded in 1948, is now an incredibly tight-knit community of 2,500 students.
While some may shudder at the idea of a small school, I find more reasons to love it with every passing day. Our community is full of diverse minds that lead to both innovative ideas and innovative styles. With a sprawling and stunning campus, you can't help but draw daily inspiration from the New England beauty. Despite its size, Stonehill is mighty in opportunities. With over 80 diverse academic programs and seemingly infinite study abroad and internship possibilities, it's easy to get a taste of the "real world," and gain exposure to different cultures while within Stonehill's utopia.
Stonehill's style can be described classily preppy. Preppy is synonymous with put-together, boasting perfectly tailored pieces and crisp, clean lines. And while this style tends to run traditional and professional, I feel that Stonehill students blur the lines that define this label. The fashion world as a whole tends to categorize styles, "preppy," "hipster," "trendsetter," when in actuality, some of the most successful style choices are those that can't be put into words.
Students tend to pull in pieces from several of these stylistic boxes, fusing them together for fun and fashion-forward looks. In the fashion blogging world, Stonehill's style could be represented by the picturesque posts of the talented Mackenzie Horan and Julia Engel. This Fashionista's outfit selection is the perfect representation of the classic, chic and urban style that characterizes the majority of Stonehill students. The clean lines infused with whimsical patterns and warm hues bring out the beauty seen in New England's winter. (Looks like these almost make you forget about how cold it is...almost.)
Fashionable freshman, Katie Lusa, describes her personal style as "earthy, comfortable and ecletic." Like most Stonehill students, she says she wears a lot of solid colors, but "likes to mix it up with something fun that makes a statement, like floral leggings or a purse shaped like a teapot." In this outfit, her maroon skinny jeans tucked into luxe riding boots add to campus' preppy feel. Her animal printed top adds that fun element, drawing the eye into the beautiful detail and flowy, elegant lines.
My favorite part of this Fashionista's look is actually her glasses. In general, I feel that the fashion world has made glasses cool again. Visionary designers like Warby Parker are transforming glasses into must-have accessories as opposed to necessary eyewear. This pair is so versatile. The classic tortoiseshell mixed with the large frames is the perfect infusion of preppy and hipster styles, which students often combine for wonderfully unique looks.
Like this Fashionista, Stonehill students make it simple to showcase their personality through their style. Her beautiful look definitely poses an argument for raising Massachusetts' standing on the stylistic charts.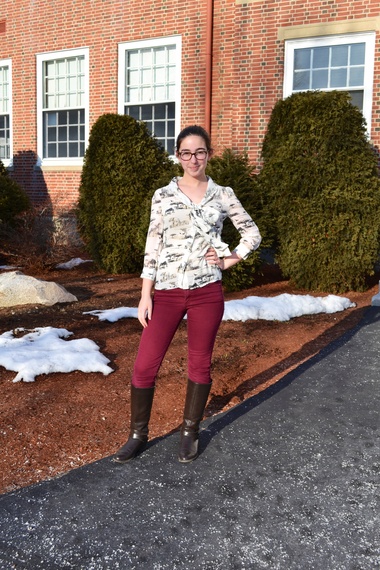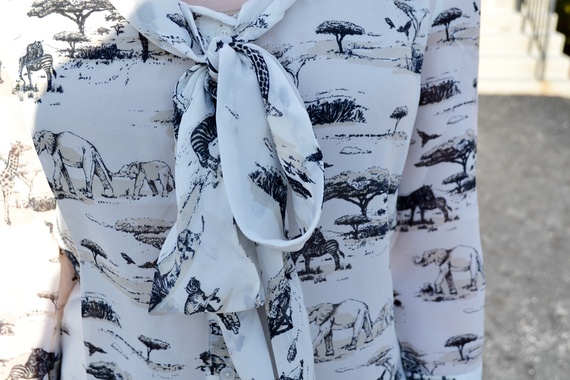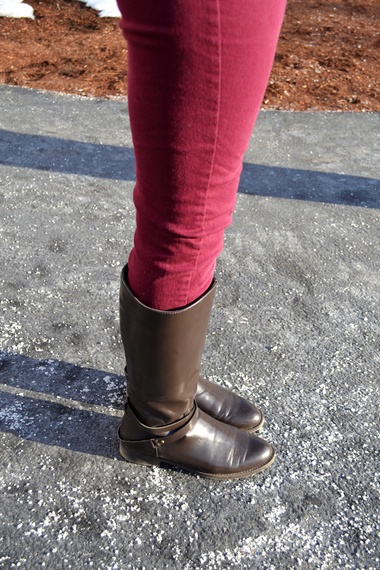 Katie Fabry is a sophomore majoring in Communication Studies with a minor in Marketing at Stonehill College. Her personal style can be described as urban sophistication rooted in preppy traditionalism. When she's not running all over campus or interning for CollegeFashionista, she can be found obsessing over fashion blogs, daydreaming of Manhattan or planning ways to meet Harry Styles. After college, she hopes to move back to New York and write for a fashion magazine in Manhattan.