Many people might not know about The University of Texas-Pan American. Located in the small city of Edinburg, TX, UTPA is part of a region referred to as the Rio Grande Valley -- Grande means "big" in Spanish. Besides being known for the year-long hot temperatures, this region is also unique for its proximity to the border with Mexico, what makes it easy to commute for our numerous international students. This rare feature of our campus translates in fashion terms as to what I've coined as border of style, a mix of the Mexican and American cultures.
Because of its accessible location, UTPA has reached its highest level of enrollment with over 20,000 students, 91 percent of them Hispanics. Although it is easy to blend in a multicultural student population, it is impressive how everyone sticks to their roots by choosing items in their outfits that distinguishes each culture at first sight; the UTPA student body does not only mix language and customs, but also fashion.
Students at UTPA wear jeans as their main staple, combined with patterns such as cotton and denim in light-weight pieces -- shorts and skirts, tank-tops and flirty dresses. These are just some of the surviving must-haves due to the extreme weather conditions in the area. However, unexpected combinations come up once in a while with students who experiment with different items to prove the importance of fashion on campus.
The border might be a line that separates Mexico from the United States but at UTPA, students come together to share their heritage... why not do it through fashion? Even though Fashion is not an actual class taught at the university, local fashion bloggers and Fashionistas are rising and making a statement by taking their own views of Fashion to the streets and to campus.
This Fashionista portraits the perfect example of a stylish UTPA student. She is wearing basic skinny jeans with a loose white chiffon button-down shirt, fuchsia colored sneakers and a navy blue blazer over the shoulders. While layering pieces is essential in a place where you to have to undergo the freezing temperatures of the buildings of the University and the extreme heat outside of the classroom, it is also important to take care of the skin. Accessorize the look like this Fashionista with a panama hat and edgy sunglasses. Besides protecting your face from the sun, it will also make you stand out from the crowd. There is no need to over accessorize when going to school. This Fashionista is the perfect example that playing with basics and colorful statement pieces can create a beautiful combination.
In the multicultural environment of UTPA, everyone sticks to their roots and that is what makes our campus unique and interesting. By portraying their heritage and personalities through unique outfits, students know that fashion is about the importance of style, presentation and about feeling proud of who you are and where you are from.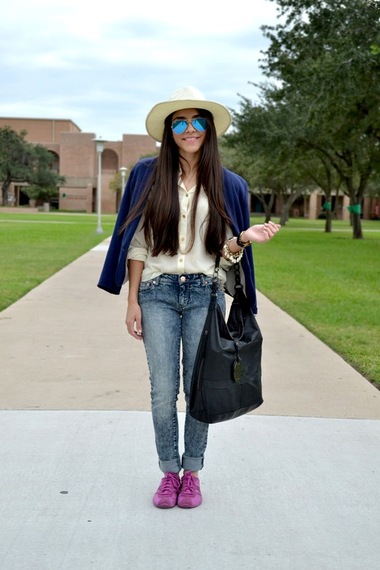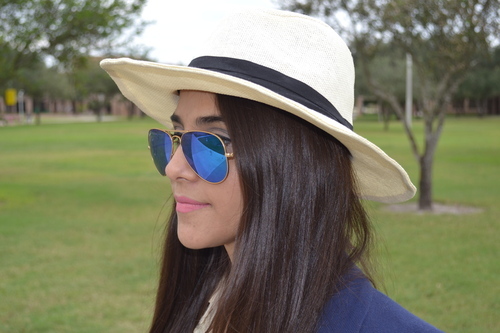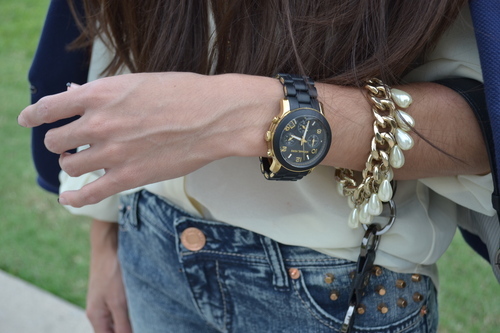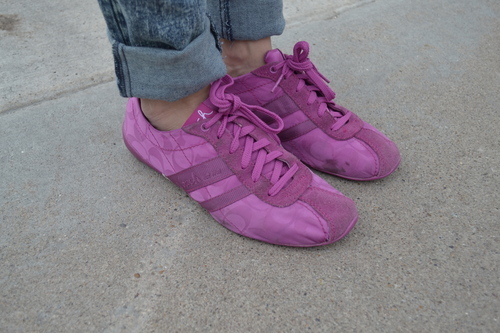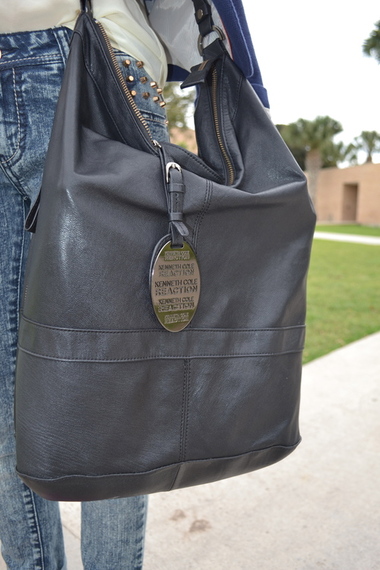 Sara Castillo is a senior in Advertising and Public Relations with minor in Spanish and Art. After graduation, she wants to pursue her dream working in a Fashion PR firm or Magazine in New York City, as well as keep styling and writing for her personal blog: www.thestreet-styler.com