Rolling hills, white picket fences and old brick buildings surround Storrs, Connecticut. Within these surroundings lies the hearts of dedicated Huskies fans, invigorating academics and of course our ice cream experts at the University of Connecticut. But amongst it all are the Fashionistas/os that add to the colorful landscape. UConn, being a large state school, attracts students mostly from Connecticut but there are students from all over the world, giving the campus a diverse and fun atmosphere.
Storrs is centrally located between Boston and New York City, leaving it in the perfect spot to enjoy both of these East Coasts major cities. As different trends pour into these main fashion ports, the students in Storrs are wearing some of the East Coasts latest styles. Connecticut gets the best of all four seasons; hot summers, snowy winters, cool springs and colorful falls. This being said, Fashionistas/os closets need to prepare for any type of weather coming their way. One needs a coat for every type of climate. As any school would have, UConn and Greek life gear is ever present, but the students at UConn sport a casual but polished look to their outfits.
A look that never fails on campus is a flannel shirt paired with jeans. When winter rolls around it seems that everyone is supporting the lumberjack look, especially in Connecticut. Despite trends that come and go, this is one that has remained timeless for both men and women. A simple button down is always classic and clean. Make it a colorful plaid flannel and it is the perfect festive touch for fall and winter outfits. This Fashionista is a guilty lover of J.Crew, supporting Connecticut Fashionistas' love of a preppy style.
This Fashionista knew how to dress for the snowy days in Connecticut. Boots are a staple in any East coaster's closet. These Frye boots add some western flair to her outfit while still remaining classically inclined. An infinity scarf and green military jacket are additional must-haves to keep warm while facing the unrelenting cold winter ahead. Lastly, she has on gold jewelry for a final touch of sophistication. All of these simple items are staples in the UConn student wear.
Connecticut is often mistaken for purely preppy ensembles but rest assured there is an ever-growing fashion diversity on campus. This Fashionista embodies the perfect outfit for UConn students' full day of studying and socializing. Unless students are sporting Huskies gear on game days, they tend to be more relaxed in their daily-wear, yet they never fail to look put-together for any outing. Go Huskies!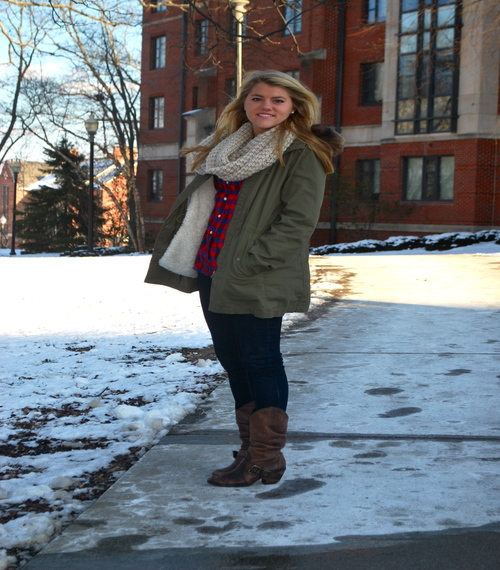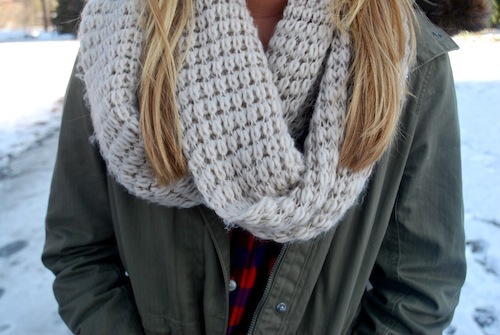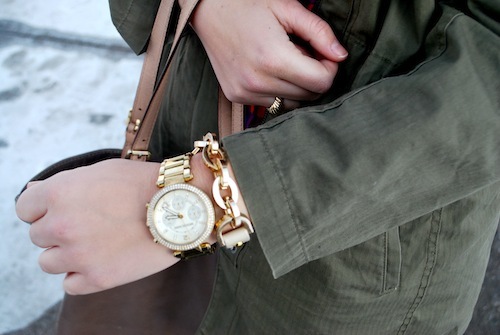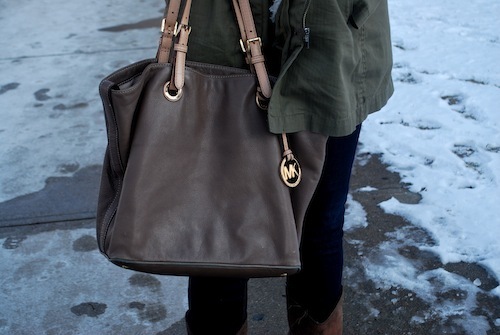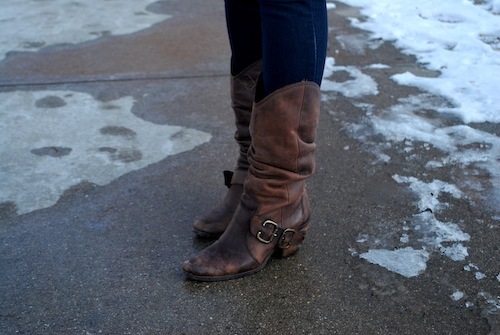 Rachel Bauer is a junior, pursuing a double majoring in Communications and Journalism at the University of Connecticut. After graduating next spring she hopes to become a broadcaster or producer in New York City. In her spare time she enjoys snowboarding, reading and hanging out with her friends on campus.