If you were to think of Madison, Wisconsin, "fashion capital" is probably not what would come to mind. The Badgers, liberal politicals and partying college students are most likely what you may ponder, not to mention our charmingly odd accents and love for cheese. In these cold, long Wisconsin winter months, add some thoughts of long underwear, slushy sidewalks, dry skin and piles of (often homemade) blankets to the mix. It's a wonder that the glamorous people of the world haven't flocked to this Midwestern city yet. New York City's got nothing on us and our cheeseheads.
While the Kate Mosses of the world might not be roaming our sidewalks, we've got the next best thing: the fashionistas and fashionistos that are the students of the University of Wisconsin -Madison. Sure, we've got our share of the stereotypical sweatpants-wearing pupils, but that is quickly becoming a thing of the past on our campus for a few reasons. First of all, our campus is a melting pot filled not only with young adults from all over the country, but international students as well. On any given day, you might be able to check out a California beach town look, a sophisticated New York City ensemble, a whimsical London getup or a funky Japanese outfit simply by walking down the street. And let's not discredit the Madison, Wisconsin natives either; it's easy to see that we know what's up in terms of style.
Second, we Badgers take our educations very seriously; we don't waste a single second when it comes to trying to stand out from the crowd to our professors, extracurricular leaders or potential employers that we might run into or have to impress on any given day. Who wants to schlump around in anything less than pulled together when you never know what your day might bring, or when you might have to astound someone with your quick wit and great look? Also, college is a time when we can experiment with style with as little judgment as possible; it's fun to be fashionable!
This particular fashionista is definitely dressed to impress with an ensemble that is totally fabulous, yet practical enough for attempting to survive a Wisconsin winter, all while juggling a college student's busy schedule. A monochromatic look is an easy way to pull off a chic look quickly. While most people would immediately gravitate towards black during the cold months, I adore this fashionista's choice to opt for winter white. Leather is one of the biggest trends happening right now, but instead of going with the standard black, this style maven stands out in a crowd for her choice of white again when it comes to her pants. A great, basic long-sleeved t-shirt is always a good option for a college fashionista.
Many fashionable people tend to pile on the accessories in order to finish a look, but I think that this fashionista's simplicity and minimal accessories takes her to another level. Ankle boots are majorly huge in Madison right now, so it's fitting that she rocked them in a light, neutral color. She skipped flashy jewelry altogether and, instead, relied on a statement coat to make her monochromatic ensemble pop. If you ask me, leopard print is edgy yet classic, and should be rocked whenever possible. Also, in Madison, it's smart to own a statement coat that can spice up any look, since people tend to see your outerwear more than any other part of an outfit on the streets during the winter.
Overall, this fashionista is the ultimate trendsetter in Madison. Not only did she bring a dose of glamour that would allow us to rival any city, but she also proved that college students are no longer insignificant in the world of fashion. The campus truly is this fashionista's runway.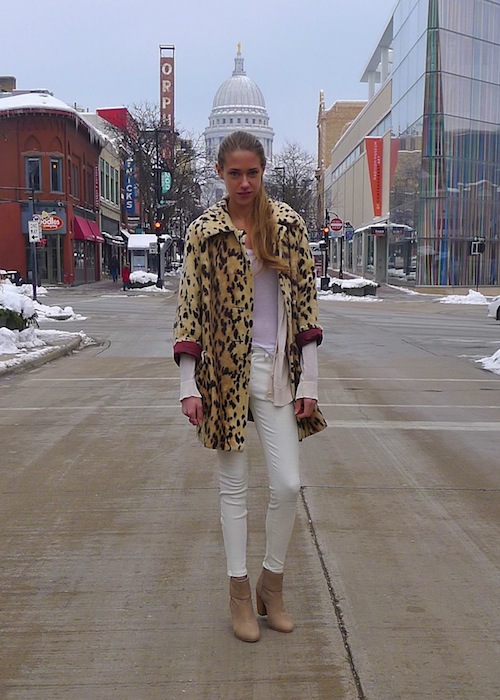 By: Sammy Luterbach
Sammy Luterbach is a student at the University of Wisconsin-Madison and is determined to be a part of the fashion industry. She enjoys writing and social media and gets a kick out of styling. She loves cats and shoes, and her fiancé says she makes the best brownies in the entire world.
For more information check out CollegeFashionista.com, Facebook and Twitter.