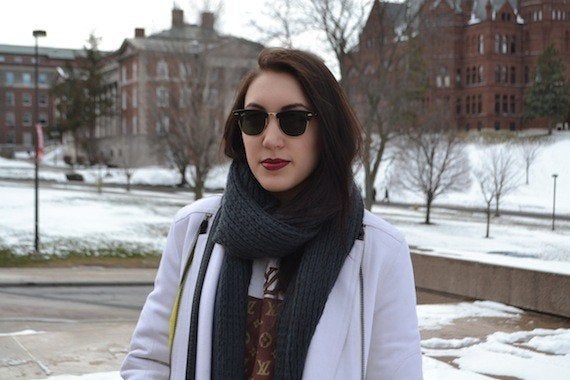 If you haven't spent much time in Central New York, you probably associate Syracuse University with its men's basketball program, anthropomorphic fruit mascot and the blanket of snow and slush that covers its campus for the majority of the school year. Life for students at SU is dictated by less-than-ideal weather conditions, with single-digit temperatures and bitter winds rendering the walk to class in comfort nearly impossible during the harsh winter months. Much of the student body has adapted to these numbing circumstances with sensible solutions: Michelin Man-esque parkas, bulky fur-lined boots and a set of chunky knitted accoutrements designed to keep the chill at bay. Practical? Yes. Stylish? Not so much.
The antidote to this Syracuse uniform comes from students who refuse to sacrifice personal style to the weather's demands. This Fashionista is always spotted working of-the-moment trends into a wardrobe of standout pieces that reflect her downtown-cool aesthetic.
Her look begins with two basic items that feature prominently in every college student's wardrobe -- jeans and a T-shirt. But these pieces aren't your standard white V-neck and boot-cut blue jeans. The T-shirt, emblazoned with the iconic beige and bronze Louis Vuitton print, betrays this Fashionista's industry knowledge with a cheeky nod to the fabled fashion house. Her crimson jeans riff on last fall's oxblood trend, but the brighter tone of this pair extends their wearability well into spring.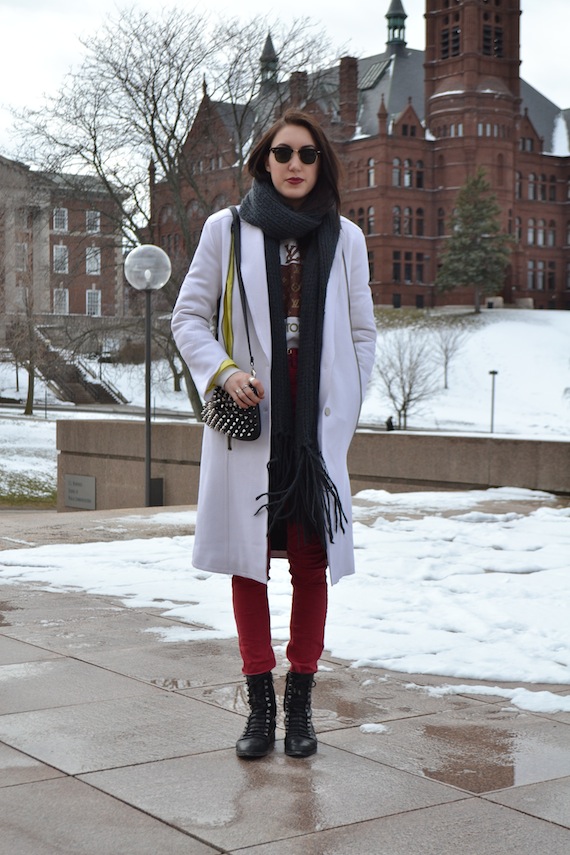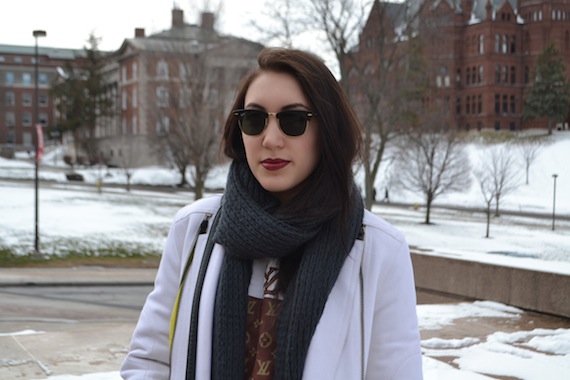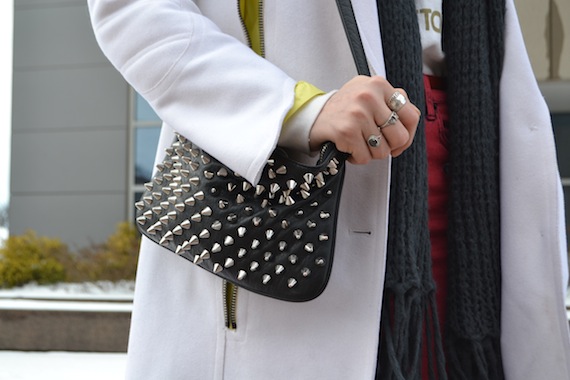 It's important to note that this Fashionista doesn't sacrifice warmth in her search for style -- she recognizes the necessity of a heavy coat in Syracuse, but swaps the standard puffy parka for a slim white overcoat with eye-popping neon accents. White for winter has been a breakout trend this season, and this Fashionista's crisp coat adds a clean, elegantly modern element to an otherwise casual outfit. Neon yellow lining peeking through unzipped sections of the coat's front subtly lends a playful, slightly deconstructed air to the look.
Like any good outfit, this look wouldn't be complete without the right accessories. Leaving the house without a scarf is a recipe for frostbite in the Snow Belt, so this Fashionista chose an extra-long number in a bold charcoal gray that contrasts nicely with her snowy white coat. The snow-lined streets in this image speak to the necessity of proper footwear at SU, but this Fashionista decided on a slim pair of lace-up boots instead of her peers' counterpart of choice, UGGs. Her boots extend the slim line created by her sleek coat, knee-grazing scarf and skinny jeans, making for a slender silhouette that complements her six-foot frame. Sunglasses may seem like a surprising addition to her list, but they're actually an essential on the Syracuse hill, where the sun peeks out at inopportune moments to blind anyone within sight of a snow bank. A studded black bag and fistful of bold rings finish this Fashionista's look with just the right amount of edge for a day on campus. Who needs warm weather when you look this good?
Writer, Julie Kosin, is a junior magazine journalism major at Syracuse University. She has been a writer and editor for CollegeFashionista for two years. When she's not indulging in vegan baked goods or drowning in a pile of magazines, you can find her spending all her money at J.Crew or snuggling with her dog, a Bichon Frisᅢᄅ named Chester.