The premature death has taken place of Irish journalist Mary Mulvihill, aged 55, after a short illness. Mary was a one-of-a-kind national treasure in science history research and communication across many media platforms as well as in person, and an effective and infectiously enthusiastic community builder whose professional generosity seemed to know no bounds.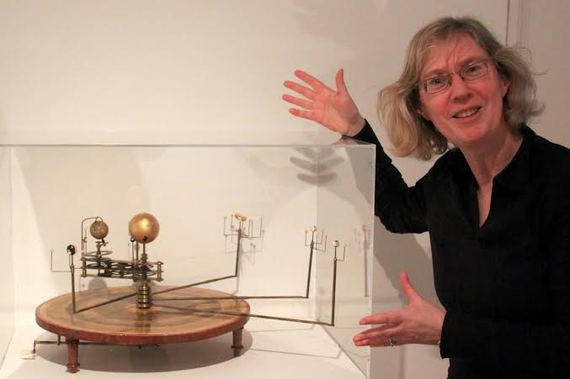 CAPTION: Mary Mulvihill with an orrery at an exhibition in the Royal Hospital, Kilmainam, Dublin, March 2015. (Photo by Brian Dolan, used with permission)
As her own LinkedIn page pointed out, she was
On a mission to tell everyone how ingenious Irish ideas have changed the world . . . and passionate about women in science and technology, and sustainability.
Mary was a tireless pioneer in STEM (Science, Technology, Engineering, Mathematics) promotion, a champion of women's overlooked historical role in this arena, and an unwitting catalyst of geek tourism in her native country. (The innovative walking tours she developed will continue to be offered.) She was also passionate about the environment, and was a avid cyclist. Her amusingly titled book Drive Like a Woman, Shop Like a Man (2009) was touted as being 'a practical guide to cheaper, greener living.'

CAPTION: Ingenious Ireland: A county-by-county exploration of Irish mysteries and marvels.
Unquestionably, of the numerous books she conceived and saw to completion, Ingenious Ireland: A county-by-county exploration of Irish mysteries and marvels (496 pages, 2002) made the biggest impact. For this, she was declared the Irish National Science and Technology Journalist of the Year 2002-3, the judging panel describing the tome as "a meticulously researched and hugely impressive book".
Sean Duke, in his lovely tribute to Mary and her editorial role at Technology Ireland, agrees,
"If any teacher is trying to inspire their students to take an interest in science, I'd urge them to read this book. It's Mary's masterpiece, based on an immense amount of research, meticulous fact-checking and proofing, and writing flair."
The stark reality of Mary's unexpected death last week in the prime of her professional life caught many people off guard, and sent a chill through Irish scientific and educational circles. Mathematician and commemorative plaque enthusiast Maurice OReilly, of St. Patrick's College, Drumcondra, was another admirer of her spirit and accomplishments, and has a photo tribute here. He observes,
"This news is so hard to take in. Mary had so many qualities, impossible to put them into words; generosity, integrity, vision, passion, good humour, intelligence, all of these come to mind and so much more besides. I met her on the street, giving a tour, probably in 2007. I knew we would meet again and again. Now it's hard to accept there won't be another 'again'. She was always so active at the work she so passionately took on, and I was struck how people, especially those with young and curious minds, were at the core of her attention."
Mary's formidable legacy was something she built up gradually, driven by her own clear vision and energy, yet with limited institutional backing. Armed with a first class honours genetics degree (1981) and a masters in statistics (1982) from Trinity College Dublin, Mary worked as a Research Officer for An Foras Taluntais (now Teagasc) until 1987, before earning a journalism diploma (1988) from what is now Dublin City University. She was freelance and self-employed for the remainder of her careeer, carving out a niche for herself in print, on radio, on the web, and on the streets with her Ingenious Tours.

CAPTION: Mary Mulvihill engaging youngsters in Dublin. (Photo by Maurice OReilly, used with permission)
Just two months ago, Mary published "Annie Russell: A trailblazing Irish astronomer whose work eclipsed her husband's" -- the latest and alas final in a series of terrific pieces she wrote for the Irish Times. In her usual pitch-savvy style, she told an engaging story about a Victorian-era Strabane woman who saw most of her work published under her husband's name.

CAPTION: Lab Coats and Lace: The lives and legacies of inspiring Irish women scientists and pioneers
Of course, Mary was an unmatched authority on such tales, having edited the landmark books
Stars, Shells and Bluebells: Women Scientists and Pioneers (1997) and Lab Coats and Lace: The lives and legacies of inspiring Irish women scientists and pioneers (2009).
Mary was a founding member (and the first chairperson) of Women in Technology and Science (WITS) 25 years ago. Many have commented on her role as inspiration to younger women scientists and mentor to many writers. This week, Karlin Lillington wrote in the Irish Times that,
"Mary pretty much singlehandedly ensured that generations of notable Irish women of science and technology were not entirely forgotten, or left as mere footnotes to (men's) history."
At the end of her article, Karlin has an excellent proposal,
[C]ould one of our annual Stem events, or one of our national institutions, have a yearly Mulvihill Stem lecture, or appoint an annual science communicator in schools position? Thanks to Mary, we have an outstanding, accessible historical legacy of Irish, and Irish women's, science and technology. For this alone, she deserves national recognition.
Eoin Gill. co-founder of the Waterford Institute of Technology based of Calmast--the country's leading STEM outreach initiative--is keenly aware of the loss to Irish education represented by Mary's passing alomgside two other recent deaths,
"Three major early players in STEM promotion in Ireland: Mary Mulvihill, Peter Mooney (Science producer RTE radio) and Ian Elliott (DIAS/ RDS) all died within a month. Each made a great contribution. Mary's book Ingenious Ireland was a terrific contribution to creating awareness of Ireland's STEM heritage. Through books, articles, podcasts, and her special walking tours Mary drew together fascinating material and presented it so well that she created a whole new audience for Ireland's STEM heritage"
EDITOR: NEXT IMAGE IS NOT DISPLAYING AND I CAN'T FIGURE OUT WHY! PLEASE HELP.

CAPTION: Mary Mulvihill with Eoin Gill being interviewed for radio on the Hamilton Walk at Broom Bridge, Dublin, October 2011. (Photo by Maurice OReilly, used with permission)
She knew the value of simple old school "technology" in the creative process, as well as the role which some 19th century breakthroughs in thinking--e.g., George Boole's work in logic at Queen's College in Cork--continue to play in today's cutting edge creations.
Though we never met, Mary and I corresponded a little in email over the last six months, and her passion, energy, generosity and great sense of humour all shone through unmistakably. I mentioned that her book Ingenious Ireland has long been a favourite with science and technology buffs in Ireland, and that STEM practitioners and teachers refer to it regularly. She responded:
Thanks for the kind words about my blue book. And am chuffed to know that my name crops up -- as sometimes I think my book and I are a well kept secret.
Never one to rest on her laurels, Mary was keen to move forward and explore new avenues. She was very supportive of mathematics (the M in STEM), making a podcast at the Hamilton walk a few years ago during Maths Week, and helping to spearhead Dublin by Numbers, an Ingenious Maths Trail of the city.
She was very open to adding mathematicians to her geo-website, and we planned to get the first batch up by the end of March. She even gamely agreed to my suggestion to sneak in one spoof bio--at least temporarily--as an April Fools' Day gag.
In connection with my Mathematical (and Poetic) Offerings From the Land of Saints and Scholars piece here in March, we discussed the tricky issue of Irish identity (reality check: most of Ireland's pioneering scientists and industrialists in centuries past were Ango-Irish or born in Great Britain). She immediately said,
"I'd also like to try and organise a panel discussion or event in the run up to 1916 around this sense of Irish identity. So it would be good to get discussion going."
Alas, none of this came to fruition, as her life circumstances suddenly changed for the worse. She died on 11th June. Mary was due to give a keynote address at Inspirefest last week in Dublin. She was fondly remembered by attendees there, as she will be at the Robert Boyle Summer School in beautiful Lismore, County Waterford, later this week, where an afternoon session at St Carthage's Cathedral will be dedicated to her memory.
We Irish are great at eulogising the faithful departed. Do we do as well with the worthy living who serve their country and culture in such an exemplary fashion? Did Mary know how much her tireless, focussed and well-pitched work was appreciated? I certainly hope so.
Mary Mulvihill was just one example---if a rather unique one---of a small army of dedicated and imaginative educators, communicators and facilitators in Ireland who regularly and selflessly go far beyond the call of duty in transforming perceptions of STEM while simultaneously engaging the public, both young and old.
Perhaps her passing will prompt more of us to tell the people who inspire us what their work means to us and how much we appreciate their contributions to our society. We should all embrace and celebrate the good and ingenious things in our heritage. We might even go so far as to embrace a colleague, friend, family member or teacher who has enriched our existence intellectually. Life can be short, as we've just been painfully reminded.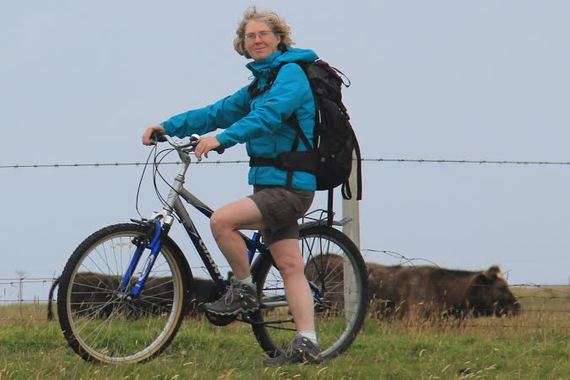 CAPTION: Mary Mulvihill on the island of Tiree in the inner Hebrides
of Scotland, summer 2014. (Photo by Brian Dolan, used with permission)
Ride on, Ingenious Mary. You have more than earned your place among the ranks of the inspiring Irish women scientists and pioneers you were so passionate about. Thanks for sharing your energy and talents with us for over a quarter of a century.
Dubliner Colm Mulcahy is Professor of Mathematics at Spelman College in Atlanta, Georgia, and the creator and curator of the Archive of Irish Mathematics & Mathematicians. He tweets at @CardColm, and encourages fans of Irish mathematics to follow IrishMathsFacts on Twitter.