I will not pretend to have been extremely close to Deah (Shady), Yusor, and Razan. But anyone who knew them knows they did not enter your life without changing you for the better, even if it was just to make you smile.
I had the opportunity to speak with some of their closest and best friends - and this is how we remember our three winners.
Tuesday, February 10th my friend Rahma posted an old photo of three mutual friends at graduation.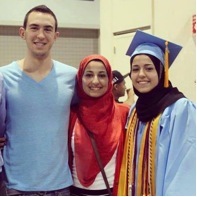 It was weird to see because they had graduated months ago, but I learned soon after what had happened. These friends that had been a part of my life for 10 years, are now dead. Deah Shaddy Barakat, age 23; Yusor Mohammad Abu-Salha, age 21; Razan Mohammad Abu-Salha, age 19; were shot and killed in Deah and Yusor's apartment in Chapel Hill.
I could tell you about how much fun I had with them at Athens Drive High School and North Carolina State University, but I remember each of them best outside of the classroom.
I would see Yusor at the school library, the masjid, around campus, at MSA, in the park (usually playing some sort of sport; she was very talented at each one she tried). I still remember when we volunteered together for the MSA 'Service for Somalia' fundraiser.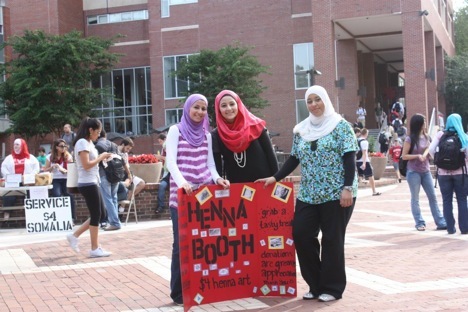 Jillian Pikora, Dana Said, Farris Barakat, Deah Barakat, Yusor Abu-Salha, Nisma Gabr
It was not unusual for her to spend most of her free time volunteering.
Yusor was not just dedicated to service in America, but she shared her passion for Syria and the Syrian Refugees. An example of her immense ability to connect to those in need is best told in her own words:
"I met Yasmeen in the small town of Kilis, Turkey, two miles north of the Syrian border. All of seven years old, she reluctantly stepped into the makeshift dental clinic I was volunteering in, her eyes wide with fear as she glimpsed the sharp instruments. Yasmeen was one of 80,000 Syrian refugees in Kilis, and as I had learned earlier, suffered from PTSD as a result of aerial barrel bombings that had killed her parents and annihilated her home. The dental clinic was housed in a polyclinic that served 500 patients per day, and was staffed with one dentist, Dr. Kahtan, who had fled Syria months earlier after being imprisoned for continuing to provide dental care to his patients. I had been given the opportunity to work with him, and Yasmeen was now the focus of my attention. She hesitantly sat down in the worn-out dental chair, but became restless when Dr. Kahtan began to rev his high-speed drill: "Please no, may God protect you and your children, please don't hurt me!" I asked for a moment with Yasmeen. As I approached her, she gripped my arm so tightly I could feel my own pulse. I assured her she was in good hands, and reached for a goody bag filled with a toothbrush, toothpaste, and stickers that came all the way from "Amreeka!" She relaxed, placed the sticker on her shirt, and laid back with her mouth open."-in Kills Province Turkey July 13th, 2014.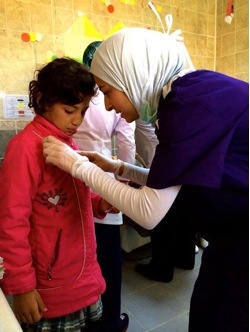 One of her best friends, Rahma Kamhawy, age 22, shared with me how she remembers her:
"Yusor was the sweetest girl I knew at NCSU. She was a little shy and soft spoken but that is what made us good friends. She loved to play in sports and she was really good at it, mashaAllah. She had that smile that is contagious, that forces you to smile with her and so did her other half, Deah. That is what made them an amazing couple. She never hesitated to help anyone and was always the one to ask people if the needed help with anything... she was a great role model."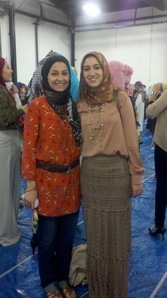 Yusor and Rahma at Eid prayers 2014.
Her other friends, whom were often on sports teams with her, echoed the same feelings.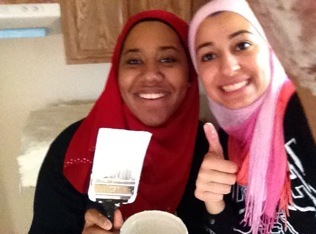 Photo courtesy of Amira Ata. Amira Ata and Yusor Abu-Salha volunteer at at Habitat for Humanity House while attending NCSU.
"Yusor Abu-Salha was like a sister to me.We've always been together. Starting in third grade, we went through elementary school, middle school, high school, undergrad in Raleigh, North Carolina. We were inseparable. Over the summer, Yusor went to Turkey. I'm a teacher at a small private school in Raleigh, and my school ran a collection drive for Project Refugee Smiles. My students were so excited to help. They collected so many toothbrushes and packages of dental floss that Yusor couldn't carry it...she had to pay extra bag fees. She went with her mom to assist. When Yusor came back, she brought cupcakes to say thank you. It was raining, and it was a wonderful treat. The kids left cupcake icing all over my dress. Everyone was happy. Yusor was always interested in the helping side of medicine." - Amira Ata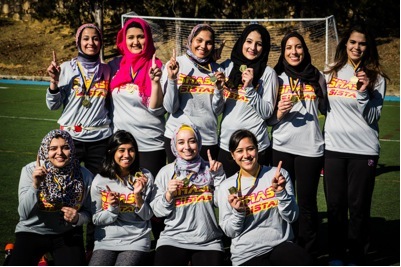 Photo posted on Facebook January 20th by Hoda Abrahim: Top row: Yusor Abu-Salha, Zainab Baloch, Nida Allam, Nada Salem and Bottom row: Haneen Ahmad, Niwal Sheikh, Khadija Khan, Hoda Abrahim, and Rosaleen Samia Zitawi
Razan may have been similar to Yusor but she wasn't as interested in sports; she had a different talent. I first met her when she was 9 years old and was sketching in her notebook at the Athens Drive Public Library. I've been impressed since then by her artistic abilities. She was always trying out new mediums to express herself.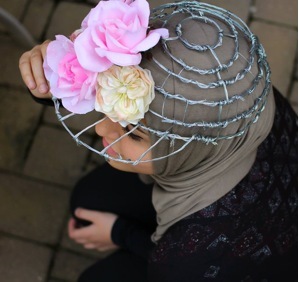 Posted on Facebook October 3rd, 2014 by Razan Abu-Salha.
In an era where selfies are the norm, Razan preferred to be behind the camera. Her most common subjects were sister Yusor and brother-in-law Deah.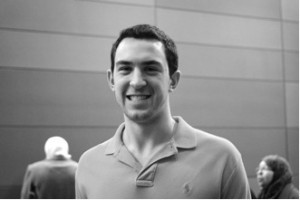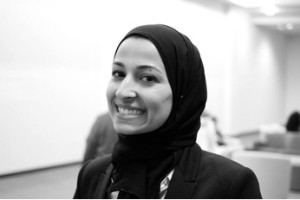 Her close friends, Rahma Kamhamy and Doha Hindi, reflected on their memories of her:
"Razan was a lot like her sister she was so sweet. I have never seen her unhappy. She was also very close with Yusor, I never seen a sisters so close, maybe that is why Allah took her with her sister because she would not have been able to live happy again." - Rahma Kamhamy

"I met Razan in the 1st grade and we've been friends ever since. She was so gentle and sweet. She always wanted her family and her friends to be happy. She had a very competitive curriculum at the NC State school of Design so she spent much of her time in studio. But she still always made sure to dedicate her free time to service. She used to plan monthly projects called Project Downtown in which she would prepare large amounts of food and drinks, set up a table in downtown Raleigh, and distribute the food to homeless people in the area along with other volunteers. In November, the two of us joined a group of students through NC State's Muslim Student Association and volunteered at a place called Carolina Tiger Rescue.
It was a cold, wet day and our job was to mix concrete and pour it underneath a fence in order to create an enclosure for tigers. It was hard and tedious work but she was happy the whole time. Her face lit up when she got the opportunity to see tigers, lions, and other beautiful animals up close. Razan was in her comfort zone when she was helping others. And she was caring. She was always so caring. My birthday was four days before the shooting and she planned dinner and a sleepover for us and two of our other close friends. I cried tears of joy on my birthday because she gave me the best birthday anyone could ask for. Four days later I cried tears of complete and total devastation and sadness at the loss of 3 amazing, selfless, kind people - one of those people was my best friend." -Doha Hindi, who was part of the "group of 3 who stuck together" with Razan and Yasmine Inaya.
Deah was better known as Shady. His friends knew him for his love of basketball. He not only played on the intramural team but he volunteered to referee the MSA Tournaments and played with the youth at the Islamic Association of Raleigh Masjid.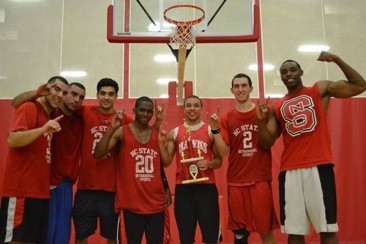 Photo posted on Facebook October 25, 2013
He was much more than an athlete, he was also...

"A guy who always knew how to laugh. He had a great sense of humor." - Anonymous
"A completely genuine guy. Loving, caring, friendly, smart." - Muneeb Mustafa
"Deah was also an amazing person he knew everyone and everyone knew him. He was a friend of all and was always there to help others before his own self." - Rahma Kamhamwy
His love of God, family, and community instilled a desire to affect his community since he was little.
The 'celebration form' is still used by all the MSA intramural sport teams, but it is just a small example of how Shady influenced all he knew, even with the smallest of actions. He brought light to world issues and was active with the with the MSA Service chapter. There was not a single service event that took place while he attended NCSU that he did not attend. This passion to help others remained an integral part of who he was. It was his continuing passion with his work at United Muslim Relief that became the subject of his last facebook post.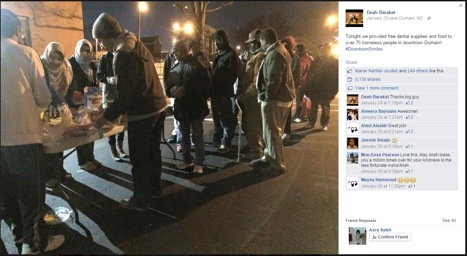 Currently, the UMR site appears like a memorial of his work and his family volunteering. It is covered with their photos, statements, videos, links to programs they work on, and the current tweets mourning the loss of Shady, Yusor, and Razan.
His biggest project was helping to get Syria refugees dental care. Deah was a dental student, being of Syrian origin; with his wife, Yusor oft by his side, they shared a love of helping the Syrian refugees and of dentistry. She was admitted to the UNC School of Dentistry this past December, and would have started in August
The families have requested that please consider donating to the campaign as a way to allow their children's and sibling's legacy to live on.
Family was a huge part of Razan, Yusor, and Deah's life, and I know that respecting the wishes of their families was what they wanted. Farris Barakat, Deah's big brother, posted: "Deah's last text to his mother: 'I love you mama.'"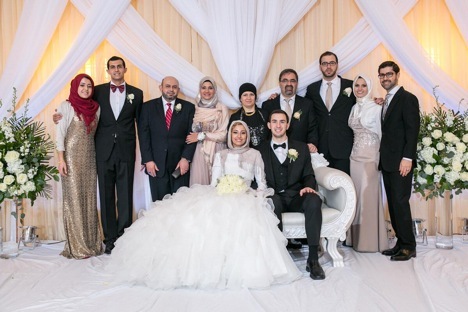 The entire Abu-Salha and Barakat families on Deah and Yusor's wedding day.
"They made this world a better place and lit up the room when they walked in....May God grant them jannah and have mercy on their souls." - Sondos Shehadeh
"I thank Allah that they lived happy and died happy. InshaAllah they are sent to the highest of paradise and may Allah accept them as martyrs." - Rahma Kamhamwy
"They lived as saints and died as martyrs." - Farris Barakat
May they rest in peace and Inna lillahi wa inna ilayhi raj'iun إِنَّا لِلّهِ وَإِنَّـا إِلَيْهِ رَاجِعونَ
--
Jillian Pikora is a graduate of North Carolina State University.

After working on several political campaigns in a variety of locales and working & volunteering extensively with the Girl Scouts, Jillian brought her enthusiasm for helping others and organizing events to several Muslim non-profits. Currently, she is working full-time as a journalist & a writer.
Coming of Faith believes in the power of stories. We're founded on a simple idea: minority voices deserve to be heard in an inclusive and thought provoking space.This article was originally published on Coming of Faith.