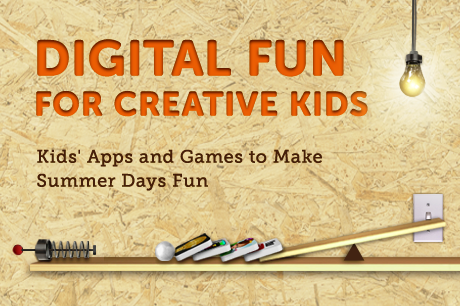 By Ingrid Simone, Common Sense Media editor
With summer break just around the corner, it's a perfect opportunity to get hands-on and creative, and we've shared some of our favorite creativity tools in our Digital Fun for Creative Kids Guide. In it, you can find apps, games, and websites to help your creative kids shine in their own way.
Many of these tools let kids combine their passions and skills with surprising results. Take my daughter's recent experience. Years ago, she created her first book during a summer break, and it was a masterpiece as far as five-year-old princess tales go. She's a great writer, so I was surprised when, at nine, she said she doesn't like writing much. She's creative in many ways -- her favorites are origami and making jewelry -- but writing's more a chore for her now.
On a recent two-week break from school, my son had a class writing assignment to complete. My daughter didn't have a similar assignment, but I told her she should do one, too. Initially, she wasn't too happy about the idea, but then she landed on a topic: a how-to guide about jewelry. She wrote and illustrated her guide (using pencil and paper), and it was great -- in no small part due to her engagement in the subject matter.
Then I showed her the Book Creator for iPad app. Suddenly, a project that she'd been reluctant to do at first turned into a day-long endeavor -- I couldn't have stopped her if I'd tried! She used the iPad and the fabulous Book Creator app to type in the text, take and insert photos, create the layout, and more. And she did it all independently -- she totally owned this project. She even enlisted her little brother to help out with the photography.
Sharing it was easy and fun, too. When I was a kid, I shared my stories by letting friends take home my spiral notebooks for the evening. My daughter, on the other hand, could simply export and share her guide book with far-flung friends and family. It's amazing to see how technology can help increase engagement and empower kids to be creative in ways we couldn't have imagined a generation ago.
So, check out our Digital Fun for Creative Kids Guide for the best tools for inspiring creativity in your kids this summer!
More Guides at Common Sense Media
Essential Books for Kids and Teens
Best First Apps for Kids and Teens
Apps for Kids With Special Needs and Learning Differences

About Common Sense Media
Common Sense Media is dedicated to improving the lives of kids and families by providing the trustworthy information, education, and independent voice they need to thrive in a world of media and technology. We exist because our kids are growing up in a culture that profoundly impacts their physical, social, and emotional well-being. We provide families with the advice and media reviews they need in order to make the best choices for their children. Through our education programs and policy efforts, Common Sense Media empowers parents, educators, and young people to become knowledgeable and responsible digital citizens. For more information, go to www.commonsensemedia.org.