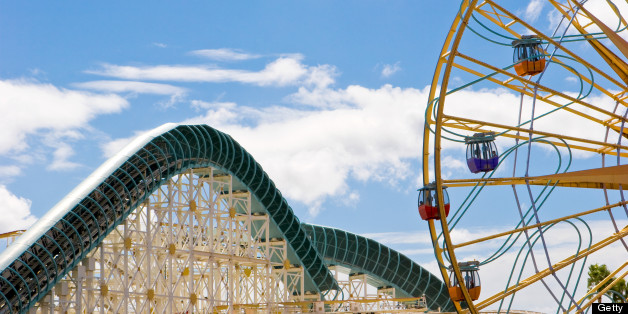 By Sierra Filucci, Common Sense Media editor
Our first family trip to Disneyland was fraught with trouble. We had to reschedule not once, but twice this spring due to sick kids and/or sick parents. So when we finally made it in early June, I was worried that we'd hit the busy summer crowds and, instead of having lots of fun, we'd be waiting, waiting, waiting in lines.
After consulting Disneyland veterans and going a little Google-crazy, I found some solutions that put my fears to rest -- and made the whole trip run smoothly. These three digital tools helped my family get on the rides we wanted, reduced wait times to practically zero, and increased our fun factor about a gazillion percent.
YouTube: Since my kids and I were Disneyland newbies, we didn't know much about the rides. In order to figure out which ones to do first, we sat down together and watched several YouTube videos that demonstrated each part of the rides. We liked the previews posted by TheCoasterViews, but if you search YouTube for any ride's name plus Disneyland (or Disney World) and look for "full ride" or "complete experience," you should find lots of different versions of each ride. Unfortunately, Disney only posts highlights of certain rides, so you've got to do some digging for all the details.
RideMax: This downloadable or web-based tool compiles wait-time data with a bunch of other information to help you optimize your Disney visit. It's not cheap ($14.95-$16.95 for 90 days) -- and I had a few technical issues in the beginning -- but it was totally worth it for us (and they promise to refund your money if you're not satisfied). After we decided which rides we wanted to go on, we punched in the info, and out popped a minute-by-minute schedule for the day. You can even program break times and indicate where in the park you want to take your breaks. Admittedly, RideMax's schedule made us feel a little rushed at times, but it reduced all the guesswork, so we didn't have to make decisions between six people. We never waited more than 10 minutes (on a Saturday in June!) using RideMax.
MouseWait: Since RideMax left our afternoons almost completely free of scheduled rides, we were able to explore different sections of the park. For this, we used the MouseWait app to find the rides with the shortest lines. My kids loved Mr. Toad's Wild Ride in the morning, so I kept checking the wait time in the afternoon until it dipped below 20 minutes before we got in line. MouseWait also let us know that the Indiana Jones ride was closed in the afternoon, so we didn't waste time running over to a different part of the park only to be disappointed. And MouseWait even calculates the time in food lines, so I knew to bail out of the line when the wait time became 12 minutes for a Dole Whip treat.
I confess that I was initially skeptical about being tied down to a schedule and concerned that I'd be constantly checking my device during our day. But using these digital tools allowed us to enjoy the experience so much more. I wouldn't do Disney without them.
Have you found any great apps or digital tools to help make summer vacation easier? Follow me on Twitter!

More from Common Sense Media
6 Everyday Apps for Busy Moms
100+ Must Have Apps for Kids
5 Ways to Unplug on Vacation
About Common Sense Media
Common Sense Media is dedicated to improving the lives of kids and families by providing the trustworthy information, education, and independent voice they need to thrive in a world of media and technology. We exist because our kids are growing up in a culture that profoundly impacts their physical, social, and emotional well-being. We provide families with the advice and media reviews they need in order to make the best choices for their children. Through our education programs and policy efforts, Common Sense Media empowers parents, educators, and young people to become knowledgeable and responsible digital citizens. For more information, go to:www.commonsense.org.