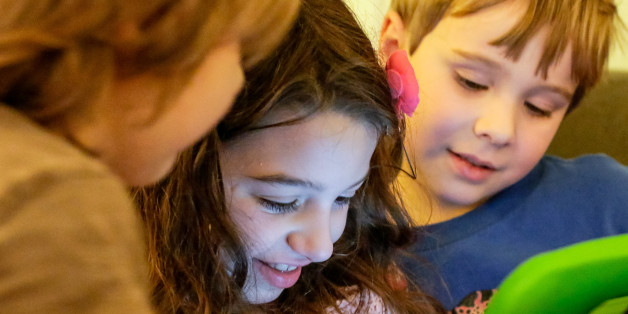 By Christine Elgersma, Common Sense Media app editor

You're going to the DMV and have to take your 4-year-old. The wait could be over an hour, and when the books, crayons and songs run dry, you're likely to hand over your phone. Which app will get you to the front of the line, be safe for your kid and possibly even teach him something?
With over a million apps in both the App Store and Google Play Store, it can be tough to choose. Even in the Kids category, there are thousands of choices, and some are definitely better than others. These tips can lead you to an app that not only will pass the time but also will be time -- and money -- well-spent.
Is your kid ready? Keep your kid's age and development in mind. The App Store might say 4+, but those age ratings don't tell the whole story: Though the game might be free of violence and other big-kid content, the controls might be too tricky for little hands. Read the description, check out Common Sense's reviews, look at the screenshots, and see if the app fits your kid's abilities and temperament.
What does your kid love? Find a subject or activity your kid likes. From trucks to drawing, bugs to dolls and music to animals, there are apps for every interest. Don't be afraid to stretch your kid, but do make sure there's something familiar that will hook her imagination.
How do your kids play, and what will they learn? Not every game tagged as "educational" in the App Store has learning potential. Likewise, kids can learn from plenty of apps in other categories. So, shop around. Consider the app's play pattern: Some games are full of exploration and don't have any set goals, whereas others follow a straight path and have clear rules. If educational value is important to you, decide which topics or skills your kid is ready for and try the app yourself first.
Is the app safe, and will it collect personal information? Read the privacy policy and check your device's settings. Some kids' apps collect no personal information, have no ads and have simple privacy policies that don't require a lawyer to understand. Others have banner ads, in-app purchases and links to social networks. The most important thing is to know what you're getting and adjust the app's and your device's settings to control what you can.
Is it free or freemium? Determine the true cost before buying. Some apps are completely free, such as Breathe, Think, Do with Sesame: There are no in-app purchases, no ads and no subscription. Other apps are initially free, but require payment to unlock more levels. Others nickel-and-dime you from the get-go. Investigate the fee structure before you download.
What do other parents and third-party sites say? Look at ratings and reviews. If an app has reviews, read some to get a flavor for others' experiences. Beware a long list of five-star reviews, however, as some developers have been known to request a five-star review in exchange for a free level or power-up. Use Common Sense Media's ratings or the reviews on other reputable sites to see which apps have earned a strong reputation for fun and learning.
More app picks and tips from Common Sense Media
10 Preschool Apps Worth the Money
5 Ways to Curb Kids' Purchases on the iPhone
6 Girl-Power Apps for Young Kids

Common Sense Media is an independent nonprofit organization offering unbiased ratings and trusted advice to help families make smart media and technology choices. Check out our ratings and recommendations at www.commonsense.org